More than a million people attend Slobberfests all over North America - from Lynchburg, Virginia, Erie, Pennsylvania, Redmond, Washington and Rochester, Minnesota, to Toronto, Ontario, to name just a few of them. Slobberfests honor and entertain dogs and their humans with such events as the "Peanut Butter Lick" favored by the Droopy Basset Hound Rescue of Western Pennsylvania, or the Canine Hot Dog or Ice Cream Eating Contests I witnessed in Toronto. The Best Canine Trick tested skills, but other competitions judged only nature's endowments: the softest and roughest coats, longest and shortest ears or tails, the tallest and shortest dogs. One lucky dog could even aspire to be crowned Slobber King or Queen in the Pack Parade.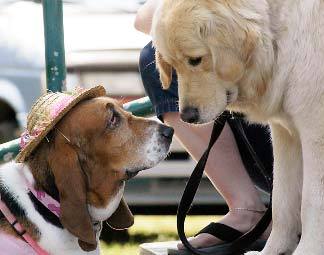 From early morning to mid-afternoon, hundreds of dogs roamed up and down the Board-walk with their humans, greeting each other and playing, and visiting the dozens of stalls where volunteers sold food, treats and dog-related paraphernalia, all for the benefit of scores of breed and all-breed rescues, or advertised services from dog-walking, grooming and boarding to invisible fencing, Smartphone Apps and basic fast food for hungry humans.
That`s what Slobberfests are all about: paying homage to dogs and their people, fundraising, networking and reconnecting with other dog fanciers. That's what I did with Maureen Jennings, who gave the world Detective William Murdoch and the Murdoch Mysteries. As Maureen strolled along the Boardwalk with her dogs Murdoch and Varley, an elderly rescued spaniel-daschund, she noticed me perched next to a pile of my recent book Dogs and Underdogs: Finding Happiness at Both Ends of the Leash, that I was selling at Slobberfest to profit Big on Beagles, an Assistance Agency for Beagles Experiencing Troubled Times.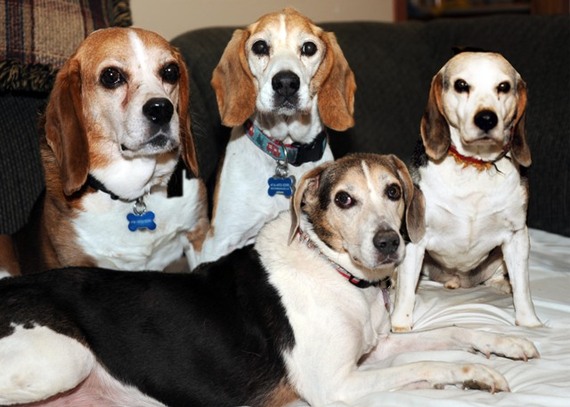 We embraced and chatted, and then Maureen asked Murdoch in a commanding voice: "Murdoch! On a scale of one to FIVE, how do you rank Elizabeth's book?" Her friendly Austalian Chocolate Labradoodle responded instantly, barking loudly five times and then wagging his tail hard as we praised him for his literary discernment. (Maureen was cheating. She had endorsed my book, and she must have mentioned it to Murdoch.)
Slobberfest was packed with dog rescues. Canadian Chihuahua Rescue and Transport (CCRT) was nearby, and among the little dogs being showcased for adoption there was a pair of Chihuahua brothers who could not be separated. Though this reduced their adoptability, it honored the depth of their relationship and ensured their emotional well-being.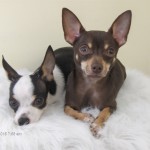 CCRT was founded in 1996, after a Texas breeder developed Alzheimer's disease and forgot to care for her seventeen Chihuahuas, who deteriorated and needed rescue - and transport to wherever rescue was available. A Chihuahua lover from British Columbia had a crazy idea: "if only we could organize a network of volunteers who would foster and drive Chihuahuas to new homes!" Twenty-four hours later, dozens of people volunteered to do just that, and the crazy idea became the rescue's foundational goal.
Back at Big on Beagles, a woman walking an Italian greyhound with a protruding tongue stopped to chat with me. The little dog was less than three-years-old, a worn-out breeder rescued from a puppy mill in Kentucky. Her tongue lolled because the horrendous state of her oral health had left her with no teeth at all, and she also suffered from other health problems. But now she was happy and secure, and the Slobberfest she participated in would raise funds to rescue and care for other dogs still incarcerated in puppy mills throughout North America.
Big On Beagles has a hundred stories about the transformation of sad and often ailing dogs into contented and cared-for family dogs with slobbery smiles on their age-whitened faces. A few, too old and sick for adoption, live as permanent residents of Sheba's Haven, which offers palliative care. Some of these were unloved underdogs chained outside at the mercy of the elements. A few were once-loved victims of their humans' divorces or deaths. Others were abandoned or mistreated because they failed as hunters, like Sweet Emily, just beginning to shed her anxiety and skittishness in her foster home at Speaking of Dogs rescue.
Just before closing time, Murdoch and Varley nudged Maureen towards me for a second visit. She's a Slobberfest enthusiast, and walking with her dogs, and doing agility training with Murdoch are two of her life's greatest joys. And because we were in a Slobberfest frame of mind, we discussed the veggiedog eating contest and the upcoming release of The Peanuts Movie, starring the beagle Snoopy.
That's what Slobberfest is all about: unabashedly celebrating the bond between canine and human, the immeasurable satisfaction of rescuing dogs in need, and the joy of living with them afterwards.