At first glance, Sarnia (Ontario)'s recent walk for the Humane Society could have been mistaken for that long-ago march into Noah's Ark, as dogs, cats, miniature horses and a hedgehog strolled, strutted and snaked around the park-like grounds. Beside them were their people, raising money for the Society with every step they took.
I was one of those people, the out-of-town author invited to share, speak and sell and sign books at a special stall hosted by The Book Keeper's Susan Chamberlain. Susan and Donna Pyette, the Humane Society director, partnered to invite me because they believed that the Humane Society walkers and supporters would feel a strong connection with my book, Dogs and Underdogs: Finding Happiness at Both Ends of the Leash.
I hope that happened, because the connection I felt with their pets was powerful! The first was Tory, a miniature stallion sporting a painted-on stencil on his rump who tossed his flowing mane with annoyance when I tried to scratch his head, and had pooped in the van transporting him to the event, his human Chantelle told me. Thirteen years old and packing over three hundred pounds in his compact, muscular body, Tory runs obstacle courses, jumps and even pulls carts.
Stephanie Lorette's Mudpuddles, a multi-talented miniature dwarf horse, was a revelation for this city slicker. Twelve years old, two feet tall and several hundred pounds, Muddy is a trained therapy horse who rests his head on the bed or laps of the hospital patients he visits, a calm and gentle creature until he goes home and instantly assumes his other personality. In his own paddock or stall he flirts with mares, challenges stallions and seems not to know he's knee-high to all of them. "He is one very special little horse," Lorette says.
And then the dogs, the highlight of the day as I watched them greeting each other orifice by orifice, their sniffing interrupted by the occasional snarl or growl. One of those dogs was Sandy, a Shih-Tzu whose lifelong person had died, leaving him bereft and homeless. Kiersten had taken him in as a foster dog, but years later, he remains with her. Was Sandy a "failed foster?" I inquired. Kiersten, smiling, nodded her head.
Milo the Golden-Doodle and I even became friends. After he and Paul Rooke walked for the Humane Society, Milo hung out with me at the book stall. Later on, we played ball at his house and he showed me all his favorite spots: the couch, the window seat and best of all, Susan and Paul's big bed, which Milo shares.
Sometimes, at 2:30 a.m., Milo gets greedy. Not for food, but for the spot Paul is sleeping on. When that happens, Milo goes into action. He whines and wriggles out of bed and paces the floor, play-acting the role of a dog desperate to be let outside to pee. Paul obliges groggily, shuffling toward the door to accompany Milo downstairs.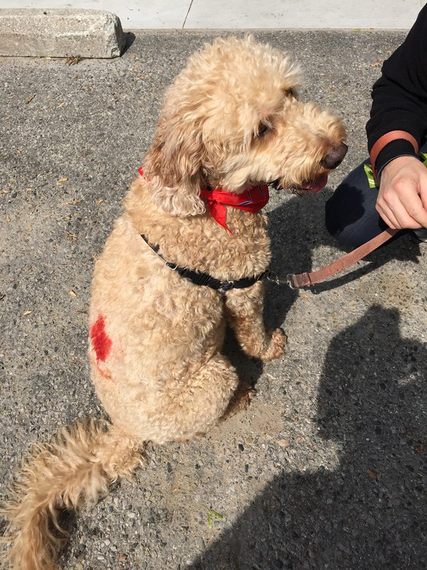 This is where the action gets tricky, because Milo takes the opportunity to leap back onto the bed Paul has just vacated, and to settle his long plush body into the fast-receding warmth of the Paul's sleeping place. Either dreaming or scheming, lying cozily between his humans, Milo stakes out Paul's side of the bed, and fools Paul into ceding it.
You may know Milo. He's one of the Oodles of Doodles who greet their boys and girls after school, leaping onto them and lavishing slobbery kisses and boundless love.
That's what dogs do. That's what's in their DNA: loving their humans. That's why I wrote a book all about them: Dogs and Underdogs: Finding Happiness at Both Ends of the Leash. That's what happens when a dog and human love each other.