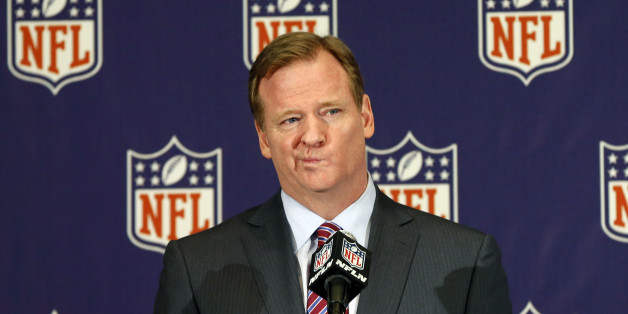 The NFL -- and the nation -- needs to get serious about domestic violence.
The video of Baltimore Raven player Ray Rice knocking his then-fiancée unconscious in an elevator and dragging her out has horrified the nation.
This is the type of brutality that is all too familiar to women.
"An estimated 1.3 million women are victims of physical assault by an intimate partner each year," according to the National Coalition Against Domestic Violence. "One in every four women will experience domestic violence in her lifetime."
The release of the video shows how woefully inadequate the NFL's initial punishment of Rice was. All he got was a two-game suspension, which is half as severe as the punishment that players receive who test positive for marijuana.
Once the video of the beating came out, it forced the Ravens to fire Rice, and it forced the NFL Commissioner Roger Goodell to suspend him indefinitely.
In between, Goodell had acknowledged that he made a mistake by being so lenient and issued a memo to the 32 NFL teams, which stated in part: "Effective immediately, violations of the personal conduct policy regarding assault, battery, domestic violence or sexual assault that involve physical force will be subject to a suspension without pay of six games for a first offense... A second offense will result in banishment from the NFL."
Now this policy will be put to the test with the recent arrest of San Francisco 49er Ray McDonald for domestic violence. Despite the arrest, McDonald uniformed up and played on Sunday.
Goodell and the NFL have been embarrassingly slow to react to the scandal of domestic violence in the league.
They need to wake up -- as we all do -- to this scourge.
The NFL needs not only to punish players who engage in domestic violence. It also needs to educate all its players about this issue.
Football teams and athletic departments need to do the same, at the high school and college level.
But football players aren't the only ones beating their wives or girlfriends. Such battery is endemic in our society. Parents, teachers, our military leaders and clergy need to get actively involved in educating people about this problem.
Next month is Domestic Violence Awareness Month. The least we can expect is that the NFL will have a new commissioner by then.
But we can hope for more: that men, in the NFL and out, will realize, once and for all, that hitting a woman is not manly.