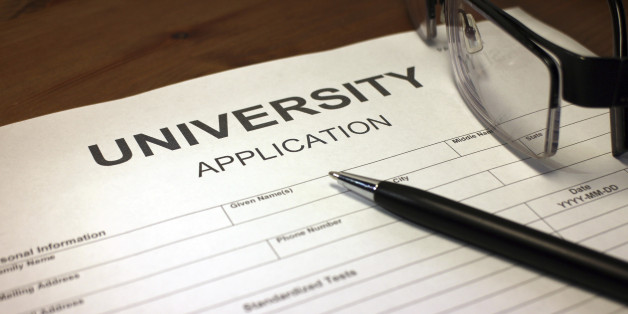 1. Even in the Era of Oversharing, It's Not Necessary to Share Your Plans, Hopes and Dreams.
For students and parents, applying to college is a touchy subject. Who's applying where, who gets in where and who is upset about not getting in all add to the ordinary stresses. It may be less stressful not to share. It's fine to say "I think I'd rather not talk about all of this yet," or "my son/daughter doesn't want me to talk about this."
2. It's Normal to Feel Like You Are Going Crazy. The process creates that, and the current atmosphere contributes. You have lots of company. Be assured: There is an end date to the crazy. It won't go on forever, even though it feels like it will.
3. Don't Pull an All-Nighter the Night Before. Start Early.
Whether it's your search for the right college, contacting teachers for letters of recommendation or writing your application essays (yes, often it's more than one essay), give yourself plenty of time. What's the right timetable? It's ideal to have your list of colleges by the summer before application are due, with all the requirements and required essays spelled out; to have a good draft of the Common App essay by the time you return to school in the fall. If you're applying to schools with many supplementary essays, be sure to understand that early and plan accordingly. If you have a very busy school-year schedule and many essays, use your time in the summer to do them. To read my recent Huffington Post blogs on college application essays and the college admissions process in general, please click here.
4. Submit Your Applications Before the Due Dates.
Last year, the Common Application organization had massive computer problems, and many thousands of students, teachers and colleges had to work around them, under tremendous stress. This is a useful lesson: If you wait until the last days, you will be pressing SEND with hundreds of thousands of others. Websites crash. Do not wait until the last few days to submit your applications, whatever your due dates are. If there are difficulties this year, we are all hopeful that the Common Application folks will handle them better than they did last year.
And bear in mind: With all the problems last year with the Common Application website, the Universal Application -- an alternative that now has 50 colleges participating -- is available. The schools participating include Harvard, Princeton, Johns Hopkins and the University of Chicago.
5. Make a Chart. Share It With Your Parents. Keep It Visible.
As soon as you can, make a chart on paper (print it out) of all your schools, application due dates, requirements (recommendations, SAT subject tests, etc.), essay requirements (with topics and word counts), and share it with your parents, so you can work to block out time to do everything in a timely way. Will you have to write three essays or 23? Know in advance.
6. Diversify, Diversity, Diversify.
Pick schools smartly and pick a range. Just as financial counselors tell people to diversify their investments to spread the risk of losing money, make sure your list includes reaches, targets and safeties. It's not wise to have, say, eight reaches and one safety. Research the schools and make sure your grades, scores and interests match up.
7. Do the Research.
Some students apply to many Ivy League and other top schools without understanding the differences between them in terms of curriculum, expectations and atmosphere and without understanding what the schools are looking for. Find out whether the University of X is the right school for you by reading about it in the resource books below and by searching on College Prowler. These books contain a lot of useful information, but they should not be your only source.
8. Do the Math! If you need financial aid, make sure you apply to schools where it would be available to you.
Many schools have a calculator on their websites you can plug your numbers into and learn how much aid you might qualify for. Remember: Aid includes outright scholarships as well as loans and work-study opportunities. Google the name of college + calculator. If you're a parent, spend some time doing these calculations, so you will know in advance if the University of X will be a possibility for your son or daughter. Many state universities, including the University of California, do not generally offer scholarships to out-of-state students, though you may be eligible for loans.
9. Visit the Schools, Ideally, When School's in Session.
Especially if you are applying Early Decision (a binding decision), visit the school so you can report you have visited on the application and you can include reflections of your visit in your essay if you have to write about why you want to attend that school -- and you can imagine yourself there. A visit will give you a great deal of information about whether it's the right place and help you decide whether you want urban, rural, a big campus or a small one.
10. Consider Applying Early Decision and/or Early Action (binding vs. non-binding), so that your worries might be over by mid-December, instead of March or April. Consult each school's website to find out if they do ED or EA. Upside: You might have decisions by mid-December. Downside: If you're rejected or deferred in mid-December, you have to submit applications afterwards, usually with Jan. 1 or Jan. 15 deadlines. It's wise to do as much work as you can before mid-December.
Elizabeth Benedict is the founder of Don't Sweat the Essay and works with students throughout the world on college application essays, application review, and selecting colleges. She taught writing at Ivy League and other major colleges for more than twenty years, and is a bestselling, award-winner novelist and editor.