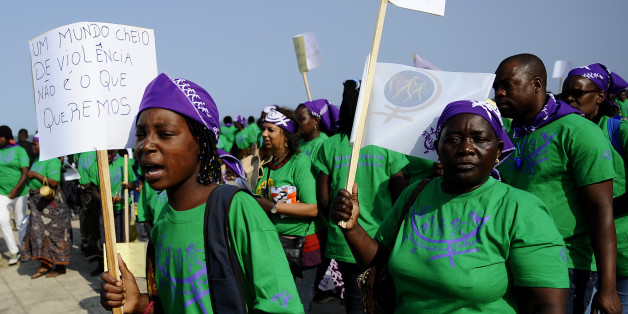 In the last two decades, thanks to the work of civil society -- and women's organizations in particular -- ending impunity for sexual violence is now on the international agenda.
But while we are making a great deal of progress as a global community, many countries still have a long way to go to ensuring that their national laws deliver justice to survivors of sexual violence.
I was sexually assaulted in Mozambique in 1997. While my attacker got it away with it then -- I had hoped that things had since improved.
At the time, I was living in Maputo, working for the International Campaign to Ban Landmines. The doorbell to my apartment rang, and through the grill a man told me he was from an electricity company and had come to read our usage.
I opened the door, was shoved inside as the man put his hand over my mouth. He forced me into my bedroom and threw me on the bed. Pulled my underpants down and my dress up. Then, he blindfolded me. I could hear him unbuckle his belt. I am trained in nonviolence -- I know that violence is a choice. I thought about what I could say to have this man choose not to hurt me. He wasn't going to be convinced by talk or "human connection."
I had a vaginal infection, and there was clear sticky white evidence on my underpants and between my legs. I suddenly blurted out that I had AIDS and if he raped me he was likely to get it. He slowed down. He hit me. He stopped. He got up, tied my hands and shoved me in the closet -- told me to kneel down and wait one hour before getting out. I heard him grab things in the living room, and finally the metal-grilled door clicked shut.
In an ideal world, what followed would have been an investigation and possible prosecution. But that's not what happened. The police interviewed me, took notes and dusted the table and pile of CDs for fingerprints. I went to the police station repeatedly over the next few weeks. The police seemed interested at first, but after a while, they stopped returning my calls.
Sadly, in Mozambique there was little support for rape survivors, and I had to turn to a South African organization -- People Opposing Woman Abuse -- for help. But 17 years after I was attacked, women's organizations in Mozambique are mobilizing against proposed revisions to the penal code, many of which are shockingly out of step with international standards.
This past March 1000 Mozambicans protested in front of Parliament to demand that the draft criminal code provision enabling rapists to escape prosecution by marrying their victims would be removed. They succeeded.
And now they want to go further, bringing Mozambique's penal code fully into the 21st century.
The proposed criminal code still prevents women and children from accessing justice. Criminal proceedings against alleged sex offenders cannot be started unless survivors of sexual abuse, their parent or guardian if "minors," or a person they live with, makes an official complaint. Typically, this sort of provision discourages survivors from reporting the crime. The result: perpetrators escape justice.
Equally appalling, the new criminal code effectively defines "minors" as children under the age of 12. It is stunning that Mozambique could so blithely ignore the rights of children and seem so prepared to violate international human rights obligations.
Mozambique, however, has signed the United Nations Declaration of Commitment to Ending Sexual Violence in Conflict. And in June, it will be in the United Kingdom, along with140 other signatories, to attend the Global Summit to End Sexual Violence in Conflict. Mozambique can prove its commitment to ending sexual violence by ensuring that its penal code upholds human rights.
Perhaps in 1997, after the prolonged conflict in Mozambique when there were challenges to the rule of law, catching my attacker was not a priority. But in 2014, there is no excuse for legislating impunity.
Mozambican Parliamentarians, 40 percent of whom are women, must do better. They can ensure that their legal system delivers real justice. Mozambique's new criminal code must protect victims, not perpetrators.