The European Union has a long-standing history of support to civil society, having established a number of initiatives to help CSOs in capacity building, in development and getting their messages across. But our world has changed over the past decade and ICT has created a new landscape in civic participation, inevitably in social change as well.
If ever a new approach to dialogue between governments, civil society, the EU and the private sector was necessary, this is today. And now.
Interestingly, Brussels has decided to devote even more attention to the bodies that animate civil society in North African and the Near East. More specifically, the non-governmental organizations that are seen as offering possible structure for the democratic uprising that started in the Arab world three years ago.
The EU-Southern Neighborhood Civil Society Forum took place in Brussels a few weeks ago following a year-long open consultation process with civil society from the Southern Neighborhood and Europe on the design and governance of mechanisms for structured dialogue at regional level. EU Commissioner for Enlargement and European Neighborhood Policy, Stefan Fule, committed to progress the dialogue further into action.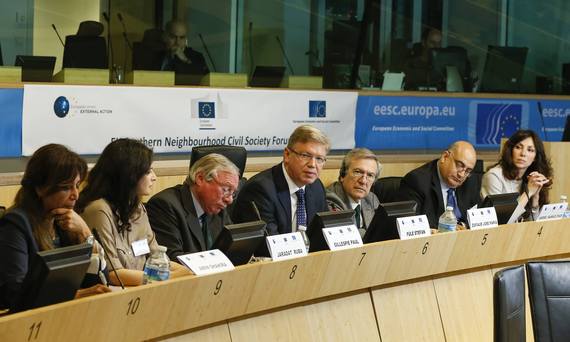 Commissioner Stefan Fule in Brussels last month announced a programme to boost social dialogue in the countries of the southern Mediterranean
The Commissioner acknowledged the importance of this process as an indispensable contribution to policy-making and to political, socio-economic and cultural development, aiding political reform and social progress in the Southern Neighborhood countries. A very important day, and a much-needed initiative for all the societies undergoing this fundamental transition phase with Ziad Abdel Samad Executive Director of the Arab NGO Network for Development and Shahira Amin among panelists highlighting individualities and inherent problems in Arab societies.
Media were spotlighted, having played a key role in reporting the Southern Mediterranean revolutions, civilian empowerment and the push for reform. Journalists report on and often shape the social, economic and political agendas. However, as much as they facilitate, media can also create barriers and replicate misconceptions that block dialogue between and within cultures.
Among the key points of the Brussels debate was how a key institutional player like the EU can adapt its policies and in ways that will effectively address newly-formed challenges. A point raised during an earlier part of the consultation, at the Dead Sea last March, was the need for the EU to update its approaches -- some say even its existence -- if it wants to reposition itself as an influential, dynamic actor.
A recent McKinsey article argues that "Government Agencies should be more customer-focused." The article was referring to the U.S. reality, however the argument applies to the EU as well. The 21st-century EU has to abandon the "only EU/government experts can do it" tendency and turn to continuous outreach and partnering. Currently ineffective, complex governance processes present a fundamental obstacle to successful communication with citizens. At the same time in a world characterized by macroeconomic uncertainty, rapid social change and technological innovation, citizens' expectations of what government ought to deliver are rising.
But the use of better evidence for decision making through better communication of CSO messages, greater engagement and empowerment of citizens, investments in expertise and capacity building, and closer collaboration with the private and social sectors will dramatically change things to the better.
The idea is, eventually, for civil society and governments to work together. Of course, finding ways to assist civil society in the Southern Neighborhood should happen with a clear understanding of its nature in Arab countries and a genuine effort to find the most effective ways to help relevant organizations to contribute to democratic change. It was common ground among speakers and audience in Brussels that individualities and inherent issues of Arab societies, such as soaring unemployment, closed up economies, history of autocratic regimes, have to be taken on board.
The initiative announced by the Commissioner in Brussels is expected to boost social dialogue in the countries of the southern Mediterranean, i.e. Lebanon, Jordan, Israel, Palestine, Egypt, Tunisia, Libya, Algeria and Morocco. And it is much anticipated.