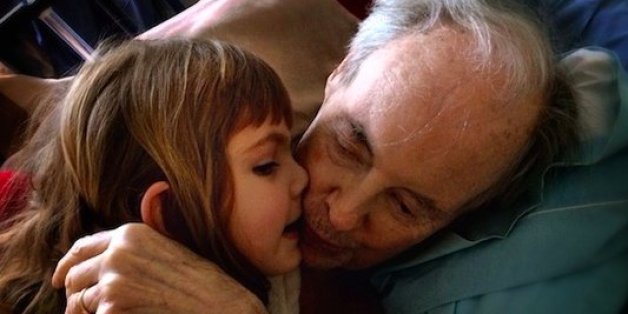 One of the things I have really agonized over as we've prepared for my dad's death was whether or not to take my young daughter to see him. On the one hand, I felt she needed the opportunity for closure, to say goodbye to a man who has been one of the most important people in her young life.
On the other, I was afraid of how it would impact her to see him in his current state. I did not want to traumatize her. Or for her long-term memories to be of him as a dying man, rather than the loving, fun BaBop she has known until recently.
My father is not in a hospital bed, hooked up to a bunch of machines. He remains in the memory care facility where he has lived -- and she has visited -- for several months. It is a familiar place for her, and him. The hospice team does not plan to move him unless absolutely necessary.
In the end, I decided to let her choose. I've been very open with her so far. She knows he is dying. I asked her if she wanted to see him. She said she did. I did my best to prepare her for what it might be like.
The day of the planned visit, my mom went before us, and called me with an update on his condition. She found him as he has often been of late -- in bed in the fetal position. He was not particularly communicative, but indicated he would welcome our visit.
Knowing things were certainly not going to get any better, I decided the time was right.
"BaBop will probably be in bed when we get there," I explained. "And he may not feel like talking much. But you can talk to him."
When we entered his room, he did not stir. We walked around to the side of his bed. He opened his eyes just long enough to greet her, by name. Then he closed them again.
"BaBop is going back to sleep," she said.
"Yes. But you can climb into his bed to give him a hug and a kiss if you want to."
And she did so. He hugged her back, and looked at me. His eyes were watery. I was not sure if it was from tears or not. She climbed down and said, "We should go so BaBop can rest."
It was my turn for a hug and a kiss. He hugged back as strongly as his frail body would allow. I told him I loved him. He did not speak.
I then took my daughter to dad's planned resting place. She has been asking a lot of questions about what will happen after he dies. The church my parents and I belong to has a lovely columbarium, and that is where they both have chosen to be laid to rest.
She thought it was a beautiful setting. She was happy there was a waterfall, and that it is located close to the beach. I explained she would be able to come visit him there anytime she wanted to. That she could talk to him.
Mom and I felt it would be good to let my daughter select the actual spot for BaBop's ashes. She found one she loved, and that is where we will place him. I hope it will be meaningful for her both to visit him there in the future and to know she was intimately involved in this very important, final step.
This post originally appeared at The Writer Revived. It is part of a series I am sharing here concerning my family's journey with dementia. My father passed away March 10, 2014.