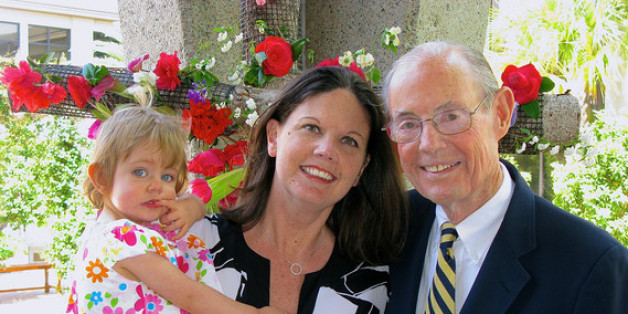 Since my dad's death in March, my young daughter regularly asks me to share stories from my childhood that include her "BaBop." It is comforting for me to recount cherished memories, and I love that it helps her get to know him better. She will never remember most of her time with him; sharing my recollections helps keep his memory alive in her heart as well as her mind.
It has also caused me reflect on the legacy he left behind. As dementia slowly took my father from us, I spent a lot of time desperately clinging to the man he was before the disease. This will be my first Father's Day without him. By reminiscing with my daughter, I am gaining a great deal of insight about my father. And realizing he and my mother taught me some very important lessons about parenting:
1. Put family first
In many ways, I think my dad was ahead of his time. A product of the '50s, when fathers were traditionally more hands off in the parenting department, he was a very involved dad. He had a demanding job, which included a lot of travel. But he made sure he was there for us when we needed him. He never let anything stand in his way of being with and caring for his family. We were his first priority. Always.
2. Be present
My dad gave his full attention to whomever he was with. He had a way of making people feel special. Important. Valued. His children were no exception. The time I spent with him was always quality time. Dad went with us to the park. Left work early to attend school performances and sporting events. Read to us. Took us on wonderful family vacations. Made the holidays magical.
3. Set clear expectations
In our house, there were rules. My brother and I knew what they were, and understood the consequences if we broke them. My dad was definitely the disciplinarian and was firm. But also loving. He worked to help us learn from our mistakes, as well as understand the reasons behind the rules. He didn't want us to blindly obey. He wanted us to learn responsibility. Accountability. Honesty. Integrity Traits knew would help us in our lives and modeled in his own.
4. Present a united front
I know for a fact my parents disagreed at times about how to handle certain aspects of my childhood. But they never argued or discussed discipline in front of us. They back each other up, parented as a team. They did not let us use one against the other or drive a ridge between them to our advantage. They were impenetrable. Committed to their parenting ideals and to each other.
5. Show your emotions
I remember the first time I saw my father cry. It was shocking, because I wasn't used to seeing grown men do that. But it was also a relief, because it made him more human to me. We were very open with our feelings in my family. Through good times and bad. We cried. We laughed. We hugged. We held hands. We were affectionate and supportive. We expressed ourselves freely.
6. Close your mouth and listen
Whenever I was having an issue, my dad knew how to draw me out and get me talking about it. He asked the right questions, then simply sat back and waited. And I was always comfortable talking to him about anything. I think it is because of the environment he established. He offered compassion, not judgment. Even when I had done something wrong, I knew I could talk to him about it. I was confident in his unconditional love and acceptance.
7. Dream big, work hard
My dad encouraged my dreams growing up. He taught to believe I could do whatever it was I set my mind on -- as long as I was willing to roll up my sleeves and do what was needed to get there. He made it clear I was responsible for making my dreams come true. And to realize them, I would have to work hard. He also taught me my happiness in life would come from within. I should never wait for or expect someone else to provide it.
8. Remember to laugh
Dad had a great sense of humor. It's one of the things he was known and loved for. And he never lost it, even when facing difficult times. My brother and I certainly presented our parents with plenty of challenges, as all kids do. There were lots of other stresses in his life, too. Painful experiences. He taught me that remembering to laugh would help me face my own obstacles. And save my sanity in the times when I needed it most.
Not only am I the person I am today because of him, I realize I am the parent I am because of the father he was. And as I face my first Father's Day without him, I am filled not only with sorrow, but also with gratitude.
This post is part of HuffPost Parents' Father's Day series, exploring the lessons our dads taught us about parenting.