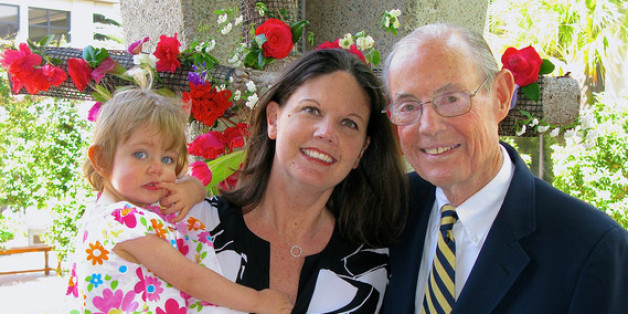 Last week when I went to visit Dad, he was so weak he could not sit up. Or roll over in bed. He was not even able to lift his head off the pillow.
I asked if he wanted me to help him sit up (he is in a regular bed, not the adjustable kind). He said yes and I did, but it was too much for him, and I immediately had to help him back down.
What was even worse than seeing him in that condition was the fact he kept apologizing for it. He seemed embarrassed. And it tore my heart to pieces.
When I began to cry, he said, "Oh, don't do that. I'm fine." So I did my best to pull myself together.
He was most bothered by not being able to see me as we spoke. The chair in the room is on the other side of the bed from how he was facing, and is too big to be moved. So I moved myself and sat directly next to him on the bed, holding his hands and looking at him face-to-face.
It was a brief visit, as most are. He was very worn out and needed to rest. That night, I found rest impossible to achieve. I tossed and turned in bed and cried for hours.
The following day, my husband went by the memory care facility for a visit, thinking it might be his last opportunity. He was shocked to find my dad up and out of bed. In fact, they walked through the facility together, and Dad sat down in the common area to participate in a trivia game the staff and residents were playing.
Our hospice nurse refers to this as "cycling," and says it is a normal pattern seen in the dying. I call it "pure hell." Right now I am on the worst roller coaster ride of my life, and I desperately want off. But there is no end in sight.
Just when I'm convinced my dad is nearing death, he seems to rally. Every time my phone rings, I jump. Each night I place it on my bedside table. Its presence looms large and makes me uneasy.
My emotions are all over the place. I am physically, mentally, emotionally and spiritually drained. Completely. Most days I numbly go through the motions.
When the day is through and I have a moment to myself, I desperately want to write to get it all out. But I have neither the physical nor the mental energy to do so. And many times, words escape me. I just don't know what to say.
I don't even know what to think half the time.
I haven't taken my daughter back to see dad, because I never know what condition he will be in. But I go as often as I can. I cherish the good days. And do my best to brush off the bad.
Life does go on. There is no other way.
My daughter is my joy. I embrace the time we have together now more than ever. Even if much of it is spent trying to prepare her for what is to come.
Snuggles in the early morning, when I go to wake her for school. Bath time, when she tells me about her day and sings new songs she has learned at school. Gymnastics class, where she exhibits more joy and exuberance than ever (and that is saying a lot).
And my husband is my rock, as he always has been. Years ago, he went through the death of his father under different but similar circumstances. He knows what I am going through and feeling. I don't have to explain; he provides the comfort I desperately need. A hug. An ear. A shoulder to cry on. Space when I need it.
I thought witnessing my father's mental decline was horrific. Watching him die slowly is far, far worse.
This post originally appeared at The Writer Revived. It is part of a series I am sharing here concerning my family's journey with dementia. My father passed away March 10, 2014.