This summer I realized my life was quickly going to change come this fall, and I immediately began to panic. My stepson Andrew was starting his junior year of college and my youngest of three daughters was starting full day pre-k. I hadn't worked outside the home in over a decade, and I had an illness that made it difficult to work under highly stressful situations. Despite my trepidation, I knew it was time to brush up on my job skills. So I decided a good place to start was with my dog, Mary. Seriously! But in all honesty, my doctor felt I needed a healing, not an occupation.
I decided doing volunteer work with my dog Mary was a better way for me to slowly start back into the workforce.
But I'm getting ahead of myself. I need to explain my doctor's orders. In 2008 I was unexpectedly diagnosed with bipolar I disorder. Unfortunately for me, I am what my psychiatrist calls a brittle bipolar; I have a history of relapse. My moods swings are easily triggered by stress and quickly switch between depression and mania (excessive spending, rapid speech and impulsive behavior).
During one of my hospital stays we had pet therapy. Each day a different trainer would come in with their dog that was a certified therapy dog. Their job was to come to the hospital to offer patients a distraction from our illness or even help us with the stresses of our illness by letting us pet, hug and play with the dog.
The dogs did bring me comfort, but one dog in particular made me realize the reality of my mental illness. From now on stigma was going to follow me the rest of my life. I would feel ashamed, disgraced, socially unacceptable, even feared. I couldn't imagine why else this less than therapeutic dog would be welcomed into our unit, other than the fact that nobody really cared about us.
I'll never forget when this trainer brought her Komondor with her. I couldn't stop staring at this animal as she bragged that the breed had recently won best breed at the Westminster Kennel Club Show, all I could see was its mop of dreadlocks. This dog didn't soothe me at all. Don't get me wrong, I love Bob Marley, but not in a dog. I want to pet a dog and give him a hug to feel better, not get my fingers in a knot. Everyone knew we wouldn't get anything from the dog, but who were we to complain? We're mentally ill.
But I vowed to fight the stigma after seeing that dog with the dreadlocks. I would do it by training my own dog, Mary, a beautiful, huggable and lovable golden doodle to be a therapy dog.
Building my resume by volunteering with my dog was away for me to utilize my experience in the hospital and even past job skills to get myself slowly back to work; while still following doctor's orders. Avoiding stress was key to staying stable and healthy.
I had a very successful and demanding career in my 20s as an associate producer for Good Morning America and even a freelance producer for The Oprah Winfrey Show, until I got pregnant with my first daughter Olivia.
I know how to juggle and multi-task like many working mothers, but the television business is a unique beast. It means working long and odd hours, coping with last minute travel and stressful situations, while competing for breaking news stories and the best guests.
Being in the place I am now I can't imagine how to take that on again. But there are times when I am watching breaking news that I am ready to grab a bag and go compete in the booking wars. But the reality is I can't take all of that on again. So I literally am trading one beast for another and trust me even though Mary almost out weighs me she's the gentler beast.
While doing research on therapy dog classes, I found, The Good Dog Foundation, "dogs helping humans heal," a nonprofit agency founded in 1998. The organization trains dogs and their owners to become certified dog therapy teams. I spoke with the founder and executive director, Rachel McPherson and she explained that there were two levels of training classes. The first level is therapy I class, which is six weeks where you go over basic obedience and handling skills, like, sit, lay down, stay, come and loose leash walking.
The therapy II classes focused on handling our dogs in hospital settings and building our relationships with our dogs so we could help our dogs deal with stressful situations we might encounter. These classes involved a lot of roll playing with wheelchairs, walkers, canes and adults and children that might be loud, move abruptly or touch our dogs roughly. I then made an appointment with Good Dog Foundation trainer, Heather White so she could test Mary.
I was nervous but I knew Mary already had a lot of these skills she needed to be a therapy dog and she has a lovable temperament, she enjoys being around people, especially children. It helps that a child trained Mary when she was only six weeks old.
My third daughter, Ella was 10 months old when we got Mary as a puppy. Ella treated Mary like one of her stuffed animals. Which meant pulling Mary's tail, opening her mouth to check for leftovers, yanking her ears so Mary would follow her and even stepping on Mary's paws as the two of them toddled around the kitchen. Mary handled all of this without much fuss. I would rescue her once in awhile and show Ella that we all need to be cuddled. Thanks to Ella's thorough training I felt confident Mary could handle the certification training well.
Heather tested Mary and she did very well with all her basic commands and wasn't even bothered when Heather popped a balloon behind her. It was obvious she could handle abrupt noises. Since we passed we were allowed to go straight to Therapy II classes.

When I told my 12 year-old daughter Olivia about my plans to become a dog therapy team with Mary, she said she wanted to take the class with me. Olivia was excited to learn that she could become certified too.
According to the Good Dog Foundation, founder and executive director, Rachel McPherson, They encourage children to become certified therapy teams because she says, "Children gain a special bond with their dog and it's a great way for children to share their wonderful canine companions and their own unique talents with others."
The dog teams can go into hospitals, nursing homes, schools and libraries. Since Olivia is underage she can only work in the reading programs at the libraries and schools.
Little did I know this is exactly what she wanted to do. Olivia wanted to share her love of reading with children who find it difficult to do, mainly because she understands their frustration in learning to read.
Olivia was born with a severe hearing loss in her right ear but we didn't know about it until she was nearly three. Olivia was about 18 months-old when we began having play dates with other moms and their children. I noticed then there was something wrong with Olivia's speech; she was speaking differently and slower than her peers. The other children knew so many more words than Olivia and pronounced them properly.
At home Olivia had terrible temper tantrums as we tried to communicate and she even remembers sitting under the table hiding when she got too frustrated to speak. I spoke with my pediatrician and he told me to get in touch with the Department of Health who would then put me in contact with Early Intervention.
Early Intervention is a support system for children with developmental disabilities or delays. It coordinates services that promote the child's growth and development and supports families during the critical zero to three years. EI is federally mandated through the Individuals with Disabilities Education Act. Early Intervention provides services to improve the developmental, social and educational gains, reduces the future costs of special education and helps children with disabilities grow up to become productive, independent individuals. (Wikipedia and KidSource On Line 2009)
I called Early Intervention and Olivia was scheduled for tests by several different professionals, a psychologist to test her IQ, her potential for learning, her non-verbal and verbal reasoning and observe her behavior, a speech therapist to test her receptive language (what she understood) and expressive language (what and how she could speak) and an education evaluation, this tested pre-readiness for school, (cognitive skills like matching and puzzles, language-like naming and comprehension, and finally fine motor and gross motor skills and some basic speech and language.
I expected the speech therapy test to be the worst; instead, the worst exam was with the education evaluation. The education evaluator asked Olivia, "Where does milk come from", to no answer. She asked, "Point to under the table," again no answer. I began to cry, scooped Olivia up, and walked out without finishing the test. I feared for her future knowing how many obstacles and struggles she was going to have to deal with at such a young age.
After all of the evaluations were finished, Early Intervention felt Olivia's delays were developmental and she would eventually catch up but I was to follow up in 6 months.
When things didn't seem to be improving, I contacted EI again and they retested her speech and sent a speech therapist to my home three times a week to work with Olivia. By this time Olivia was nearly 3-years-old and her speech therapist wanted to get her hearing checked because her articulation was so poor.
Before Olivia and I even walked into the sound proof booth I knew they were going to find something wrong. Just call it mother's intuition.
After the testing, the audiologist explained that Olivia had a severe hearing loss in her right ear and would need to be fitted with a hearing aid. She lost all of that important incidental learning children get from zero to three. That's why she didn't understand simple concepts we don't even realize we are learning, like on top of the table or where milk comes from.
Olivia received years of speech therapy, and months of OT and PT. By the time she reached the half way point of kindergarten she was almost at par with her peers. Today you would never know she has a disability, except that she wears a hearing aid. Olivia loves to read and always has a book in her hand and a second one waiting for when she's finished with the first.
For Olivia working with Mary meant she could work with children that have difficulty learning how to read. After we graduated in August, Olivia and I both became certified therapy dog teams by The Good Dog Foundation. Our first job was reading to children at the Warner library in Tarrytown, NY. Seeing first hand what researchers already know about the human animal bond was amazing.
We've been working at the Warner Library since October. We have our own little room with a closed door with windows adjacent to the children's library. The children choose a book, sign-up to work with Mary and watch from the windows as they wait for their turn. During previous visits I observed as each child came in to greet Mary, most were a little shy.
Mary is a fluffy, 84-pound dog and even as she sits quietly on her blanket for the children to come in to sit with her, the children are a little intimidated by her size. So Olivia and I usually ask if they want to sit next to us first. By the time they are nearly finished reading, they are usually lying down and resting their heads on Mary's chest, who is peacefully lying down too, enjoying the book and the snuggle time. Mary proves what research shows about how dogs help children read.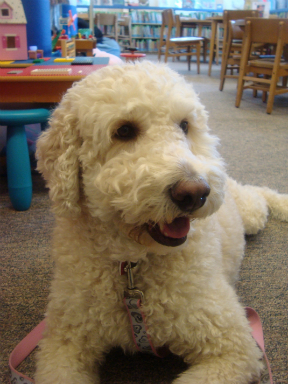 According to Childhood Education, "Working with animals is remarkably effective with students who have attention difficulties, disruptive behaviors, or a general lack of interest in reading (Spring 2005). Researchers at the American School Board Journal found that, "Children alone in a quiet room had an instant spike in blood pressure when they began to read aloud. Their blood pressure quickly lowered when a dog entered and wandered about the room." (2009)
Recently I let Olivia take over with Mary and the children as I spoke to parents and took pictures. One parent said her daughter liked reading to Mary. She says, "Its nice because the dog isn't judging you."
On the ride home, I asked Olivia how she liked working with Mary and the children on her own. She thought a moment and surprised me with her response. "I liked reading with the girl that was reading the slowest, I kept telling her to rub Mary's ears and that we were both listening to her, no matter how slow she went. When I was younger I wanted to give up and sometimes I still want to, but when kids are with Mary and me they don't give up, so I won't either." Smiling and pleased with herself, Olivia said, "It feels so good to share her. To see the kids smile and read, its like a play date but better."
It does feel good to share, especially sharing my daughter's gifts. I am very proud of what we've both accomplished with Mary's help.
Mary and I have many more places to share her healing power. I still have to make up for the dog with the dreadlocks. Along the way we will leave many healing paw prints, wags and kisses. So stay tuned, "Because Dogs Make Good Medicine" (The Good Dog Foundation).