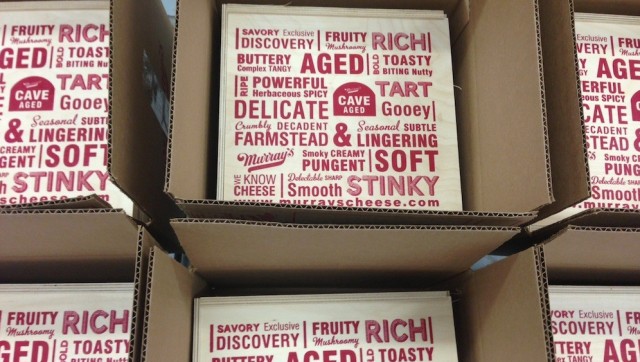 So many of our favorite holiday stories take place sometime in the past, in faraway, magical lands like the North Pole, Whoville and the wilds of Hohman, Ind. My holiday story is no different. Two holiday seasons ago, in a botched and quarter-hearted attempt to become a freelance food writer -- and to put myself in close proximity to my favorite dairy product for extended periods of time -- I worked at the Mecca of cheese and a true New York institution: Murray's Cheese Shop. For anyone who loves New York City and/or great food, a trip to Murray's Greenwich Village location on Bleecker Street is, inexplicably, simultaneously boatloads of fun and as sacred as the impending arrival of a baby who, regardless of whether or not you believe in him, is the impetus for mass gift buying and an abundance of "ho ho ho" and mistletoe.
In an effort to make sure that their customers leave satisfied and well on the road to deliciousness, friendly and knowledgeable cheesemongers donning red Murray's chef coats answer your every question, as well as the ones you don't even know you should ask. For instance, I once ordered a lovely chèvre and the nice gentleman behind the counter suggested that I try pairing it with a Scharffen Berger semisweet chocolate bar. Despite not being particularly fond of sweets, I took his recommendation and, unsurprisingly, it was a taste sensation! Suffice it to say, the staff at Murray's is really on top of its game, so when the opportunity to work there wrapping mail order cheese on the night shift during the holidays (to ensure absolute freshness, all cheeses are cut to order, necessitating a dusk to dawn shift during the seasonal rush) presented itself, I leapt at it with enthusiasm and, as I soon learned, more or less no skill.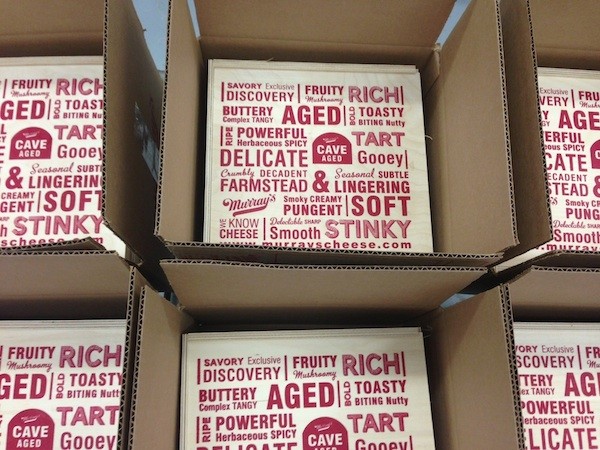 Believe it or not, wrapping cheese at a rapid pace in a refrigerated production room is not an innate skill, nor is it easily learned or honed. In fact, based upon my own experience, it seems entirely possible that some human beings are born with some recessive gene that precludes them from developing any proficiency in wrapping cheese whatsoever. I believe that I am one of those unfortunate humans and very well may be the worst cheese wrapper who has ever set foot in Murray's (or anywhere, really). I was basically the cheese elf equivalent of Hermey, that poor little elf from Rudolph the Red-Nosed Reindeer who wanted to be a dentist! In any case, were it not for the efficiency and unending patience of the cheese cave manager and affineur, I probably would have perished in one of the subterranean temperature controlled caves, ruining dozens of perfectly aged pucks of Crottin de Chavignol, among other things. But take heart, gentle reader, with some encouragement and specialized instruction from my fearless leader, by the end of the second day (please bear in mind that two nights in the mystical land of the Murray's production room is the equivalent of one month on non-magical Planet Earth proper) I was wrapping with a moderate level of competence. By the end of my tenure, I was even wrapping somewhat well. For instance, I could wrap bells of Haystack Peak and Valençay in approximately nothing flat! Though, in an effort to keep transparency in this tale of holiday wonderment, bell-shaped cheeses are far and away the easiest to wrap.
On the other end of the spectrum we have Roquefort, commonly referred to as the "King of Blues," which is both incredibly popular and nearly impossible to wrap without it crumbling into tiny bits before your very eyes! Its English cousin, Colston Bassett Stilton, is also incredibly popular and only moderately less difficult to wrap. Semi-firm Young Goat Gouda and the Parmigiano-Reggiano-like Piave Vecchio are much easier to wrap. Though, I personally wrapped a fair portion of the 1,918 and 3,544 pounds of Young Goat Gouda and Piave, respectively, we shipped that holiday season, which likely contributed to the fact that I didn't stink at wrapping the aforementioned cheeses. The same cannot be said of Piave's close relative, the delectable but difficult "King of Italian Cheese." Toward the end of my adventures as a cheese elf, I was tasked with wrapping a couple of three-pound pieces of the stuff and, since very large pieces of Parmigiano-Reggiano are basically the same exact thing as stalactites, it was horrible. Though, I suppose that's rather fitting as the basement of Murray's, with its caves and production room, is probably an urban spelunker's paradise.
Despite thinking my efforts that holiday season were herculean, I have come to learn that they were laughably minuscule in contrast with Murray's current mail order business, which has grown exponentially over the last two years. Since my short stint as a cheese elf, Murray's has moved their mail order operation from their 1,000 square foot basement on Bleecker Street to a gargantuan 13,500 square foot facility in Long Island City. Unencumbered by the logistical constraints of sharing production space with booming retail and wholesale departments, mail order is now able to grow their online business into one that truly replicates the in-store experience. Enhancements to their site include a virtual cheese counter staffed by a helpful cheesemonger who is happy to answer your cheese-related questions, as well as a "Learn About Cheese" section where one can go to demystify the nuances of beverage pairings and, occasionally odd-seeming (in the best way), complimentary foods.
But, in my opinion, the most useful addition for cheese lovers interested in sharing the joys of "milk's leap toward immortality" (perfectly put by Clifton Fadiman of The New Yorker fame, among other things) with their loved ones is the "Build Your Own Gift" (BYOG) feature, which allows shoppers to simply drag and drop their desired cheeses and saucissons sec, along with the requisite accoutrements, into their virtual Murray's gift crates. The BYOG feature is also great for showering yourself with savory gifts! That being said, while I thoroughly enjoyed my brief time as the world's most incompetent cheese elf, I am very happy to be back on the consumer side of things. So much so that I think I will go build myself a gift right now, starting with some Caciocavallo which, in my opinion, looks like the curvaceous and sultry lovechild of lemon meringue and Mimolette, and a fennel-flecked Toscano salame.