Let's face it: most of the content on the web today is really bad. There's click-bait content that doesn't provide any useful insights, pop-up content that makes you want to throw your laptop across, and (worst of all) filler content, that companies publish just because.
The root cause of all of this content waste? A lack of a scalable content strategy. Too often, in a mad rush to drive traffic, leads and engagement, marketers lean on aggressive attention-seeking tactics without taking the time to dig into what their prospects and customers actually want. The result? They get short-lived bursts of engagement that don't drive any revenue or new business for their company.
Here are five ways to stop the madness and scale your marketing content the right way:
FORM A CONTENT BOARD
A content board is a group of representative leaders from every team in your company that meet each quarter to discuss major themes they want to address with content. These themes can stem from customer needs, user behavioral data, strategic initiatives, frequently asked questions, and current thematic gaps. When the content board identifies themes that align with your companies' needs, marketers are equipped to build the content to address them.
USE A CONTENT PILLAR APPROACH
Content that's created in an ad-hoc fashion is doomed for the trash bin. Each and every piece of content you're company creates -- from whitepapers to tweets -- should be connected to one of your overarching content themes. The best way to do it? Use a content pillar approach. A content pillar is one substantive piece of content on a specific topic or theme that can be broken out into many derivative assets. It can be an eBook, guide, whitepaper, or report that spawns a variety of different blog posts, emails, social media posts, SlideShare presentations, videos, and webinars on the same topic.
CREATE A COLLABORATIVE EDITORIAL CALENDAR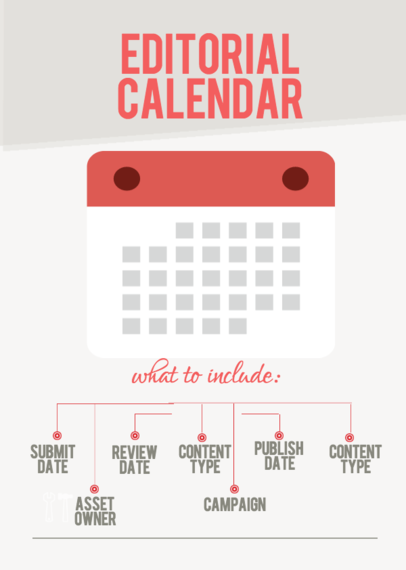 Establishing a process for scheduling your content is essential for its' success. Without and editorial calendar you risk duplicating your content efforts, missing deadlines and clashing with other teams and colleagues. Assign someone to manage your editorial calendar, host it on a collaborative platform to maximize visibility, and include deadlines not only for publishing content, but also submitting, editing, designing, and promoting content.
IMPLEMENT WORKFLOWS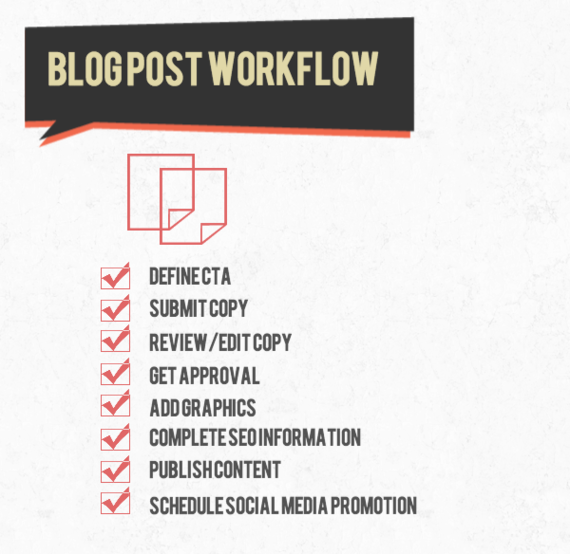 Without a step-by-step workflow for planning, producing, editing, distributing, and analyzing the content associated with your global campaign, you're risking a chaotic campaign launch. Workflows differ based on your needs. A blog post workflow won't look like a webinar workflow, because each content type requires different tasks. To identify the right workflow tasks for all the content in your campaign, follow these steps:
Identify what content types you're creating
List the tasks for each content type (submit, edit, design, revise, publish, etc.)
Organize these tasks in the order they should be performed
Assign a point person and deadline for each of these tasks
BUILD A CAMPAIGN FLOWCHART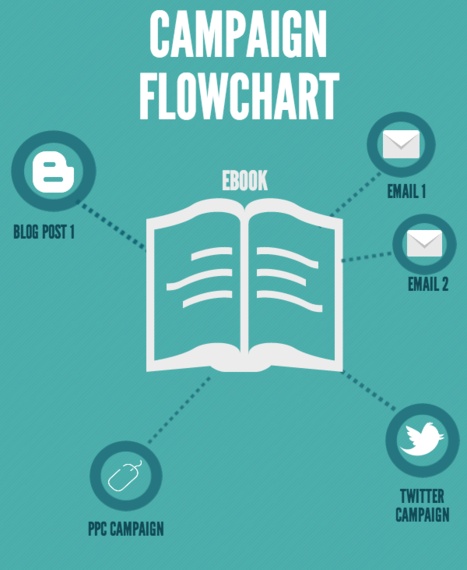 A campaign flowchart is a visual representation of how a buyer will move through your marketing campaign. It includes the pillar content asset anchoring the campaign (i.e. an eBook, whitepaper, guide), each additional asset supporting the campaign (i.e. outbound emails, videos, blog posts, infographics), and the call to action (CTA) for each of those assets.
They display the ideal path users will follow, help identify holes in your processes, and keep your inbound and outbound teams on the same page. For a detailed guide on how to build your own campaign flowchart, check out this template.
Scaling your content marketing efforts is hard. But the results can be a game-changer. With careful planning and vetted processes, you can skyrocket your reach, drive new business for your organization, and meet the needs of your mobile, global, hyperconnected consumer.
Want to scale your marketing content to markets around the world? Read this guide.