With his arms outstretched and his face tilted slightly skyward, Fito, a 13-year old Honduran, flaps his hands through the air as he balances atop the most deadly freight train in South America. Dubbed "The Beast" by the thousands of Latin American migrants who illegally climb aboard in hopes of crossing into the United States, this train has a grim reputation of tossing its passengers and crunching their bodies beneath its wheels. But this very real danger does not seem to faze Fito in Which Way Home, Rebecca Camisa's new HBO documentary that illuminates a heartbreaking and inspiring world of children who make the treacherous odyssey north in hopes of reaching lost family members, opportunity and, in the case of Fito's companion Kevin, a glimpse of Manhattan's skyscrapers.
Children make up roughly five percent of illegal migrants traveling to the United States alone, and the footage Camisa's film crew manages to catch is staggering. They unveil the inner-workings of US detention centers, boarder control operations, and the emotional trauma and anxiety of families who can only pray and wait. But perhaps the most unexpected and triumphant aspect of
Which Way Home
is the way in which it reveals such enduring ambition through the innocence and oblivion of childhood. In the face of death, poverty, drugs, rape and abandonment, the children of
Which Way Home
giggle as they scurry up and down boxcar walls and across "The Beast's" rickety roof, turning this deadly locomotive into a jungle-gym.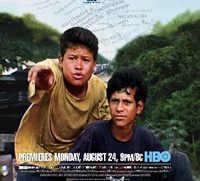 Cutting between the journey of Fito and his friends, the horror stories of boarder control officials, tales of corrupt smugglers, and tragic interviews with bereaved parents, Camisa puts a human face on a tangled web of immigration. Perhaps the enduring hope for America these children convey in Which Way Home commands attention so poignantly because it evokes our own inclination to suffer and struggle on -- not just toward a utopia, but in spite of it.
An official selection at the 2009 Tribeca Film Festival and the 2009 Los Angeles Film Festival, Which Way Home premiers tonight on HBO at 9pm as part of a provocative summer series that debuts a new special every Monday night. Watch the trailer here.