Touted across the world as The Big Apple, New York City is home to over eight million residents. With five distinct boroughs and hundreds of neighborhoods, it's no surprise that rent prices across the city experience major fluctuations. As a result, despite being contained in a single city, life in Tribeca on the island of Manhattan is undoubtedly drastically different than life in Astoria, which is located in Queens. To uncover some of the most fascinating rent trends across the nation during Q3 2014, rental marketplace Lovely took a holistic look at the New York City rental market based on findings from their quarterly report.
Tribeca vs. Astoria (and everything in between)
Once again, trendy Manhattan neighborhood Tribeca topped the charts as the most expensive neighborhood to rent in New York City. At $5,000, Tribeca is positioned as a strong rival next to the most expensive neighborhood in San Francisco, Presidio Heights, which experienced a median rent price of $5,100 in Q3 2014. While New York City may have won the rent battle citywide, on a neighborhood level, New York stands as a high priced competitor. The second and third ranked most expensive neighborhoods in NYC, Battery Park City and Union Square, had higher median rents than their SF high-priced counterparts, Dogpatch ($4,288) and Cow Hollow ($4,200). So, to really understand the New York City rental landscape, it's fascinating to break down each borough on a neighborhood level.
Up and coming Brooklyn neighborhoods, in addition to the Manhattan regulars that typically make the most expensive neighborhood list, were the only two New York City boroughs with median rents above the citywide media. The Bronx, Queens and Staten Island neighborhoods all fell below the citywide median. Long Island City, a popular neighborhood in Queens, fell just below the citywide median at $2,700, but was still higher than a handful of Manhattan neighborhoods, including Chinatown, the Upper East Side and the most shocking, the Meatpacking District. The Meatpacking District is notorious for having high priced rental units to keep up with the trendy connotation associated with this 'hood.
Despite being well below the citywide median in certain Bronx, Queens and Staten Island neighborhoods, it's still very expensive to rent in every neighborhood in New York City. Astoria for example, which clocked in at $2,150, or 23% below the citywide median, is still ranked higher than major U.S. cities like Chicago and Los Angeles, where the citywide medians haven't even reached the $2,000 mark. The best deals in New York City proved to be in the Bronx and Staten Island, where more than 15 neighborhoods were over 50% less than the citywide median.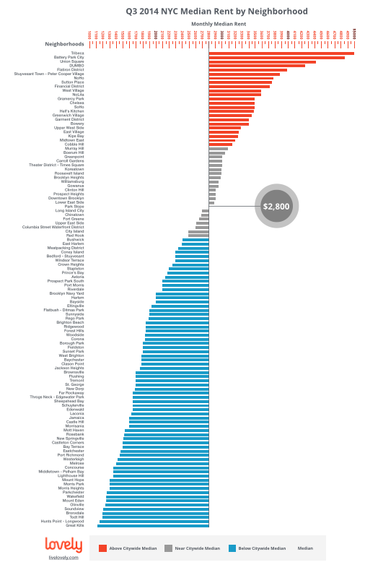 Furry Friends Most Welcomed in Brooklyn and Manhattan
Looking to rent with pets? Manhattan and Brooklyn proved to be the most accommodating to renters looking to reside with their furry roommates. While it's important to remember that this analysis only considers listings where pets allowed is specifically indicated in the rental listing, the results proved to be somewhat surprising. Boroughs like Staten Island and Queens are notorious for having more outdoor space associated with residences, which might suggest that there would be more opportunities to rent with pets. However, Manhattan and Brooklyn proved to top the charts with the most pet friendly rentals. In fact, more than 50% of the units in 18 Brooklyn neighborhoods and 15 Manhattan neighborhoods were touted as pet friendly rentals in Q3. Stuyvesant Town (Manhattan), Dumbo (Brooklyn) and the Brooklyn Navy Yard (Brooklyn) featured the highest percentage of pet friendly units -- 93%, 77% and 75%, respectively.
Stay tuned for a deeper analysis of other major markets across the United States in future posts on the HuffPost Blog!
Note: A version of this post first appeared on the Lovely Blog