The Windy City is one of the more affordable major metropolitan markets compared to San Francisco, New York City, Los Angeles, and Washington, D.C., with median rent less than half than the citywide median rent in San Francisco. While impactful supply constraints, where there's little inventory available, dictate the market for renters, there are multiple different types of neighborhoods in Chicago. Many of these have become more popular in recent years.
The team at Lovely is at it again with a list of the most expensive neighborhoods in Chicago! Check out the most expensive neighborhoods based on Q2 2014 median rent prices.
1. Goose Island: $2,372
2. Near North Side: $2,200
3. The Loop: $2,148
4. South Loop: $2,002
5. Wicker Park: $1,995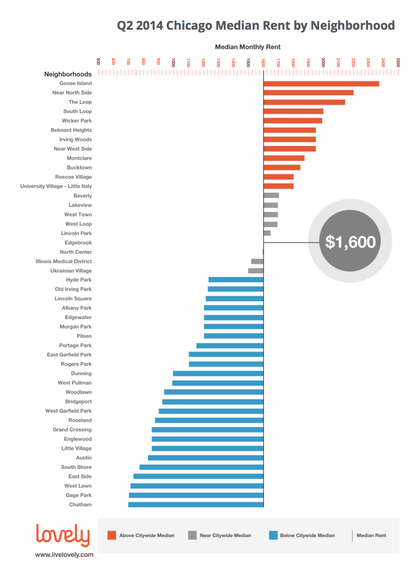 Despite a four percent increase in median rent price in Chicago since the previous quarter, the city saw a nearly two percent decrease in median rent compared to the previous year. One bedroom and two bedroom units specifically contributed to this overall decline in rent price year over year. Chicago renters - be prepared to pay top dollar for studio apartments in the Windy City though, where the median rent price increased nearly 40 percent since Q2 2013, totaling a median rent of $1,298 for studio apartments during Q2 2014.
Stay tuned for more of the most expensive neighborhoods in other major cities across the U.S.! To check out the entire Lovely Rental Market Report, visit blog.livelovely.com.
Methodology: With access to the most robust, comprehensive set of rental inventory across the web, Lovely provides a deep look into the U.S. rental market. In addition to Lovely's posting platform, Lovely Pro, Lovely obtains listings by partnering with over 70 external providers to populate its marketplace with rental listings.