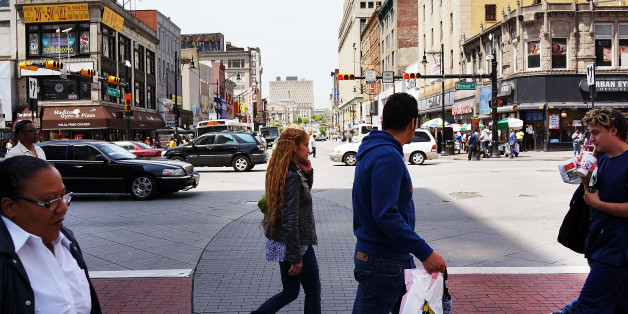 Last week, Newark students staged an all-night sit-in at the Newark Public School Advisory Board meeting in their continuing protests against state-appointed Superintendent Cami Anderson's One Newark plan. Under the plan, many schools will be closed, "renewed," or turned over to charters; a "renewed" school means that all the teachers have to reapply for their jobs.
At the meeting, Newark Students Union president Kristin Towkaniuk reportedly handed Anderson their demands, which call for Anderson's immediate resignation, for local control of their schools, for public schools to be fairly and fully funded, and for all schools to remain open. Before sitting down the students said, "We refuse to stay silent. Until the following demands are met we will not move."
Mayor-elect Ras Baraka, who ran on a platform celebrated by public education activists within and beyond the city's borders, reportedly visited the students during the sit-in. Baraka, a principal at Newark's Central High School, has called One Newark "an irresponsible and radical plan" that "needs to be halted."
Newark residents have been waging their resistance from the ballot box to the streets. Baraka's victory comes four months after four principals were suspended, allegedly for criticizing One Newark at a public forum; a month after Newark students walked out in protest; and three weeks after 77 members of Newark's clergy called for a moratorium on One Newark, warning of potentially catastrophic consequences.
And just this month, a national coalition of community groups filed a Civil Rights complaint with the Department of Justice and the Department of Education, alleging that One Newark's plans to privatize and close neighborhood schools will have a disproportionate impact on African-Americans. According to the complaint, African-Americans make up 53 percent of the school district, but 86 percent of the students affected by One Newark. Less than 1 percent of white students, who comprise almost 8 percent of the district, will be affected.
While the attacks on Newark public schools are far from unique, fortunately, neither is the community's outcry. In response to the Camden state-appointed superintendent's announcement on May 12 that hundreds of teachers would be laid off, Camden students walked out in protest. "They're getting rid of our teachers. Teachers that care for us," said 11th grader Jamal Dickerson.
Christina Bianca is reportedly one of the more than 200 teachers who will be laid off. Her position is being eliminated, or, in the bureaucratic parlance, RIF'd. RIF, which stands for Reduction in Force, is an acronym that has become all too familiar to New Jersey families and educators. New Jersey Spotlight reported:
Christina Bianca, a teacher in the district for eight years, said looking at her record will show she has received all satisfactory and distinguished ratings, and met all the student performance goals that have become the latest requirement, too.

"But what you won't find out is I arrive early every day, I work Saturdays and summer programs, and the countless times I have driven to houses to deliver missing assignments and the emails and letters and cards from parents thanking me," she said.

"I love these kids, that's what I am," she said, choking up. "Every child deserves a champion. I am that champion, and yet today I'm RIF'd."
This story is no longer limited to New Jersey's largest and most impoverished cities. In my small, mixed-income town of Highland Park, with a population of about 14,000, the Board of Education has RIF'd those who provide student services while doubling the number of central office administrators. In the last year the Board eliminated school secretaries; literacy coaches; an ESL teaching position; a drug and alcohol counselor; Title 1 coordinators, who are tasked with finding ways to help struggling students improve academically; and a staff and student support teacher who worked with students with discipline problems.
Since the first round of cuts last fall, parents have organized relentlessly. Educators, parents and students attended a vigil to protest the cuts. We faithfully attend Board of Education meetings to speak out during public comment (fears of public speaking be damned). Teams of parents canvass our town, educating neighbors and passing out fact sheets. Hundreds of Highland Parkers have signed a community statement criticizing the District's leadership. The local teachers and staff union has endorsed two public statements - one last December and another this past April - expressing concern about the schools' leadership. (School leaders have yet to publicly respond to the union.)
Like Newark, like Camden, Highland Park is far from unique. Despite efforts to silence and outspend dissent, in city after city, in town after town, New Jersey students, parents and teachers are fighting for their public schools. If our petitions expose misplaced priorities -- of administrators over teachers -- we sign them. If our voices interrupt plans to underfund and privatize public schools, we raise them. If our solidarity with educators' unions helps protect the teaching profession, we stand with them. If our votes elect allies in our struggle to preserve public education as a right, we cast them. If our schools are threatened, we fight for them. We are ready, we are set, we dissent, we resist.