Right out of college I spent a year managing camps in Namibia. This might be part of the reason that Namibia is one of my favorite countries in Africa but I hope all the reasons below will be convincing for you as well!
1. Namibia is a remarkable conservation success story.
Namibia is internationally acclaimed for its approach to conservation. Protection of the environment is written into the constitution, almost half of the country is unfenced conservation area and close to 20 percent of that is managed by community-run conservancies. These conservancies are self-governing entities that actively manage wildlife and other natural resources. These community partnerships mean that local communities benefit from tourism revenue, giving them an economic incentive to protect their wildlife. Damaraland Camp and Grootberg Lodge are two great examples.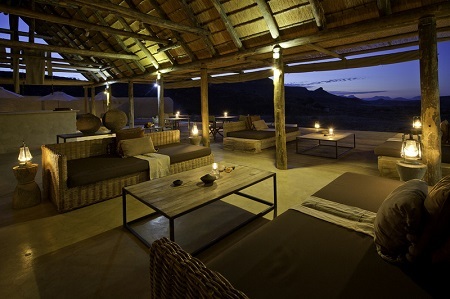 Damaraland Camp is the successful result of a partnership between Wilderness Safaris and the Torra Conservancy. Photo courtesy of Wilderness Safaris and Dana Allen.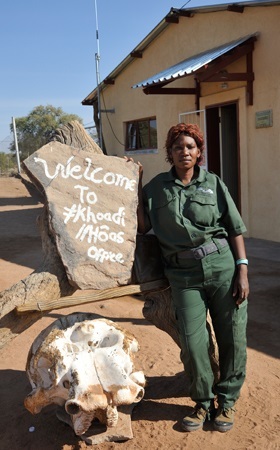 Grootberg Lodge sits on the ≠Khoadi //Hoas Conservancy and became wholly owned by the communal conservancy in 2005. Photo courtesy of Grootberg Lodge.
As a result of these policies Namibia is one of the only countries in Africa where the elephant and lion populations are on the increase (as well as increases in grazing animals such as Oryx, Springbok and Zebra). Here are just a few stats:
Hartmanns Mountain Zebra in northwest Namibia have increased from around 1,000 in 1982 to over 27,000 today.
The 1,000 springbok in northwest Namibia in 1982 have grown to 93,000.
Elephant numbers in Namibia have increased from approximately 15,000 in 1995 to over 20,000 today.
Namibia has the world's largest and healthiest cheetah population.
Lions have increased in range and number. In Kunene the population has expanded from an estimated 20 in 1995 to 150 in 2012.
There has been only one instance of rhino poaching in the last year (compared to epidemic levels in South Africa.
If you are traveling to Namibia I recommend starting at Okonjima and the Africat Foundation. It's a great introduction to Namibia's conservation efforts and get up-close and personal with some big cats!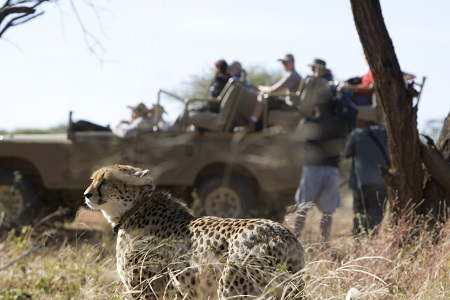 Cheetah Release at Africat. Photo courtesy of Africat/Okonjima.
2. Unmatched Stargazing
Together with Chile and Hawaii, Namibia is considered to be one of the top stargazing destinations in the world. With its generally cloudless night sky, especially in the dry winter months, minimal contamination by artificial light and air pollution, and views of the southern constellations, Namibia has perfect stargazing conditions. The NamibRand Nature Reserve was recently rated a "Gold" level dark sky reserve by the International Dark Sky Association, its highest possible ranking.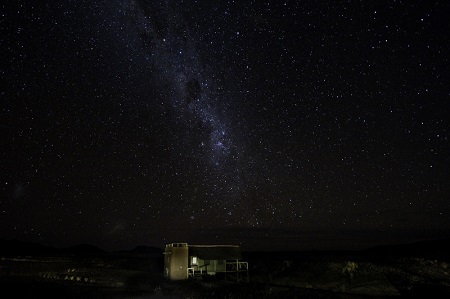 The night sky over Kulala Desert Lodge. Photo courtesy of Wilderness Safaris.
If you are interested in Namibia for its stargazing then two great options are
AndBeyond Sossusvlei Desert Lodge which has an on-site observatory with an incredible telescope and a resident astronomer.
Sossus Dune Lodge. This is the only property inside Namib-Naukluft National Park, allowing hard core photographers and stargazers night-time access to the dunes at Sossusvlei.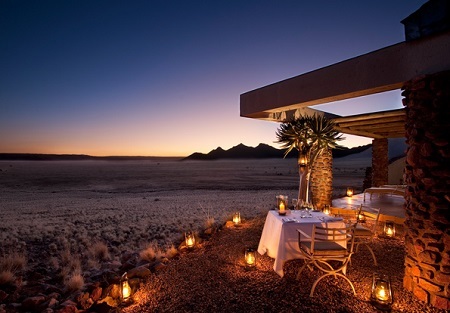 AndBeyond Sossusvlei Desert Lodge
3. Incredible landscapes, geology and rock-art
Namibia offers some truly surreal landscapes. From the decaying ships of the Skeleton Coast, to the dunes at Sossusvlei, to Dead Vlei's petrified camel-thorn trees to the ancient rock art at Twyfelfontein, Namibia is a geologist's and a photographer's dream.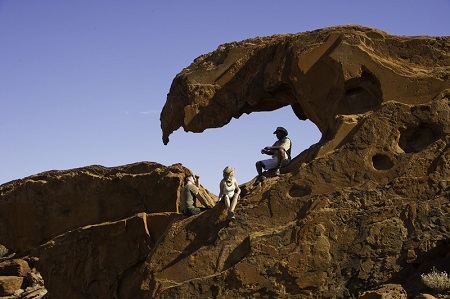 Landscape near Doro Nawas. Photo courtesy of Wilderness Safaris.
If you want to show off photos of extraordinary scenes, venture to the Quiver Tree Forest near Keetmanshop; the Organ Pipes -- an unusual rock formation near Twyfelfontein; the Burnt Mountain -- a rock which glows red, black and purple at sunset (also near Twyfelfontein); the BogenfelsRock Arch on the coast near Luderitz; or the "ghost town" of Kolmanskop (also near Luderitz) which is being slowly swallowed by the dunes. I also recommend flying tours of the Skeleton Coast to capture the changing landscape from the air.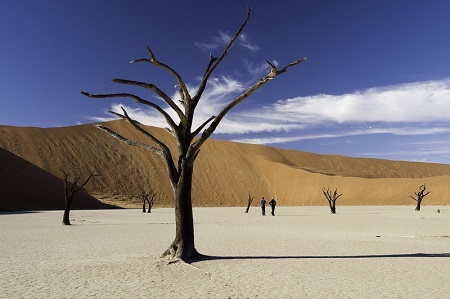 Dead Vlei. Photo courtesy of Wilderness Safaris.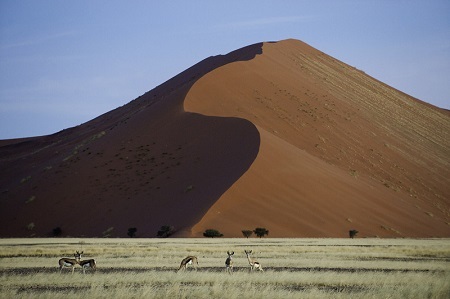 Sossuslvei Dunes. Photo courtesy of Wilderness Safaris.
4. Opportunities for authentic cultural interactions
The semi-nomadic Himba are one of Namibia's most iconic tribes. Women stain their skin with red ochre and wear elaborate jewelry and headpieces. Their intricate hairstyles are changed to mark milestones in their lives, such as marriage or the death of their father. If you are looking for a cultural interaction with the Himba people which feels relaxed and authentic. I recommend Serra Cafema in northern Namibia. At Serra Cafema you can go out and visit a nearby Himba community, but you will probably also run into them in camp as they stop by to for a ride across the river.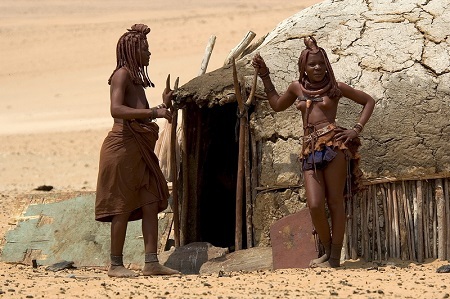 Himba women at Serra Cafema. Photo courtesy of Wilderness Safaris.
In addition to the Himba, there are also opportunities to interact with the San Bushmen on Namibia's northeastern border. I particularly recommend Nhoma Camp. This remote camp is devoted to offering travelers the opportunity to interact with the San and is one of the most authentic cultural experiences anywhere in Africa.
5. So many activities!
Namibia takes full advantage of its oceans and deserts, making it a great place for active travelers and adrenaline junkies. You can do everything from quad-biking, dune and sand-boarding to kite and wind-surfing in the Atlantic Ocean at Walvis Bay to hiking, horseback riding and camping.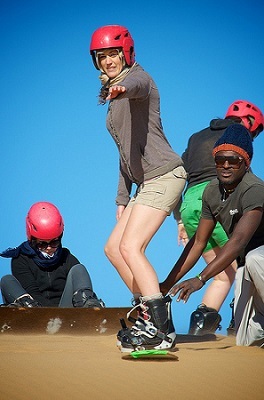 Photo courtesy of Namibia Tourism Board
6. Game-viewing and Desert Adapted Animals
Although Namibia isn't necessarily known as a big five destination, Etosha National Park has amazing game density and because of the dry climate animals are forced to congregate around the limited water sources.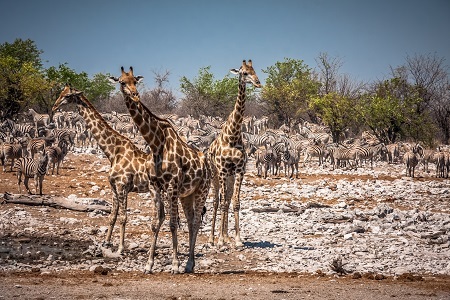 Game in Etosha National Park. Photo Courtesy of Ellen Barone.
If you are traveling to Etosha I recommend spending two nights in a private concession on the eastern side of Etosha (such as Onguma), spend one day driving through the center of the national park (staying at Okaukuejo) and then two nights on the southwestern side (somewhere like Ongava).
In addition to game-viewing in Etosha, Namibia is home to unique desert-adapted lions, elephants and rhinos and there are opportunities to track them at places such as Desert Rhino Camp.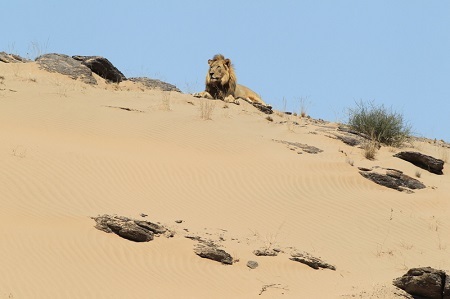 Desert Adapted Lions at Hoanib. Photo Courtesy of Flip Stander/Wilderness Safaris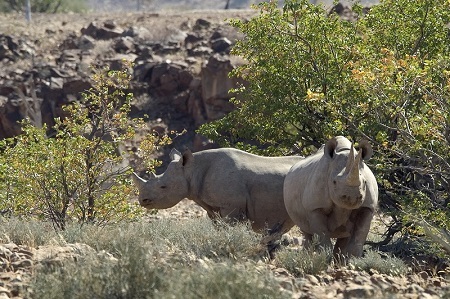 Desert Adapted Rhinos at Desert Rhino Camp. Photo Courtesy Wilderness Safaris.
Some of the logistics that make Namibia appealing
Beautiful lodges that are well priced (internal flights within Namibia can be expensive so keep that in mind if you are on a tight budget)
Opportunities for self-drive for those who want to get out on their own. The roads are not crowded but they are usually graded gravel so they can be slippery in the rain. Be careful!
Flights to and from Johannesburg, Cape Town and Maun mean that a few nights in Namibia can be added pretty easily to a safari in South Africa or Botswana