So I just came back from a week in Kenya. I initally planned the trip because of a friend's wedding and because of a Fashion Designers without Borders trip that I planned with Chrissie Lam the Founder of The Supply Change. The trip was intended to introduce fashion industry professionals from the U.S. with Kenyan artisan communities in an effort to redefine the supply chain and connect local artisans with international buyers.
As always however, I could not resist exploring a new property and spent two night at Ol Donyo Lodge. Ol Donyo is in a really beautiful and remote part of the Chyulu Hills, an area that serves as a corridor between Tsavo and Amboseli National Parks.
This is not a place you go for game viewing, while I was there I saw a few huge bull elephants hanging out by the water hole and a handful of giraffes. What you really go to Ol Donyo for are the activities; horseback riding, mountain biking, walking. I did lots of walking and my guide Jonathan was absolutely amazing. He was funny, smart and brought a lot to the table.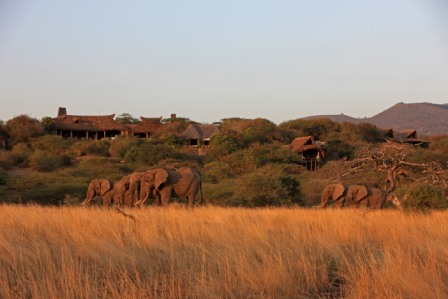 Ol Donyo is also a great place to learn about, and engage with, the Maasai community. Ol Donyo was the birthplace of the Maasailand Preservation Trust (MPT) which has done an amazing job working with the Maasai community to reduce poaching and promote conservation. Your interaction starts with your guide and the staff. For example with Jackson, a waiter and Jonathan my guide, I got into a fascinating discussion about marriage, multiple-wives, and their children marrying non-Maasai in which they were open and honest and eager to share their different opinions and perspectives.
The Ol Donyo staff and management really encouraged and facilitated those kinds of interactions. When I told the managers I was interested in the recent Maasai Olympics they organized a dinner with an organizing member of the MPT (you can read more about the Maasai Olympics in a previous blog post here). The dinner was fascinating, I learned about their anti-poaching educational programs (like the Maasai Olympics) and it was clear that the organization is thinking very critically about how to position themselves as Maasai in the current Kenya, how to take the best of "modern" society but keep a very tight relationship with nature. All of these interactions were fascinating and engaging and are one of Ol Donyo's real strengths.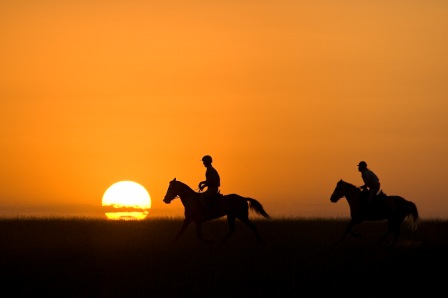 Now to get down to "brass tacks" so to speak, with regard to the rooms and décor: the lodge has a very sleek South African feel which some people love although I found it to be a little bit cold. Be careful because every room is quite different. This is a bit misleading because from the website you might get the impression that all the rooms are the same, that they all have huge glass windows etc. The suite my sister and I were in was called Nyati and it was quite large (probably the largest) but I wished that it had a bit more breeze, it was HOT! I guess that it why they have plunge pools! Although it definitely cooled down in the evening I still asked them to open up all the windows. Because of the wind I did not get a chance to take advantage of the star beds they can set up on the roof of every suite but I'm sure it's an incredible experience.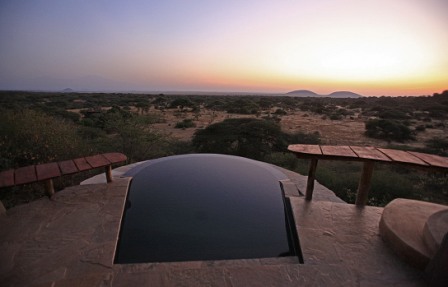 I should mention that it was hot because January and February are some of the hottest months. June, July, August are the coldest. The rainy seasons (April-May and November) are actually probably really interesting times to be at Ol Donyo because the greenery attracts animals into this corridor between the national parks. I took to asking everyone what their favorite month at Ol Donyo was and everyone came up with different answers. The Maasai like it during the rainy season because it's green and they can bring their cattle over (the lodge is on the Mbirikani Group Ranch and has a close relationship with the local Maasai community). In general it sounds like June and July are amazing months to be there because it is not raining but still green from the previous long rains.
The managers Alyssa and Ray are new but seemed hard-working and I was impressed by their passion and positive attitude. When I asked where we were exactly they found a map and showed me our location and they took the initiative to organize the dinner with the MPT representative after I mentioned I was interested in the Maasai Olympics. I think they will get their footing and will do a great job.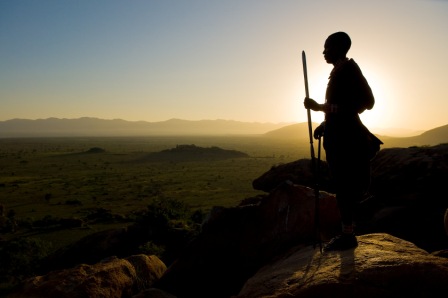 Overall, I had an amazing time. I think it's very different from anywhere else. It is a place to learn about conservation, go on great hikes, horseback riding, enjoy stunning views of Kilimanjaro and most of all have an authentic interaction with the Maasai. The staff simply made this place special.
I wrote up my impressions to share them with you and because I was approached by a new website called Tried and Travelled, which posts reviews from travel industry professionals of properties all over the world. You have to have been in the travel industry for at least 12 months and have stayed at the property in order to write a review. The site is new but seems like it has the potential to be a great resource for travelers who want an expert review of a place they are thinking of staying.