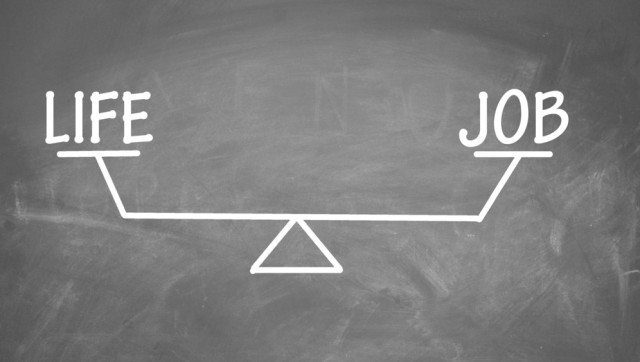 During the presidential debate Tuesday night, both candidates talked about the challenges women face trying to deal with family and work issues, and the issue of the workplace flexibility was raised.
Today we were doing a live chat with TODAY Money and the candidates' responses were a topic of discussion, especially the idea that flexibility was JUST for women and children:
This seems like a really old-fashioned way of thinking. I certainly work with a lot of people (men too) who use flexibility to do things besides cook four-course meals.
The employees are exactly right! Workplace flexibility is not just a women's issue; it's an issue for both employed women and employed men; and it's not just about getting home early or child care. It's many things to many people and smart employers realize this.
Here's a work-flex reality check for the nation:
Men are taking on more of the family responsibilities at home and want flexibility just as much as their female counterparts. "Flat earnings, long hours, increasing job demands, blurred boundaries between work and home life, and declining job security all contribute to the pressures men face to succeed at work and at home and thus to work-family conflict," according to Families and Work Institute's report "The New Male Mystique."
And the desire for work-flex means different things to different people no matter their gender. It could mean compressed workweeks, or access to emergency drop-off care for a sick child, occasional time off to care for an aging parent, time to complete their education or to focus on their health and well-being.
Work-flex has to be seen as a richly diverse tapestry.
In order to address the growing desire for work-flex by a varied group of employees and the changing needs of organizations, some employers are moving beyond the outdated perspectives on what employees want, and which employees want it. They're looking at employees more holistically and creating bold, even daring, new programs to meet a variety of different employee needs today as well their needs as employers. In fact, the reason we call it "work-flex" is that it has to work for both employers and employees!
Families and Work Institute recognizes these employers in our annual "Guide to Bold New Ideas for Making Work Work," highlighting the winners of the 2012 Alfred P. Sloan Awards for Excellence in Effective and Flexible Workplace. It includes the latest and most innovative practices for creating great workplaces with an eye on work-flex.
There are seven categories we look at in assessing companies, including choices in managing time; flex time and flex place; reduced time; time off; flex careers; dealing with overwork; and culture of flexibility.
When the Sloan Awards were launched in 2005, it would have been surprising to see employers excel in all seven categories, but today, it is more commonplace. And companies are being more creative than ever with their work-flex offerings.
Employers see flexibility as helping them and their employees:
The leadership of the Building Construction Products Division of Caterpillar Inc., realizes that flexibility is not only a necessity for employees to manage their personal and professional issues, it also helps the company attract new talent, ensuring that the company remains competitive in their field. Caterpillar Inc. focuses on results versus hours worked so employees understand that as long as they get their work done, supervisors are able to support flexible work schedules without question.
They have developed some innovative programs:
At Cardinal of Minnesota in Rochester, Minn., with 70 employees, the "platinum rule" helps guide business decisions: Treat others the way they want to be treated. A Hardship Program permits employees to contribute their unused sick leave to a bank that can be used by employees having to take an unplanned emergency absence.
Increasingly, employers are focusing on results, while creating a culture that enables employees to use flexibility:
Kentucky Employers Mutual Insurance in Lexington, Ky., with 197 employees does not have a sick leave policy, thus enabling employees to take care of themselves and their loved ones without the constraint of set days and workplace penalties. The company finds that regardless of the unlimited nature of this initiative, employees average less than three days per year of absence due to personal illness, family illness and tardiness combined. The company leaders view this as a demonstration of respect and appreciation.
Others are trying hard to take the perceived stigma out of asking for, or utilizing work-flex options.
Ernst & Young provides both formal flexible work arrangements and informal flexibility. For employees who worry that using flexibility could hurt their careers, more than 200 employees have been promoted to executive levels while on formal flexible work arrangements.
All these employers took pain to address the real desires of their employees on the ground, and coming up with practices that not only benefit employees but the bottom line thanks to happier more productive workers.
It's all about getting beyond our preconceived and outdated notions of what employees want out of work-flex and giving them what they need.