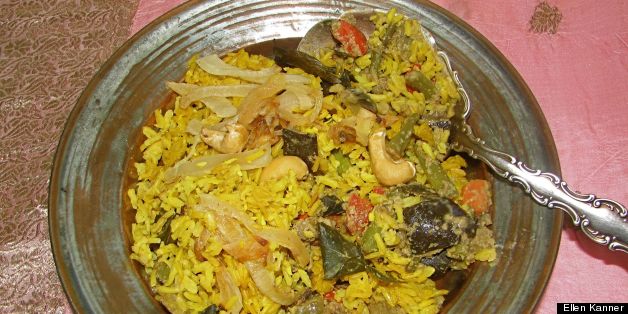 How does an East End bloke who grew up on stewed eels and mash morph into a self-taught epicure who delights in serving up dishes like caramelized red onion and roasted vegetable tarte tatin? For starters, he gives up eating eel. Then he gives up eating meat. Then he travels the world. Then he gives up dairy. Then he becomes the Gourmet Vegan.

The Gourmet Vegan, aka Dan Waters, is self-taught but puts "heart, soul and passion into every dish I create and cook." It comes across in his global recipes like Indian biryani and vegan empendadas, haute cuisine like that veggicentric tarte tatin and basic comforts like stuffed baked potatoes. No wonder The Vegan Woman named Waters' website, The Vegan Household, one of its top 20 blogs. Not bad for a guy who's only been vegan since 2011 and launched his site just last year.
Animal-loving Waters owes his cooking chops to going meatless in his teens. His parents, who preferred stewed eels or pie and mash, backed his decision, but they both worked long hours and "made it quite clear that if I wanted to become vegetarian, I would be cooking my own meals." This was back in the 80s, when information was scarcer and prepared meatless options were fewer.
Waters first gravitated towards making the pub grub he'd always known, but the meatless, eelless kind. "When I first became vegetarian I lived for baked beans on toast, cheese and tomato pizza and curry -- possibly my favorite cuisine," he says. "Coming from the East End means there is no end of curry houses offering incredible Indian food. " He soon ventured beyond the dishes he knew and loved, creating evermore adventurous recipes, like a new personal favorite, a vegan quiche as rich as the eggy original.
Waters' background isn't food, it's music. He's a classically trained singer and a mainstream pop performer. He and his partner lived and performed in Spain and Tenerife for many nears. "We had just turned 30. We had a great time. At one point we even ran our own music bar." He brings a musician's sensibility to the kitchen, riffing on whatever's on hand. "I might have a few peppers I need to use and some pulses that have been soaked," he says. "I start with the ingredients and just run with it and think how I can put them together to create something delicious."
He began sharing his recipes on Facebook, then created his website "where I could connect to others with recipes, a blog, a forum and put everything all in one place." It's a virtual community, mirroring the real community where he grew up. "The East End was about everyone looking after each other."
His advice to new vegans? Cook "even if you only have 15 minutes." Make the foods you love and swap out meat and dairy for vegan ingredients. "As soon as you start experimenting, you find alternatives that work. There are not any foods I miss."
Actually, there's one. The dish from his past Waters would love to be able to veganize? "Yorkshire puddings. Just can't get it. Being in the UK, a Sunday roast is not a Sunday roast without Yorkshire puddings and I am still trying to get there."
You can take a guy out of the East End, but you can't take the the East End out of a guy.

Vegetable Biryani

from the Vegan Gourmet, used by permission.

Waters' culinary passion is evident in his version of this classic layered Indian rice dish. It may involve more time and ingredients than you usually invest. The result is worth it.

For the garnish
2 tablespoons raw cashews
1 tablespoon flaked almonds
1/2 teaspoon fennel seeds
1/2 teaspoon black onion seeds ( nigella seeds )
1 teaspoon virgin coconut oil
2 medium red onions, finely sliced
1/4 teaspoon salt

For the vegetable mixture
2 tablespoons vegetable oil
1 teaspoon virgin coconut oil
2 cinnamon sticks
4 cardamom pods
2 bay leaves
3 cloves
3 medium carrots, peeled and chopped into bite-size pieces
2 medium bell peppers, chopped into bite-size pieces
1 cup green beans, chopped
1 medium eggplant, chopped into bite-size pieces

For the spice paste
5 cloves garlic
1 inch fresh ginger
1/2 teaspoon coriander
1/2 teaspoon cumin
1/2 teaspoon garam masala
1/2 teaspoon turmeric
1 teaspoon salt
7 tablespoons water
optional -- 1 fresh green chili such as jalapeno

10 tablespoons vegan cream

For the rice
1 cup basmati rice
1 teaspoon salt
1 teaspoon virgin coconut oil
1 teaspoon sea salt
1-1/4 cups boiling water
1 cinnamon stick
3 cardamom pods
1 bay leaf
2 tablespoons dried unsweetened coconut
1/2 teaspoon turmeric
1/4 cup water

In a dry frying pan, toast the cashews, almonds, fennel seeds and black onion seeds for garnish. Pour into a small bowl and set side to cool.

Add the coconut oil to the pan. Heat over medium heat and add the onions and salt. Cook about 15 minutes, stirring occasionally. The onions should very browned but not burned. Set aside.

Make the spice paste by adding all of the spice paste ingredients to a blender or food processor and blending until smooth. Mixture will be thin.

Heat the vegetable oil and coconut oil in a frying pan and fry the cinnamon, cardamom, bay leaf and cloves for a minute to release the oils and then add all of the vegetables. Fry these for about 5 minutes and then add in the spice mixture.

Continue to fry for another 5 minutes then reduce heat to low. Cover and cook for a further 10 minutes. Turn off the heat, remove the whole spices and stir in the vegan cream.

Pre-heat the oven to 400 degrees and prepare the rice.

Soak rice in cold water to cover and 1 teaspoon salt. Let sit for 1 hour, then strain rice in a sieve and rinse well.

Heat the coconut oil in a saucepan over medium heat. Add the cinnamon, cardamom and bay leaf for a minute to release oils. Add the rice and continue to fry for another minute to coat the grains with oil.

Add the hot water, salt and dried coconut. Stir well and bring to the boil. Turn the heat to the lowest setting possible, cover tightly with tin foil and place the lid on top. Cook for 10 minutes or until all the water has evaporated.

Meanwhile, transfer the vegetable mixture to a casserole dish. Place half of the onion mixture on top of the vegetables, followed with half of the toasted nuts and seeds.

In a small bowl, mix together the 1/4 cup water and 1/2 teaspoon turmeric till water is bright yellow and turmeric is dissolved.

Spread the cooked rice on top of the vegetable mix. Sprinkle with the turmeric water and place foil directly onto the rice to cover. Place the lid on the dish and bake for 40 minutes.

Remove from the oven, test to be sure the rice is cooked through, returning it to the oven for a few more minutes if needed.

Serve with a garnish of the remaining toasted nuts and onions.

Serves 6.