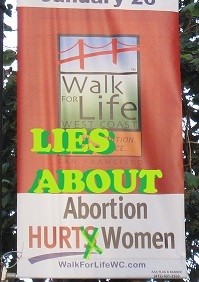 When it comes to abortion rights, we can handle the truth.
Many are stunned to see banners falsely claiming that "abortion hurts women" hanging from the city's publicly managed lamp posts on Market Street in San Francisco.
The Roe v Wade decision on Jan. 22, 1973, legalized abortion in the U.S. The ability to choose whether and when to have children has transformed women's potential to thrive emotionally, educationally and professionally. Birth control is used widely and regularly, and at least once by 99 percent of the heterosexually active population. But the best birth control can sometimes fail. About one in three U.S. women has at least one abortion. Abortion is known to be a safe medical procedure. The risk of death is 12 times higher for carrying a pregnancy to term, compared with abortion, in the U.S. Denying abortion care can perpetuate poverty.
Campaigns to defund and stigmatize abortion, and impose repressive views about sexuality, disempower and subordinate women and girls, and prevent them from choosing and using the vital reproductive health care services they think best. In addition to legislation, tactics include violence against abortion providers, and harassment of patients at health centers.
I worked hard to help pass the Affordable Care Act, and was shocked and disappointed that it failed to fully cover reproductive health care. After the election of 2010, the avalanche of hateful anti-woman legislation pouring out of the states and Congress began with HR 3, which would authorize hospitals to let women dies rather than providing life-saving abortion care.
In my talks on the ACA, I started asking groups if they would stay late, and talk about abortion A woman in her sixties in the Central Valley recalled losing a friend to an illegal abortion. One man commented, "How could she have let that happen to her?" A woman in her twenties had a cousin who wouldn't get the abortion she wanted because of the stigma. Dr. Sophia Yen and I formed the Trust Women/Silver Ribbon Campaign in 2011 to increase the voice and visibility of the pro-rights majority.
Access to abortion and birth control has been divided by class, race and geography. The Hyde Amendment prohibited federal funding for abortion starting in 1976, a provision upheld by conservatives of both parties ever since. By 2008, poor women were five times more likely to have an unintended pregnancy than women with incomes more than 200 percent of the federal poverty level. For a short time, federal employees did have coverage, so when I needed to get a second-term abortion following amniocentesis results in 1994 in Washington, D.C., my insurance paid for it, but there was only one doctor in the area who would provide it.
Twenty years later, abortion is a poster child for the politics of polarization and misinformation that are undermining our democracy and driving many away from paying attention to politics. The vehemence and repetition of extreme speech and intentional polarization are deliberate and divisive.
In San Francisco and California, we take every possible step to provide services and education about sexuality and pregnancy. Our policies firmly support access.
But the lies still have the power to hurt women and girls.
It's time to preach what we practice.
It's time to speak up, and show that we can handle the truth.