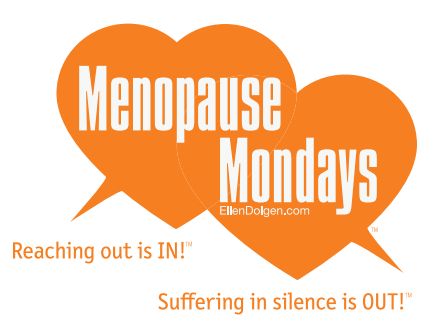 One minute, all you have on your mind is making sure the sisterhood doesn't have vaginal atrophy. The next, you're worried about leg atrophy... WTF?!?
While I never considered walking into a restaurant to be a challenge, Friday evening--November 1, it proved to be my downfall. I slipped and fell flat on my right knee.
Like most women do all of the time, I try to be "fine" and shrug it off. As way too many people for my comfort came rushing to help me hobble back to my seat, my mind immediately jetted to my closet. For sure I was going to have to rework my shoe selection for the black tie event that I was attending the following night. No big deal, I am a total shoe fanatic, so I have plenty of heel heights to choose from. I was, "fine." It wasn't until we were ready to leave and I needed to stand up on my leg that I realized another F-word was spilling off my tongue!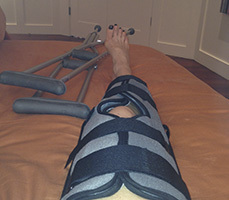 As the pain increased, the height of my Saturday night heels decreased. Still, I was sure that I was "fine." After all, I'm a health nut and happen to know that on the infamous bell curve, my bone density is above normal--and at various sites is 110 to 120 percent greater that of the average woman my age. My vitamin D count is above 30 (also above normal). I do resistance exercises and take bioidentical hormone replacement therapy to help ward off osteoporosis. So I must be "fine!"
By the time the ER doc entered my room, the enormous choir singing, "I am fine," in my head became deafening, so it was hard to hear her words: "You fractured your knee cap and so your leg needs to be completely straight for the next three weeks to prevent your knee cap from moving and to avoid surgery. Total healing takes six weeks."
Now, as I lay awake each morning, staring at my leg immobilizer and the crutches, awaiting my handsome male nurse (my husband, David) to awaken so I can get out of bed, here are my thoughts:
I am thirsty. I need coffee. I need to pee. I want to wash my hair (it's so filthy!). I can't reach my laptop or my iPhone.
Sponge baths suck. Only the wash cloth is clean.
I should be riding my bike now.
I miss my stilettos... I hate flat shoes.
The immobilizer they gave me in the ER is one-size-fits-nobody.
Men are used to undressing women; they suck at dressing them.
I am a bitchface.
David deserves a medal!
Ice is my knee's new best friend.
Will sliding up and down my staircase on my ass get rid of my cellulite or just make my ass even flatter?
I am not a patient person.
How is it possible that David and I dress together in this house for 13 years (and have been married for 36 years) and he doesn't know where my clothes, lotions, and beauty products are?
I haven't had a martini or a glass of wine in days... maybe that's why I am so grumpy?
My shoes are crying; they are so lonely.
I didn't get directions with this immobilizer--I guess my sex life is immobilized as well.
It's good my bedroom is upstairs and not near the kitchen or I would be gaining the broken-knee-cap 10!
I have been spoiled with good health, unfortunately, I took it for granted.
How does David put up with me?
I have heard of vaginal discomfort trackers. Where is my knee discomfort tracker?
I have five more weeks (but who's counting?) left of recovery. I have been struggling with a way in which I can make this journey more constructive. Here's what I have come up with:
Today is Veterans Day, and I realize that all losses in life are relative. As I reflect on the temporary and partial loss of use of my right leg, my inconvenience pales in comparison to the horrible permanent loss of limbs suffered by so many American combat veterans. Sometimes we learn life lessons through disappointments, tragedy, and, yes, even inconvenience. So every day and until I am back on my stilettos, I am making a personal donation to the Veterans Village of San Diego, an amazing non-profit that helps veterans build the lives they deserve after deployment.
Over these next five weeks, I am going to allow myself to be inspired by the bravery of these wounded warriors as opposed to focusing on my temporary and relatively insignificant situation. I feel better already!
Reaching out is IN!  Suffering in silence is OUT!
For more by Ellen Dolgen, click here.
For more on women's health, click here.
Ellen Dolgen is an outspoken women's health and wellness advocate, menopause awareness expert, author, and speaker.
After struggling through the silence that surrounds menopause, Ellen resolved to help women reach out and end the confusion, embarrassment, and less-than-lovely symptoms that come with "the change." Her passion to be a "sister" to all women fueled Ellen's book, Shmirshky: the pursuit of hormone happiness. As a result of her women's wellness journey, and in response to the overwhelming thirst of her ever-expanding audience for empowering information, Ellen's weekly blog, Menopause MondaysTM was born.
Menopause MondaysTM allows Ellen an expansive platform from which she broadens her discussion of menopause, women's health, and life as a menopausal (and fabulous!) woman. Her weekly Menopause News Flash provides a one-stop shop for the latest menopause and women's health news and research, allowing women the access and know-how needed to take charge of their health and happiness. In addition to Ellen's ever-growing social media presence, EllenDolgen.com has fast become "the place" on the web for informative and entertaining women's menopause and wellness engagement. Ellen is #1 on Dr. Oz Sharecare.com Top 10 Social HealthMakers on Menopause. In 2012 and 2013 EllenDolgen.com was named first on the list of the "Best Menopause Blogs" by Healthline. Ellen is also a regular contributor to over a dozen leading women's health blogs. Her motto is: Reaching out is IN! Suffering in silence is OUT!
Ellen has appeared on the "TODAY Show," "NBC Nightly News", the "Rachael Ray Show," "The Doctors," Oprah Radio, Playboy Radio, NPR's "Tell Me More," Doctor Radio, and dozens of regional and national media outlets. In 2011 she appeared in a sold-out, San Diego production of "The Vagina Monologues." Ellen was one of the first regular contributors to debut on The Huffington Post's, Huff/Post50, which targets 116 million Americans over the age of 50.
Click here to read Ellen's full bio
Like Ellen Dolgen on Facebook, follow her on Twitter and Pinterest, connect with her on LinkedIn, Google+, and Klout, watch her videos on YouTube, and subscribe to her newsletter.
Earlier on Huff/Post50:
PHOTO GALLERY
Alzheimer's Prevention Recipes