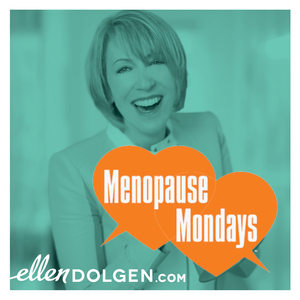 She shoots....She SCORES menopausal symptom happiness! And the crowd goes wild! (Ahhhhh)
When you say "March Madness" many people will automatically think of the NCAA March Madness college basketball tournaments. However, if you are speaking with a woman in perimenopause or menopause, "March Madness" is not a game she wants to go into overtime with. Menopausal symptoms like mood swings may cause her to be "slam-dunking" one minute, and the next her family is suspending her for "alley-ooping" for the other team. You'll be thinking your team player has turned into an out of control Dennis Rodman!
And if being moody isn't enough, according to a six-year study published in Menopause, researchers found that women with the highest levels of stress were more than five times (I repeat, five times!) more likely than normally stressed women to report hot flashes. Mood swings and hot flashes, that combination is enough to make you want to turn in your final four tickets and bench warm it up at the bar!
Before your perimenopause or menopause lady turns into Rodman, read my four simple tips to combat those mood swings:
It's Warm Up Time!
Throw on those sneaks and sweat bands ladies, it's warm up time! MsFLASH Research Network  found working out had a positive effect on depression in both perimenopausal and menopausal women. A study from the University of Jyväskylä in Finland found that high-impact exercise can help postmenopausal women at risk for osteoporosis and osteoarthritis maintain bone health and physical function. According to research published in The Journal of Sports Medicine and Physical Fitness, exercise significantly reduces feelings of confusion, anger, fatigue, tension, and vigor. Are you convinced yet? Get up off that bench! Go out and walk your dog, pop in a work out video, or even put on your favorite beats and boogie around your house! Granny shots? See ya! It's time to "bring the house down" in your game of life!
Relieve Stress
Those perimenopause or menopause bouncing moods can be alleviated in other ways. For example, take a half-time break out of your busy day for yourself and do something that makes you an "All Star" - get a manicure, soak in a warm bath, or get a relaxing massage. In fact, massage has been found to be helpful in alleviating a number of stress-causing issues like anxiety, insomnia, headaches and other aches and pains. You may also want to try easing stress through meditation.
Consult a Medical "Coach"
Sometimes you may find you need some assistance to help with the ups and downs you're experiencing during perimenopause or menopause. Be sure that you have a winning coach (menopause gynecologist) to give you a play-by-play guide for your perimenopausal or menopausal journey. If you don't have one, here are some helpful tips to find a menopause specialist. Your menopause gynecologist can help evaluate whether your mood swings are linked to menopause or if you are suffering from some other medical issue. The treatments recommended will depend on this evaluation.
Ask for Help.
Get in the zone and back in the game! Share your issues with your "coach" and fellow "team members" so that you "swish" into menopause symptom happiness and don't go mad this March.
Suffering in silence is OUT! Reaching out is IN!
For more by Ellen Dolgen, click here.
For more on women's health, click here.
Ellen Dolgen is an outspoken women's health and wellness advocate, menopause awareness expert, author, and speaker.
After struggling through the silence that surrounds menopause, Ellen resolved to help women reach out and end the confusion, embarrassment, and less-than-lovely symptoms that come with "the change." Her passion to be a "sister" to all women fueled Ellen's book, Shmirshky: the pursuit of hormone happiness. As a result of her women's wellness journey, and in response to the overwhelming thirst of her ever-expanding audience for empowering information, Ellen's weekly blog, Menopause MondaysTM was born.
Menopause MondaysTM allows Ellen an expansive platform from which she broadens her discussion of menopause, women's health, and life as a menopausal woman. Her weekly newsletter provides a one-stop shop for the latest menopause and women's health news and research, allowing women the access and know-how needed to take charge of their health and happiness. In addition to Ellen's ever-growing social media presence, EllenDolgen.com has fast become "the place" on the web for informative and entertaining women's menopause and wellness engagement. Ellen is #1 on Dr. Oz Sharecare.com Top 10 Social HealthMakers on Menopause. In 2012 and 2013 EllenDolgen.com was named first on the list of the "Best Menopause Blogs" by Healthline. Ellen is also a regular contributor to over a dozen leading women's health blogs. Her motto is: Reaching out is IN! Suffering in silence is OUT!
Ellen has appeared on the "TODAY Show," "The Katie Show," "NBC Nightly News", the "Rachael Ray Show," "The Doctors," Oprah Radio, Playboy Radio, NPR's "Tell Me More," Doctor Radio, and dozens of regional and national media outlets. In 2011 she appeared in a sold-out, San Diego production of "The Vagina Monologues." Ellen was one of the first regular contributors to debut on The Huffington Post's, Huff/Post50, which targets 116 million Americans over the age of 50.
Click here to read Ellen's full bio
Like Ellen Dolgen on Facebook, follow her on Twitter and Pinterest, connect with her on LinkedIn, Google+, and Klout, watch her videos on YouTube, and subscribe to her newsletter.