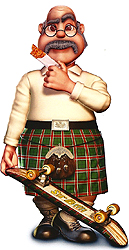 Almost two years ago, I wrote about Tessa and Sascha Hartmann's dream of making the first full-length animated feature ever in Scotland. Finally completed, their movie, Sir Billi, made its international debut at the Sonoma International Film Festival this month.
The Hartmann's got Sir Sean Connery to make his animated voice debut playing the title role, Dame Shirley Bassey sings Guardian of the Highlands, the theme song that the Hartmanns wrote, and Academy Award-nominated composer Patrick Doyle ( Harry Potter and the Goblet of Fire, Sense and Sensibility) to compose the score.
Sir Billi (left) is described as a "skateboarding grandfather," a retired veterinarian who leads the charge to save the very last beaver in Scotland. His sidekick, Gordon the Goat, is voiced by Alan Cumming.
Putting it all together was no quick, easy undertaking. Parents of Tessie (now 15) and Tallia (now 13) when they began in 2005 with a short concept film, the Hartmann's had added Johnnie (born in 2005) and Zachary (born in 2007) to their family by the time the project was complete.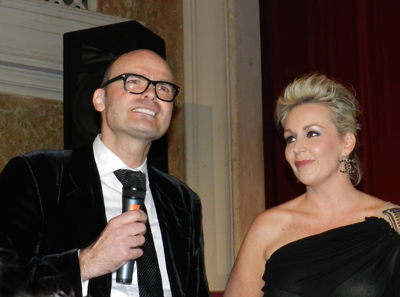 Having found the available professional animation software prohibitively expensive, the Hartmann's had to develop their own. The result is animation that has a singular, handmade look quite unlike the sanitized Pixar style that has become the standard in the last several years.
Sir Billi is set in a very realistic world. The roads aren't always smooth, there is a landscape filled with dirt and rocks and the only reason there are palm trees in the background is because there are palm trees in the part of Scotland where the movie takes place.
To achieve the specific look of the landscape, Tessa Hartmann says, "We spent lots of time in the northwest region in Scotland where there are eucalyptus and palm trees. It was about recreating the majestic landscape of Scotland. We also spent months and months developing clouds. The water system took us nearly two years."
She recalls, "When we first had a short film everybody said, 'It won't go anywhere.' Then they said we'd never get the financing, the technology. Next, they said, 'It's taking so long.' When it was done, they said, 'Who will see it?' That's such a Scottish thing.
"But, really, nobody knows the secret of a successful film. If they did, everyone would make one. We know the secret was the passion we had for it."
The process of making the movie was driven by that passion. Tessa Hartmann points out, "People will join any project if there's money involved no matter how bad it is. There was no money involved here. We didn't have any. They were attracted by the creativity and independence."
Some of the talent thus attracted -- Connery and composer Patrick Doyle -- talk with Sascha Hartman about the movie:
In addition, in today's economy, it was a plus that, according to the Hartmann's, "There's no film industry in Scotland. We have a studio, Glasgow Animation, and we employ people. It would have been cheaper for us to produce it in Eastern Europe. But, there's that passion again. Sir Billi is a Scottish story and we wanted to tell it in Scotland."
The £15 million it took to make the movie was hard won. The effort to finance it was spearheaded by Tessa's father, co-producer John Fortune Fraser. Sir Sean got an executive producer credit and a percentage of Hartmann Media as, Tessa Hartmann explains, "We gave it to him as payment as we had no actual cash to hand over to him. He has stuck by us for all these years simply because of belief in the project. If it doesn't make money then he doesn't. Sir Sean lending us his name for all this time was more significant than cash, as one can't put a value on such a commodity. For my father's and Sir Sean's belief and help, we will be eternally grateful to them, the two most important octogenarians in our life."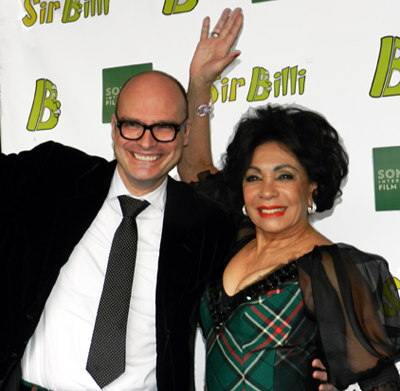 Dame Shirley Bassey (at the Sonoma premiere with Sascha Hartmann) says she decided to perform Sir Billi's theme because "the Hartmanns sent me the song. I listened to it and I liked it. Also, my old friend Sir Sean Connery was involved. How could I refuse?"
After one showing in Scotland, Sir Billi was unveiled in Sonoma earlier this month. Sonoma is a special place to many people for many reasons but, to the Hartmanns, as Tessa pointed out, "This is the hometown of John Lasseter," the godfather of the animation style in the Pixar films like the Toy Story series. That fact was important to the Hartmann's who greatly admire Lasseter. They say, "We're not producing a film to compete with Pixar. We're producing a film to stand beside Pixar."
Dame Shirley accompanied the Hartmann's and their children to the Sonoma premiere. For the event she was dressed in a gown designed by Scottish designer Graeme Black made of the special Sir Billi tartan that Sascha Hartmann designed.
She was greeted with hearty applause when she got out of her limo, when the theme she sang came on and when it ended.
After the showing, Dame Shirley said, "I've come here especially for this screening and just love the film -- it's the second time I've seen it. I think Sascha did a wonderful job and I am thrilled to be part of it. It has a very distinctive look, which is great and Sean's voice is just magnificent -- I especially love all the subtle Bond nuances. I get very emotional at the end of the film -- there was a tear in my eye again this evening."
Sascha Hartmann says, "I couldn't believe that this woman came to San Francisco to support our film. She said she's never felt like that since she recorded Goldfinger."
The Hartmann's, now back in Glasgow, look back on the Sonoma event with joy and relief. Tessa Hartmann says, "I felt immense trepidation. I had to sit in the back because I was so nervous. I just want to say I was here. One half of my body was anxious to share Sir Billi with the world. The other half was beyond nervous."
Sascha Hartmann says, "What topped it all was when I was walking out of the theater and bumped into the legendary Christopher Lloyd [who was one of the Festival's honorees]. He had only nice things to say about Sir Billi, from our creativity to the engaging plot." And, in a salute to Lloyd's iconic role in the Back To the Future movies, he added, "Thank you Doc! "
In addition to the Bond references Bassey noted, the film is full of other cultural salutes. There are exotic details on the car Sir Billi drives as there were on the cars driven by 007. There were tributes to Casablanca, to the works of Vermeer and Caravaggio and, even, to Samuel Beckett's Waiting for Godot which, in Sir Billi became Waiting for Goat. That film goat, by the way, gave a quick nod to Bob Fosse's Cabaret for which Gordon the Goat -- er, Alan Cumming -- won a 1998 Tony Award for his portrayal of the Emcee.
These small touches made Sir Billi a most interesting viewing experience. And, a very satisfied Sascha Hartmann says, "I am still exhilarated and relieved that the Sonoma screening went down like a storm."
Sir Billi, top left, © Billi Productions, Ltd.; Photos of Tessa and Sascha Hartmann and Dame Shirley Bassey © Ellen Sterling