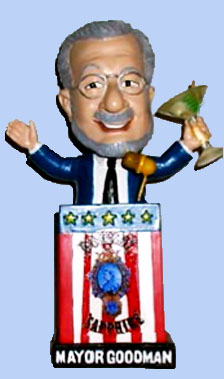 When the topic is politics, Las Vegas has once again proven to be a most interesting city. Now, unlike the loooooooong campaign seasons of the recent past, the mayoral election is comparatively brief, more a sprint than a marathon. The recent deadline for candidate filing to run for mayor saw eighteen wannabes -- 18! -- filing their papers.
The rush to run is due to the fact that for the first time since 1999 the seat is open. Oscar Goodman, the self-proclaimed "Happiest Mayor In The Universe," has served his three terms and is limited out. From what I've seen and heard, Goodman seems to be looked upon benignly as smart and as a character by the local populace, even if only 15 percent of registered to vote in his last race in 2007.
My exceedingly informal survey finds that people view him as a kind of tourist attraction, what with the two showgirls he always seems to have in tow (as he does above at an event with his wife) and the omnipresent martini. In fact, when asked to cite his hobby, his reply was quick: "Drinking Bombay Sapphire." But, now, his mayoral career is about to end and, among those 18 seeking the office is his wife, Carolyn.
She is, at the moment, called by the local papers and pundits the favorite candidate. The other 17 are Clark County Commissioner Chris Giunchigliani; City Councilman Steve Ross; County Commissioner Larry Brown; Katie Duncan; Marlene Rogoff; Joe Falco; Abdul Shabazz; Anthony Wernicke; Tim Gamble; Larry Jeppeson; Deborah Love; Angel Vasquez; George Harris; and Victor Chaltiel.
Well-known outside of the spotlight on her husband, Carolyn Goodman is an educator, founder of a private school in 1983. Her passion for education seems to color everything she does. The Meadows School that she founded ("Las Vegas" is Spanish for "the meadows") puts everyone -- teachers, students, administrators -- on a one-year contract and, as she told The Las Vegas Sun, last year, "Everybody is on a one-year contract. That means every student, every teacher and every administrator. Everyone reapplies for her spot every year. If things aren't working out, we try and help you to improve. After that, we wish you well and say goodbye.
"This isn't rocket science at the Meadows. We put the money where it best belongs: in the classroom and with the faculty. And we keep administrative costs down."
A lot of voters in this city so hard hit economically would find that approach most appealing when applied to government. Like her husband, Carolyn Goodman has promised that, if elected, she'll keep the showgirls in the mayor's act.
A surprise candidate is Victor Chaltiel. A venture capitalist and founder of RedHills Ventures, LLC and is chairman and CEO of HealthDataInsights, a company devoted to rooting out and stopping fraud and waste in healthcare. He is, of course, stressing his business experience and the fact he's "not a politician."
However, I must ask, if one was not a politician before, doesn't entering a political race make one, by strict definition, a "politician?"
Anyway, the educator/politician-by-marriage, Carolyn Goodman, has an early lead in a Las Vegas Sun poll. She got 36 percent; Chaltiel -- who has the means to mount a very visible campaign -- got less than one percent.
But, remember, this is Las Vegas. This is where 18 people from just about every demographic segment have entered the race for mayor.
The primary is April 5. The general election is June 7.
For the record, Goodman has said she'll continue the practice of having showgirls at her appearances. That's fine. It's something that inevitably gets photos of our mayor -- and mention of our city -- in press around the world. I just wonder if, should she win, Goodman will switch to Cosmos and will she, like her husband's shown at right, get her own bobblehead?