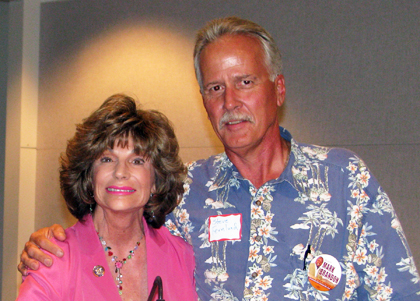 First, some background: I came to Nevada from New York, with certain expectations. And, because my life back east had included political involvement, those expectations included the same out west. I quickly learned that I -- to quote a phrase -- wasn't in Kansas any more; that most things here were different. One of those things was in the arena of politics. Here, for example, it was too often issues be damned. Now that might be because I was new and, back east, had made friends through political activism. Here, politics and friends were separate issues. Anyway, a woman whose intelligence I respected until she said it, actually told me in 2006 that she "had to vote" for the incumbent junior senator John Ensign because "he was a veterinarian, you know. He's good to animals." After that statement -- delivered in all seriousness -- her intelligence was deeply suspect.
Okay, then.
Now I believe that, short of criminal activity, the personal lives of politicians are not anyone else's business. If asked to honestly analyze that attitude, I'd be forced to say it's not because I am taking the moral high road. It is simply the desire to keep my mind clear of a way too-monumental amount of other people's business. (Despite everything, I believe Elliot Spitzer is still preferable.)
Anyway, it's taken me awhile to get to know the political people out here. I'd first heard about my Congressmember, Shelley Berkley, from Steve Israel, the Congressman representing New York's Second Congressional District, whom I've known for quite awhile (and who, until I heard Berkely, I'd thought had the best sense of humor in politics). "You're moving to Nevada?" he asked. "Hope you'll be in Shelley Berkley's district. She's great ... And when you meet her, tell her you know me."
I took care of the latter request briefly at a rally and she responded positively. That was nice but it didn't tell me much about her. Then, I joined the Red Rock Democratic Club, filled with locals participating in the now successful move to turn the state blue. Headed by a guy named Steve Fernlund, a transplanted activist from Minnesota, the club is filled with people who are interested and interesting. Last year, I heard Berkely speak there about her visits to Walter Reed Army Medical Center to visit soldiers from here who were wounded in Iraq and Afghanistan. Her stories were poignant and pointed -- she was vigilant in working to ensure "her veterans" didn't suffer.
She was, and is, a terrific speaker, but I didn't learn much more about her. That is, until the other night when she was the program at the August Red Rock meeting.
After hearing her speak, I have found an elected official to admire in every way possible -- not because she's a character like our high-profile (and amusing) mayor, but because she exhibits character all too often lacking in pubic officials.
Greeted as a friend (above with Fernlund) by the membership she spoke about her district where "when the bottom fell out of our economy, it hit this community in a disproportionate way. One out of 47 homes in my district has been foreclosed. The unemployment rate in this county is 13.1 percent and, by the time the next figures are released it will hit 15 percent."
Scary stuff indeed.
Berkley went on to note that "If I didn't know better, I'd swear this was August of an election year," and talked about the passions -- and disinformation -- that today's issues evoke. As the wife of a nephrologist she spoke of the need for such preventive care as bone density testing and how this care is being cut way back. She talked about the vast number of uninsured in her district and said, "These things need to be fixed and changed but here we are spending our time on death squads, mandated sex change operations -- I, personally, believe you can be any sex you choose -- and other things that aren't real."
She talked sense about healthcare, energy (quoting a former public official in saying the desire to put the nation's nuclear waste in Yucca Mountain, 90 miles from Las Vegas, would make this "the nation's energy suppository") and the economy. She mentioned the constituent who questioned why Nevada, with Senate Majority Leader Harry Reid, representing the state "didn't get a s***load of money" from the stimulus package.
"Well," she said, "maybe we would have if Senator Ensign had voted for it."
Putting the challenge our nation faces today into historical perspective, she mentioned the Civil War, World War I, the Great Depression and World War II. "We managed to overcome the challenges and we will again....When we emerge on the other side of this we will be better."
Great words but, right now, small comfort. But then she spoke of herself. "Representing my hometown is, for me, a tremendous honor."
During the Q and A Berkely talked about various health insurance pans. "If you want a Cadillac plan, you can choose it. If a Buick plan will suit your needs, you can choose that." (I personally believe the French healthcare system is terrific. If possible, I shall choose a Citroen plan.)
When an audience member said the old saying, "I don't belong to any organized party. I'm a Democrat" is, too sadly, true, Congresswoman Berkley won me over completely with her honesty.
She was quick to agree that the Party leaders must be more outspoken. "We always underestimate the opposition and if we don't get our act together and speak with conviction about the things we care about we will lose."
Through it all, Shelley Berkley was passionate, animated and exhibited a sharp wit and deep knowledge.
Finally, at the end, came the big question: Steve Fernlund asked her if she was considering a challenge to the already-challenged-in-so-many-ways Senator John Ensign. she said, "This isn't an announcement, but I'm seriously contemplating a run for the US Senate.
"When I say 'good night' to my husband I'm not saying 'good morning' to someone else."
You go Shelley. Make the run and there'll be lots of people running alongside you.