There is a kind of irony in the fact that Las Vegas, Nevada -- located smack in the middle of the Mojave Desert -- hosted an event for One Drop, a non-profit whose mission is to "ensure that water is accessible to all, today and forever." But, as dry as the desert may be, Las Vegas was a fitting place to hold this most spectacular evening.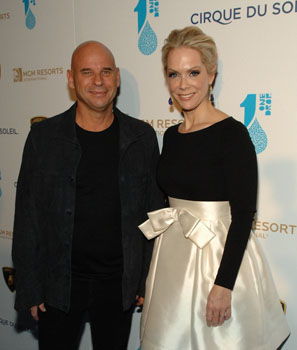 One Drop was founded in 2007 by Guy Laliberté (shown right at the event with Catherine Bachand), founder of Cirque du Soleil. It was Cirque's 25th anniversary and, according to Catherine Bachand, One Drop's CEO, "Guy wanted to do something meaningful and powerful for the occasion."
When One Drop began, Laliberté worked with Oxfam and the organization to develop programs that are, Laliberté says, "innovative and sustainable," One Drop goes into developed countries to raise awareness of the importance of water by hosting multi-sensory experiences and educational workshops. In developing countries there is a "tripod" approach that includes bringing technical expertise, microfinancing by giving small loans, usually under $1,000, to people so they can launch income-generating initiatives and, finally, using the arts and education to raise awareness and mobilize communities to soundly manage their water resources.
There are active projects in Nicaragua, Honduras, El Salvador, Haiti and India and upcoming projects in Southeast Asia and West Africa.
Catherine Bachand says, "We knew we couldn't do it on our own. Guy dreamed of an organization that would inspire change and do so from an entrepreneurial point of view. When we leave a community after six years the project is sustainable and self-sustaining. We generate more than we invest. We will give the community a means to sustain what we put in place. They will have means and money forever.
"It is a soft medicine approach. We know you can't force change on people and, as Guy has said all along, one drop will create a ripple effect."
With Las Vegas having myriad desert-related water issues and more Cirque du Soleil shows -- seven now and another (Michael Jackson One) set to open in late May -- than anyplace else in the world, it was only natural to have One Night for One Drop in the city.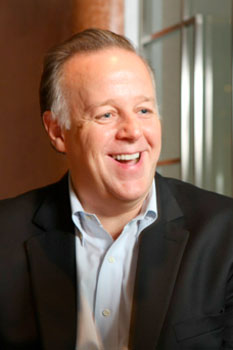 The decision having been made to hold the fundraiser in Las Vegas meant organizing on several fronts. Jerry Nadal (left), Cirque's Senior Vice-President of Resident Shows, says, "It was all volunteer. We had more volunteers than we knew what to do with. There were 237 onstage and, with techs and artisans there were over 500 people involved.
"We had all the employees at a meeting. It was like a revival meeting. There was that kind of excitement. In the almost 15 years I've been with Cirque the level of volunteerism is amazing. I believe the entertainment industry is particularly generous with money and time."
The Las Vegas Cirque employees told Laliberté they wanted to do something locally. Nadal recalls, "He just said to make sure whatever we do is outside the box. Other organizations do a pre-party, a dinner, an auction. But, we're an entertainment group so we have to do entertain."
To "do something locally," MGM Resorts International, as home to six Cirque shows in the city today, had to be involved. MGM's Chief Sustainability Officer, Cindy Ortega, says, "We believe that, as a leader in our community, we have a responsibility to minimize our impact on our community. (MGM's) City Center is the largest green development in the world. And, we've learned that when it comes to water, it's not only about access and accessibility. It's about sanitation. We understand how important it is worldwide, so our support of One Drop marks the first time we've put charitable efforts in a place where we don't operate, even though part of our relationship with One Drop is that part of that money has to be used in Las Vegas."
Toward that end, a five-year, one-million dollar grant to Las Vegas' Springs Preserve was announced. The 180-acre site, operated by the Las Vegas Valley Water District, is located where the city's original water source offers educational programs, nature walks, concerts and other public events.
Mention of that and an explanation of the evening was given by Nadal when he welcomed the audience:
Julie Murray, CEO of
Moonridge Group Philanthropy Advisors,
says they were brought into the event "because Guy Laliberté threw out a challenge. He wanted the event to be different, to lay the groundwork for an annual event to raise money for what he says is the most important social issue of the 21st century -- water. And, because Las Vegas has suffered some very bad economic times, we had to recruit and inspire philanthropists from around the world by forging strategic alliances."
Nadal notes, "We knew our central piece was going to be a show, so we structured the evening with the show and it turned out to be a seven-hour event."
Each Cirque show is dark two nights a week. In preparation for this event, all of the shows were scheduled to be dark. The event was held in the O theater in the Bellagio.
The Honorary Event Chair was Prince Albert of Monaco. Honorary committee members included producer-director James Cameron. Among those in attendance were Britney Spears, Shania Twain, some Real Housewives of Beverly Hills, Olympic gold medalist swimmers Michael Phelps and Missy Franklin; Coco, Holly Madison and lots more celebs of the major and minor varieties. But, while they added to the event, what make the night special was the actual show and the passion it had clearly inspired in the organizers and performers and did inspire in the audience that night.
It was, in a word, breathtaking. There were several acts that took the audience on a journey around the world and into consciousness of water. There were aerialists, musicians, acrobats and clowns. Artist and America's Got Talent finalist David Garibaldi created a painting on stage and that show's 2010 runner-up, Jackie Evancho, thrilled the crowd with two songs. There was also slam poetry from IN-Q and, in a scene that took place in a boat, the audience member brought onstage to participate happened to be -- yes! "just happened to be," not an audience plant-- professional poker player Jeff Gross.
The show was -- without exaggeration -- an extraordinary event. You can tell that even from the short finale video below:
Any viewer saw very clearly that water is part of our lives and is a key sustaining factor. But, as Bachand said, it was done with a "soft medicine" approach. While people marveled at the beauty on the stage before them, they learned that the ripple from even one drop of water is meaningful around the world.
For a $5 donation, the show can be downloaded through March 31 and is, upon download, available for 24 hours.
In addition, through April 4th, visitors to CharityBuzz.com can bid on an array of unique, often one-of-a-kind auction items, including a Lamborghini Aventador LP 700-4 Roadster, the David Garibaldi painting created onstage, a section of a Babe Ruth game-used bat and piece of original brick from Yankee Stadium, more art, jewelry, trips and photos.
Those who were there to see One Night For One Drop will likely never forget it and, if all goes as planned, it was an event whose legacy will be long cherished around the world.
Photo of Guy Laliberté and Catherine Bachand, Getty Images
Photo of Jerry Nadal, Courtesy of Cirque du Soleil