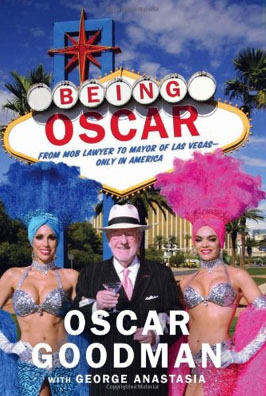 "When you look at Las Vegas, it is truly about adult freedom and fun. Las Vegas is part of his persona -- the pinstripe suit, Bombay Sapphire Gin and showgirls. That's what he is about."
The speaker is Rossi Ralenkotter, president and CEO of the Las Vegas Convention and Visitors Authority (LVCVA), the group charged with branding and marketing the City of Las Vegas. He is talking about Oscar Goodman. And he says that, today, Oscar Goodman is the Las Vegas brand.
Goodman has been many things in his life -- lawyer to some of the city's leading members of the mob, mayor, pitchman and family man among them. But if you talk to him -- or read his autobiography Being Oscar: From Mob Lawyer to Mayor of Las Vegas -- you learn very quickly that, no matter what role he's taking on, he's always Oscar.
And one of the things about "being Oscar" is that he's been a life-long learner. An interviewer is given lots of information and, also, many of nuggets of wisdom he's collected over the years. But through everything Goodman says, his love of his life -- of his family and of Las Vegas -- shines brightly through. And, if the reader of his book has heard him speak, that reader can clearly hear his voice telling the stories.
A Philadelphia native, Goodman attended Haverford College and, then, law school at the University of Pennsylvania. While clerking in the district attorney's office, he met some detectives from Las Vegas who suggested he move to there. His father was an attorney and Goodman worried that working in his practice might strain their relationship. So, he and his wife Carolyn headed west after he secured a job in the Clark County DA's office.
As Goodman tells it in his book, he and his wife drove into a very different Las Vegas. He says, "I wasn't able to decide whether it was the most real or unreal place in the world. There was nothing like the stores or restaurants we have now. Today there are two million people who are looking to make a regular life here. But it is still a one-horse town in that we depend solely on tourism."
He speculates a bit about what life would have been like for him had he stayed in Philadelphia. He says he "probably" would have gone to work for (former Senator)Arlen Spector, his boss in the DA's office and today would likely have been a federal judge.
When he got to Las Vegas, Goodman began to practice law and, soon, out on his own, had a roster of colorful clients. An early one was Manny Baker, believed by law enforcement to be a major heroin dealer. Baker was arrested by state troopers in Texarkana, Arkansas for allegedly bringing drugs across the border from Mexico.
Goodman was able to prove the prosecution witnesses -- those state troopers -- were lying and their testimony was thrown out of court. Today, he says, "In the Manny Baker case it was a miracle I was able to show what really happened and what they did to him when they arrested him was worse than what happened to Rodney King. But the heartbreaking part is that the troopers can do it and lie about it again."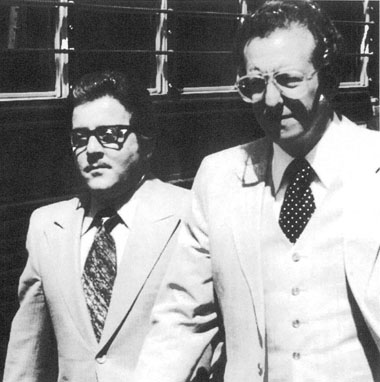 Goodman is a passionate, entertaining raconteur. Listening to him, you just know he loves telling his stories. He enjoys talking about those he's known and with whom he's done business. Goodman's clients included such known mobsters as Frank "Lefty" Rosenthal and the very short fTony "The Ant" Spilotro (with him on the way to court in the photo at right). He is firm in his statements that both were always gentlemen toward him. He also never lost a death penalty case.
"I had the excitement of representing the toughest people in the world," he says. He further notes that the most dishonest, corrupt people he ever dealt with were "the politicians, not the mobsters."
Also among his clients was his good friend, Judge Harry Claiborne, whom Goodman describes as "the best defense attorney in Las Vegas when I came out here." But, over the years, Claiborne had rubbed some people the wrong way and they set out to ruin him. Leading the charge was Joseph Yablonsky, the FBI's Special Agent In Charge of the Las Vegas office. When the agent arrived in 1980, Goodman recalls that "Yablonsky came with a vendetta. He said he was going to 'plant the American flag' in the desert. "
Claiborne was appointed to the Federal bench in 1981 by President Jimmy Carter. He had many enemies, including Yablonsky. In 1983, Claiborne was indicted and, then, convicted of income tax evasion. Goodman represented him and, after his conviction, Claiborne refused to resign from the bench. The House of Representatives handed up articles of impeachment against him. Although Goodman wanted a hearing before the full Senate, Claiborne was given a hearing that lasted seven days before a committee of 12 Senators. Before they voted on the articles of impeachment, the full Senate was supposed to read a transcript of the committee hearing. Claiborne was convicted and sent back to prison to finish the term for the tax case. The Nevada Supreme Court reinstated his license to practice law in 1987. In 2004, Harry Claiborne, fighting cancer and Alzheimer's disease, committed suicide.
Claiborne's trial, conviction, impeachment and death make up one of the saddest chapters in Goodman's life and, to this day, it is clear from talking to him that he still mourns this friend and colleague.
While Oscar Goodman was fighting his courtroom battles, Carolyn Goodman got a master's degree and started the prestigious Meadows School in Las Vegas. They had four children. Today, Oscar, Jr., is a physician, holds MD and PhD degrees and is an oncologist specializing in prostate cancer. Son Ross was a major in the US Marine Corps and is now an attorney in private practice in Las Vegas. Son Eric, also an attorney, is now a Las Vegas Justice of the Peace. Daughter Cara holds two master's degrees, in human resources and marriage and family counseling.
Looking back, Goodman says, "I missed out on the kinds of things parents should enjoy. But my children didn't miss me because of their mother. She was always there for them."
Carolyn Goodman was there for her husband, too. In speaking to him one hears quite clearly that he values -- and heeds -- her advice. "She always kept me on the straight and narrow. She would tell me, 'Don't become your client.'"
When he told his family he was considering a run for Mayor of Las Vegas in 1999, they all voted against it. Of course, he ran and was elected, serving the maximum allowable three four-year terms.
"There were a lot of things I wanted to do as mayor and I was able to do many of them. First, I wanted to bring academic medicine here. My son had been at Columbia and Memorial Sloan Kettering in New York. With Larry Ruvo, we were able to realize Keep Memory Alive and the Lou Ruvo Center for Brain Health with the Cleveland Clinic."
The Ruvo Center building is part of Goodman's downtown revitalization. "I was thrilled when Larry Ruvo agreed to put it there, rather than in the suburbs" Goodman says. It was designed by master architect Frank Gehry. Goodman recalls, "I was with Gehry when he went for the first time into the finished building. He looked up in this cathedral-like setting and the tears started flowing down his cheeks. I will be the proudest mayor and the proudest Las Vegan when one of these horrible neurodegenerative. diseases is cured here in Las Vegas at the Ruvo Center.
"Education and culture are also very important to me," he continues. "We were able to reopen the historic Fifth Street Elementary School. And we were able to build the Smith Center for the Arts so we now have a real cultural center. And, of course there's the Mob Museum that tells the real story of our city.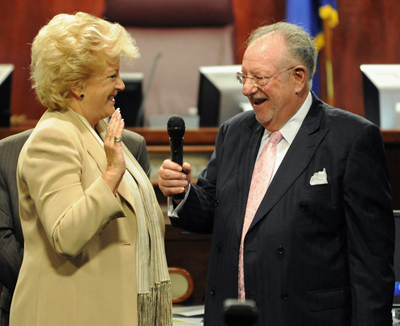 Still unrealized from his mayoral "to-do" list are Oscar Goodman's dreams of a pro sports team and a downtown arena in Las Vegas. He'd also like to see the film industry grow here and see the local economy expand and diversify. But, he's pretty certain that this will happen under the administration of the new mayor, his wife Carolyn, who succeeded him in 2011. He swore her into office on June 3, 2011 (photo at left).
She says, "He's a wonderful resource when I need advice. Our first date was October 21, 1960 -- that's six-zero -- and I know him so well. I know his total love for this job. He loved the variety, the people you meet and, even, the few things that have not come to fruition are important to him and to me."
Of course, all was not sweetness and light in Oscar Goodman's Las Vegas. He's not happy about the casino owners who went to Macao to seek more gold by opening casinos that diverted high rollers away from his city. And he could be a lightening rod for controversy.
For example, asked during a talk with fourth-graders what he'd take to a desert island, he replied, "A bottle of Bombay Sapphire Gin." When asked his hobbies, he also referenced drinking Bombay Sapphire. Later, he explained, "I'm the George Washington of mayors. I can't tell a lie. If they didn't want the answer, the kid shouldn't have asked the question." His choice of drink, by the way, is a Bombay Sapphire martini with a jalapeño, not an onion or olive.
At other times, Goodman suggested that graffiti artists should have their thumbs cut off on television and that, perhaps, "...a little bit of corporal punishment going back to the days of yore, where examples have to be shown. I'm dead serious. Some of these (children) don't learn. You have got to teach them a lesson, and this is coming from a criminal defense lawyer. But," he added, "they would get a trial first."
And, in 2010, after President Obama said in a speech, "You don't blow a bunch of cash in Vegas when you're trying to save for college," Goodman created national news when he declined to meet the President at the Las Vegas airport when Obama came to the city.
Goodman says he has always tried to "be able to look in the mirror and like who I see there. I can do that."
As for his book, Oscar Goodman -- who wrote the book out by hand as he worked with writer George Anastasia on it -- "I have at least two more in me."
In them, he will probably talk more about his clients ("They all had nicknames," he says. "The Ant, Camel -- a guy with a humpback -- and Wingy, a guy with a malformed arm.") and, also, about those who made this city he loves. Among that group is Jay Sarno, the man behind Caesars Palace and Circus Circus. "He was a genius and I admire the courage it took to do what he did, particularly before Las Vegas became part of corporate America -- to build these edifices when, while they were being built, others would come along and build something they wanted to surpass what he built."
Today, Goodman is the chair of the LVCVA's Host Committee, the public face and ambassador of the city. To many people Oscar Goodman is the once and always mayor of his city. He is frank to admit, "I enjoy the adulation. As the mayor wherever I went they said 'You're doing a great job.' And I am still greeted very warmly."
The LVCVA's Rossi Ralenkotter is likely not the only one who believes, "Oscar would still be mayor if he could." In fact, Goodman himself would probably not argue with that statement.
On the other hand, as he explains in Being Oscar, "People ask me if I miss being mayor. I tell them it's more fun sleeping with the mayor."
Photo of Oscar Goodman with Tony Spilotro, courtesy of Oscar Goodman. Photos on the book cover of Oscar Goodman with his two showgirls and his martini, and photo of Carolyn Goodman's swearing in courtesy of the LVCVA News Bureau.