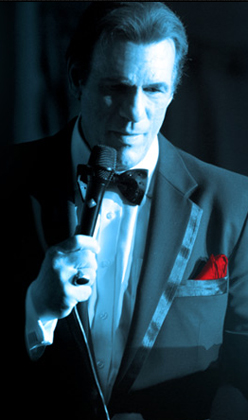 Robert Davi (left) has one of those faces that people always seem to recognize -- one of those faces that cause people to walk up to him and point their index finger as they try to recall how they know him. Then they realize they know him as Jake, the Fratelli Brother who sang opera in The Goonies, as the villain Franz Sanchez in the Bond film License To Kill, as FBI agent Bailey Malone on the TV series Profiler or from any of his more than 100 other movies and television shows dating back to 1977. Yes, Davi is certainly a familiar face. But, even though he's accomplished a great deal as an actor, he's much more than that familiar face.
Robert Davi is many things. Sure, he's an actor, but he's also a singer, writer, producer and director. Not incidentally, this father of five children aged 11 to 28, is a very proud, activist American.
While he seems to get cast mostly as tough guys, Davi's bio on IMDB says, "His tough exterior masks a powerful inner sensitivity, which he calls upon for his most notorious roles." If you are tempted to take that as the kind of line that is PR overstatement, as I did at first, just watch The Goonies. There's scene about an hour into the film where the Fratellis -- Davi, Joe Pantoliano and Anne Ramsey -- are questioning poor Chunk, a kid who's as frightened as it's possible to be.
The Fratellis order Chunk to "tell us everything" and the boy proceeds to confess to all his misdeeds, from failing at a camp for fat kids to a prank he pulled from a movie theater balcony that caused everyone seated below to get sick. As the boy talks about the movie theater stunt, the smile starts to play on Jake's face and he is grinning when he says, "I'm beginning to like this kid, Ma."
In that second, as rotten as Jake Fratelli is, Davi gave him a bit of real humanity. He seems to manage this in all his work.
Reflecting on that soft heart, Davi says, "There's a vulnerability and a sensitivity, even in a villain. I look for what humanizes any character. Joseph Campbell said, "Every hero has a tragic flaw." That's just who I am as an actor and how I view people."
Born in Astoria, Queens -- is it ironic that The Goonies took place in Astoria, Oregon? -- to Italian immigrant parents, Davi told his audiences, "I was raised in an Italian Catholic home. We looked up to two people -- the Pope and Frank Sinatra. Not necessarily in that order."
Growing up, music was always a part of Davi's life. His family moved to Deer Park, Long Island, when he was five and as he grew up, he studied voice. In high school, he was chosen by the New York State School Music Association (NYSSMA) to audition for the Metropolitan Opera.
He recalls, "On the train into the city, my throat was scratchy so I started taking Ludens Honey Lemon Cough Drops, thinking it would help. Unfortunately, their sticky, chewy texture made my vocal cords seize up. It was like what happens when you squeeze lemon on a fresh clam. Did you ever see that? The clam just curls up. That was my vocal cords."
While he didn't make it to the Met, Davi studied voice privately on Long Island, in Florence, Italy and at Juilliard. He studied acting with Stella Adler and Lee Strasberg and has done 700 stage performances.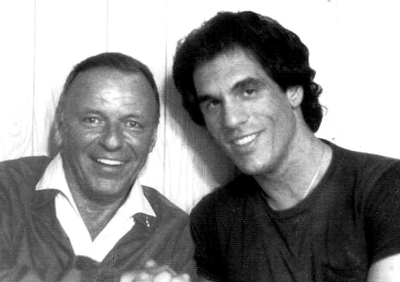 In 1976, Davi heard that Frank Sinatra was in New York doing a TV movie called Contract On Cherry Street. "I was working with an agent in New York and we knew that Cherry Street was being cast. But I was told there were no parts, that Sinatra gives them to all his friends.
"I asked where Sinatra's offices were. They were on Fifth Avenue. So I went up there and got past the security guards. I talked to two women who told me there were some parts left and I should bring a photo and resume in the next day. I ran to the agent's office and brought them back right away. They called the next morning and told me to come up to Columbia to read. Sinatra was there because he produced it, in addition to starring. I got the part. It turns out he made the film because Contract On Cherry Street was his mother Dolly's favorite book."
That was not only Davi's first film but being in it brought him his first plane ride and first visit to Los Angeles."There I was and, all of a sudden, I was on a plane, flown to LA for three weeks of pickup shots. It was hard to believe. I was in Hollywood for work with Sinatra and they put me at the Beverly Hills Hotel. It was really something."
From that point, Robert Davi never stopped. He was in Die Hard and is the only actor to be in all three of MGM's big franchises -- Bond, The Pink Panther and Stargate.
He is also a director and directed his friend Chazz Palminteri in The Dukes, a 2007 film about members of a formerly successful doo-wop group who, after their singing success fades, are struggling to make it in New York.
The next big film project for Davi will be starring in The Voice, a script he wrote that was bought by producer Mark Canton. It's the story of a Philadelphia plumber who is "obsessed" with Frank Sinatra. The character can sing but his dreams of a career are put on hold for several reasons -- having a family and the need to earn a living, among them. Davi described it to The Hollywood Reporter as "a story with humor and heart that celebrates the Great American Songbook... and gives it modern day relevance."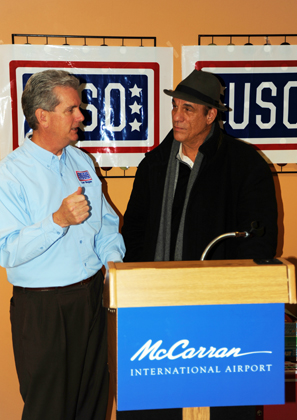 Away from the stage and camera, Robert Davi's life is a full one. His first show in Las Vegas was a benefit for the USO (In the photo at right, he is with Las Vegas USO Director Doug Bradford.) He explained, "Patriotism was important in my family. My grandfather won two Purple Hearts with oak leaf cluster in World War I and my father won a Purple Heart in World War II. Every year, on Veterans Day, Memorial Day and the Fourth of July he'd put on his Navy uniform and raise the flag in front of our house."
He is involved in politics on the conservative side. But, it seems, many of the issues that are important to him don't have "sides."
In an interview last year for The Washington Scene Davi he talked about what he'd say if he had five minutes with the president. His response dealt with fixing America's educational system and raising the level of financial literacy in the country. His advice to the president would be "Don't appease the enemies of freedom, democracy and our allies. Israel must remain a shining example of democracy in the Middle East."
Although he's been a presence at partisan political events, he is emphatic when he states his belief that, "We can have an ideology and we can have certain issues we're apart on. But it doesn't have to be a boxing match. I also strongly believe we should be energy independent. I remember this country being excited about developing green technology in the 70s. On that, both parties have let us down."
Davi sits on the board of directors of the Homeland Security Policy Institute at George Washington University, is a spokesperson for iSafe.org, an organization whose mission is promoting online safety and is also involved with several children's charities.
Davi was in Las Vegas at the end of February to perform his show Davi Sings Sinatra, a one-person tour de force that revisits the music Frank Sinatra gave us and the songwriters who gave Sinatra that music to give us.
He talked a bit about each of the songs he performed, always naming the composer and at times telling a story about the genesis of the song. Throughout, he spoke of 'Mr. Sinatra" with reverence.
Now, Robert Davi is absolutely not an impersonator. He is, in every sense of the word, a tribute artist, paying homage to a great singer who had great influence on his life and on the Great American Songbook.
Except for the part about being afraid to pursue the musical dream, there is apparently a lot of Robert Davi in the script. Sinatra is his guy. Last year, he released a Phil Ramone-produced CD called, as is his show, Davi Sings Sinatra
He debuted the show last year at Hofstra University in Uniondale, Long Island, where he studied on a drama scholarship. He's also done it in LA. During his three-night run at the Venetian in Las Vegas, Davi appeared with a 20-piece orchestra in front of an audience ranging in age from their 20s to many who were there during Sinatra's heyday.
He talked about Sinatra as Picasso, blazing new trails in American music and spoke of the deep influence the music of African Americans and Jews have on our nation's popular music.
The audiences at the three shows he did were not just sitting still. They tapped their feet, moved to the music while seated and, even, shed a few tears during those songs that evoked strong memories. At the end of the show, as the clock neared the theater's mandatory closing time of 11 o'clock, the audience each night called out for him to stay, to continue singing and each night gave him a standing ovation.
Discussing the shows, he is quick to say, "I'm just starting on the music. Now, I want to plant my flag in this territory."
If his career history thus far -- a history of talent and the successful pursuit of dreams -- is any indication, Robert Davi will not only plant that flag, he'll own the territory.
Here's a promo video for the CD Davi Sings Sinatra:
Photos courtesy of Robert Davi. The photo of Davi with Sinatra was taken during the shooting of called Contract On Cherry Street by longtime Sinatra friend, Jilly Rizzo.