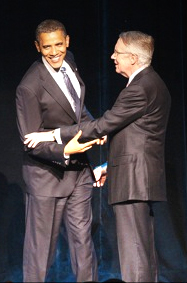 Harry Reid is the senior senator from Nevada and the Senate Majority Leader. He's not the sort of Democrat I -- as a New Yorker -- am used to. Our Dems are generally liberal, a lot less quiet and we know where they stand. From all of those official rankings put out by groups like the ADA and Planned Parenthood, Reid seems to be all over the place. He is not, clearly, all things to all people.
That's not a bad thing. It is, however, as I mentioned above, an odd thing to one not used to this.
So, yesterday, the first big political fundraiser of the year was held here at Caesars Palace to kick off Reid's reelection campaign. Bette Midler, Sheryl Crow, Rita Rudner and Clint Holmes entertained. But the big draw was President Obama.
The Mayor of Las Vegas -- the self-styled "happiest mayor in the universe" -- Oscar Goodman and the governor of Nevada Jim Gibbons took umbrage in February when President Barack Obama suggested at an Indiana town hall meeting that recovery money must be used carefully. Addressing the bailed out banks, he said, "You are not going to be able to give out these big bonuses until you pay taxpayers back. You can't get corporate jets. You can't go take a trip to Las Vegas or go down to the Super Bowl on the taxpayers' dime."
This made some local pols and businesspeople angry. Goodman asked for an apology. He's since calmed down and greeted Obama at McCarran airport yesterday. The governor, on the other hand, had asked for a private meeting with the president to discuss the issue and was turned down. He was, however, invited to join the president, Reid and other dignitaries at an event touting solar power today at Nellis AFB. He declined the invite. If you've watched this governor for any length of time, that declination is no surprise.
Anyway, the fundraiser went swimmingly. It was, as these things are, a lovefest. Obama even joked about visiting Las Vegas: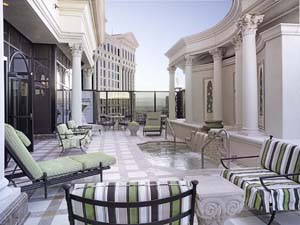 He noted that when he stayed at Caesars during his frequent campaign visits to this early caucus state, "I thought I had a pretty nice room. But now that I'm president, they upgraded me. It's a really nice room now." (Photo at left)
It was a terrific event, raising about $2 million for Reid and the Nevada Democratic Party.
But, it also sadly ushered in Round Two of the silly season when campaign ads attacking a candidate, ads in which truth is not required, are smeared all over TV.
The first ad came out in January. Funded by the Republican Senatorial Committee. It labeled Reid a "super spending partisan." With absolutely no sense of irony and a conveniently short memory it blamed Reid for funding all the attack ads during the 2008 presidential campaign.
Now a conservative PAC is attacking Reid and I don't quite get it. How can Harry Reid alone be responsible for our economy? How can Harry Reid, by any stretch of the imagination, be called a liberal? And, most important of all, how can anyone who cares about humanity begin to inflict these ads on an unsuspecting public when the election is 18 months away?
Reid, by all reports, faces a tough race. He tried-and-true campaign slogan from years past -- "Harry Reid, Independent like Nevada." -- likely won't hold up this time. In fact, anyone who bought a ticket to last night's fund raiser could suggest a slogan for 2010 and the writer of the best one got a meet-and-greet with the president. We'll have to wait and see what the new slogan is.
Meanwhile, one protester outside of Caesars Palace last evening held a sign calling President Obama "Pinky." That, to people who know their movie history, is racist to the nth degree. The sign was carried by a youngish woman caught by a photographer with her mouth agape in mid-shout. Shame on her.*
At any rate, the fundraiser was a great success. (Even though a limited number of tickets were given away by a business called House Seats that is utilized by local venues to ensure a full house.)
Today, Obama and a host of dignitaries visited Nellis AFB to tour and tout a solar energy installation there that is the largest in the Western hemisphere.
During his remarks there, he grinned and said, "There's nothing like a quick trip to Vegas. Like millions of other Americans, we came to this beautiful city for the sights, the sounds -- and today we came for the sun."
On this 100th day since the American Recovery and Reinvestment Act was enacted, Obama spoke about it. During his speech from the solar energy site transmission on at least one television station failed.
Nothing -- in life or politics -- is easy. And in today's world -- in politics, in this city -- it doesn't look like it will get any easier. Hopefully, that power failure during the President's speech is not an omen. On the other hand, we have a president with a terrific sense of humor. That should help us all.
*Author's Note: 90 minutes after the above was posted I was informed by the very excellent Steve Fernlund of Las Vegas' very vital Red Rock Democratic Club that "Pinky" is an old nickname from childhood -- when he was born he was small and pink -- his opponents still use for Reid. (Have to ask: As the word, as Reid grew up, came to mean "communist," in what century do they live?) And there's that Elia Kazan film....time to do away with it. An insult is an insult; a slur, a slur.