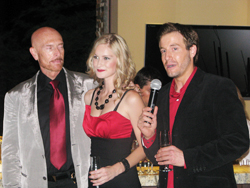 One of the best things about being a writer is that you get to meet people and see places to which you might not ordinarily have access. For an April article in Luxury Las Vegas I wrote about the Clark County, Nev., home of author Terry Goodkind and his wife, Jeri.
Goodkind came relatively late to the writing game, having started as an artist. But, from the moment the first words he ever wrote ("It was an odd-looking vine.") were published, his Sword of Truth series was a smashing success -- more than 10 million books sold, repeatedly hitting the top spot on the New York Times' bestseller lists. When I met the Goodkinds in March, I had visions -- and fears -- of his books as being like other fantasy novels, populated by fantastical creatures to whom I would never relate or enjoy reading about.
I was wrong. His fantasy books are about people who may live in a different world but they are clearly human. As he noted, his writing is not for the "Dungeons and Dragons" crowd. He is a writer for adults.
The interview went well, and we stayed in touch. Goodkind's new book, The Law of Nines -- his first departure from fantasy into mystery -- was released last Tuesday and, in celebration, he did his one book signing in a Las Vegas suburb and, Saturday night, threw a party celebrating the new book. I was lucky enough to go, and it was one of the most interesting parties I've ever attended.
The event was held in a stunning 9,000 square-foot home open to the surrounding mountains. It boasted an absolutely breathtaking infinity pool that, as darkness fell, was lit in stunning cobalt. But, as far as the guests were concerned, as lovely as the setting was, they could have met in a downtown warehouse. They were there for one purpose only -- to share some space and spend some time with their favorite author.
Guests at the party were mostly fans. Goodkind's agent, Russell Galen, was there, as was Donna Parkinson, widow of Keith Parkinson, the artist who did the cover art for Goodkind's books. The author's mother and sister, visiting from Omaha, were in the crowd. Natalie Goodkind expressed pleasure that her son had arrived at this point. "His father and I," she said, "really had no idea how Terry would earn a living." There were, of course, friends and business associates, too, but most of the people knew him through his writing.
(I must digress a bit to tell you that I am used to people who are grouped as "fans" of someone else. Through a series of odd circumstances, I own and moderate the world's largest fan website for a very popular singer and understand quite clearly the fan universe that really does exist. Just a couple of days ago, I said goodbye to friends who'd come to Las Vegas from -- literally -- across Europe and the U.S. [the Canadians couldn't make it this time] to see this singer perform. They spend a fortune to travel, to see, to be seen and be near. And they will tell you that it's worth every cent. It's a very interesting world and if I were a sociologist, I'd probably write a book about it. In fact, even though I'm not, maybe I will.)
Goodkind's fans are no different.
David, for example, is a firefighter from the Las Vegas suburb of Henderson. This was not his first event and, as much as he likes Goodkind's writing, he likes the man even better. "What you see with Terry is what you get," he said. "He's just a nice, thoughtful, genuine guy."
Goodkiind's books are infused with the philosophy in which he deeply believes -- the objectivism of Ayn Rand that holds individual rights as key to a society that works and that encourages individuals to pursue what makes them happy.* Thus, it wasn't surprising to meet several fans who came to his work via Rand's. One guy told me he'd discovered Goodkind at the age of 12 after he read some Rand. At the very least, everyone queried on the topic knew of Rand's beliefs. Most had read her work.
Although there was no prize given to the people who'd traveled the farthest to be there, Jem and John would have won, as they live in Australia, and interrupted their U.S. honeymoon for a one-day side trip to Las Vegas that John planned to surprise his wife of almost one month. When they have a daughter -- and they are sure that one day they will -- they plan to name her "Kahlan," the name of Goodkind's heroine.
Jem introduced her husband to the books that she's been reading for several years. "This started when I was cleaning someone's house and I picked up a book that was on the coffee table," she says, as her groom adds, "I'm catching up. I'm not a great reader but I really like these books."
Goodkind autographed their book to "Kahlan."
Fans were there from up and down the California coast -- inland, too -- as well as Pennsylvania, Delaware, Florida and many other places. Some of them became friends online in various chat rooms, and others have met at similar gatherings over the years.
Terry and Jeri Goodkind knew many of them, and they were greeted as old friends, by name.
Also at the party were Andrew Freeman, Natalie Dunwoody and Evan Litt. Freeman (who worked on Mars Attacks! as Michael J. Fox's stand-in) is an award-winning Las Vegas filmmaker whose Press Play Productions made a short film of one scene in The Law of Nines. Dunwoody and Litt star in the piece. You can see it at TerryGoodkind.com. Goodkind (left in the photo) talked to the guests with Dunwoody and Litt.
At the end of the evening, Goodkind talked to the crowd, taking questions and even reading the first chapter of his next book (but he wouldn't reveal the title). Always polite, he thanked everyone for coming and talked about his gratitude for their loyalty to him and his work.
When asked how the outpouring of respect and affection from around the world made him feel, he said, "I have two reactions. First, I have trouble comprehending the fact that my words have such an impact. I mean, I write something and it moves people, makes them think. It really is hard to understand that. But, second, I am so gratified. I love my life's purpose of writing and these people make it all possible."
Cannot imagine any writer -- or anyone whose success depends upon the approval of strangers -- would disagree.
*I am by no means expert on Ayn Rand or her philosophy. I did look it up, but if I explained it incorrectly, I apologize. And, while I'm apologizing, I'll add the pun in the title to my list of transgressions. As Ogden Nash said, "Tarring and feathering is too good for people who make puns. They should be drawn and quoted." Feel free.