Over the weekend we celebrated my great-aunt Ida's 102nd birthday. "I can't believe it. Somebody got the arithmetic wrong," she teased, and then asked for extra cake frosting. My grandfather's eldest sister has had a century of hardship, including the loss of her infant son and husband of 60 years. "I still roll over in bed and reach for Joe." When she remembers friends, she says, "I'm the last crow on the telephone wire." But rather than dwell on her lost eyesight or dwindling savings, she laughs hard, loves harder, and celebrates the impromptu, the imperfect, and what she sees as the magical ordinary.
Early this spring, I came to my ancient great-aunt with news. She was perched in her chair, sitting cross-legged like a yogi, sipping Coca-Cola, and listening to her books on tape when I opened her screen door.
"What's new, bᅢᄅbᅢᄅ?" she asked.
"I have a secret. But you can't tell anybody," I said.
"You're pregnant," she blurted out.
"Yes. We're going to have a baby," I admitted out loud for the very first time. I hadn't even told my husband yet. It was planned. But I had also planned to have at least a couple months to warm up to The Plan before The Plan actually happened. Clearly, my reproductive system didn't share in the apprehension that was now whirling through my mind. I felt unprepared. I should've frozen my eggs and waited until I was fifty.
"I'm right?" Her eyes brightened, and the sheer joy she exuded was contagious.
"You're going to have to teach me everything!" I half-threatened.
Besides my husband, great-aunt Ida is my only family out here in California. When I was very young, she'd drive to Texas to take care of me. When I look at photos of my early childhood -- my mom with that Princess Diana haircut and my Dad wearing a tight polo and me, in between, with cake smashed on my cheeks, photos that were hidden in the back of drawers as I grew up with each parent separately -- I can't help but think those must have been the most horrible years of my parents' lives. They've always told me they love me. But Ida tells me how when I had a fever as a baby, my mother could tell by looking in my eyes. Or how my father would rip off his tie as soon as he got in the door and come rushing open-armed to me. Ida brings light to those rarely-spoken-about years that I cannot remember and lets me know I was happy, good-natured, and loved.
"Oh boy, are you in for it." Ida started to cry, all smiles. "How do you know?"
"I took a test this morning."
"Oh, you mean, a blotter." These are the moments I remember she was born in 1911. Like when she tells me I'm too old to wear my hair down and should try a nice chignon. "A baby! Oh, what a thing to look forward to."
Ida loves children more than anything -- more than astronomy, or the pyramids, or Hawaiian volcanoes, or sauerkraut -- because children share her sense of wonder. They aren't "picayunish," and they don't plan everything to death. They find magic in the ordinary. I keep a special letter on my desk. It's an aerogram she wrote to family in the early 1970s. Everyone had advised Ida and Joe to stay in California, to retire quietly on their modest pensions. But the couple always said: "Making memories is so important." So they sold the house they had built with their own hands, bought a van, and lived at campsites across Europe and Northern Africa for three years. The letter reminds me that my great-aunt Ida has always lived simply, abundantly, and on her own terms.

Malaga, Spain.
December 26th

Dear Penny & Bob-
Do hope you had a beautiful trip and a very Merry Christmas. You must tell me all about it when we return...Had parties all over camp Christmas Eve. A large group of children and grown ups walked through camp bearing lighted candles and singing. Spent evening around a 'yule' log at the beach, had drinks and sang. Decorated a Christmas tree, our Christmas cards cut stars and flowers from Kleenex boxes - used foil to cut a picture from a magazine fashion page, a model with a white dress - so I made an angel from her. Had a Chinese American little girl help me make candy to hang on the tree. Bought one string of lights - our tree was the best looking one...
She crafted beauty out of the ordinary. Angels out of a magazine. Ornaments out of a tissue box. A Christmas tree out of a branch she found on a walk. Reading her old letters and visiting with her now reminds me that as an expecting mother, I don't need to have everything all planned out. I don't need to buy all the gadgets the baby blogs recommend in an effort to stay in control. I'm making a pregnancy pact with Ida to enjoy the moment I'm in, to follow my intuition over other people's advice, and to embrace this great big unknown.
This past weekend, as I said goodbye to this most remarkable birthday girl, I kissed her and said, "I love you." Great-aunt Ida put her slender hand on my belly, and said, "I love you double."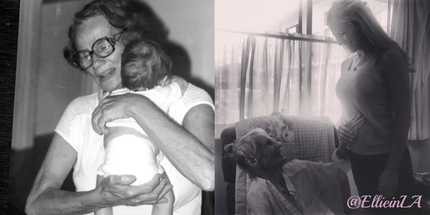 Photos: Ida and Ellie