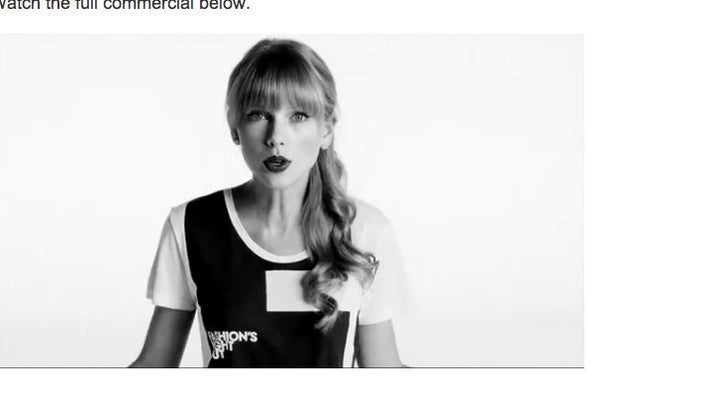 After weeks of promo emails and incessant PSAs, I've been fully overcome by Fashion's Night Out weariness.
I hadn't given Fashion's Night Out, that crazed night of celebrity rubber-necking and champagne-swilling that intends to drum up business (but tends to leave businesses that much poorer), much thought until the cutesy commercials arrived. The first FNO promo starred the relentlessly excitable Taylor Swift and Justin Bieber. Can you hear the tweens screaming yet?
Despite their youthful energy, I'm finding it hard to get psyched about the fourth annual FNO, happening tonight, September 6. The event kicked off in 2009 with more hype than we ever thought Anna Wintour could muster, with every high-end store in New York City flowing with free champagne, free swag bags and legitimately A-list celebs. We're talking Mary-Kate and Ashley Olsen, Gwen Stefani, Victoria Beckham, Justin Timberlake, Charlize Theron, Kate Hudson... Manhattan was like one big Golden Globes red carpet, but with more screaming fans.
With everyone still energized from the surprise success of FNO's debut, the 2010 event was nearly as big yet decidedly less celeb-heavy. Charlize Theron reappeared, as did Halle Berry, but overall fewer stars subjected themselves to the throngs. They instead left fashion heavyweights like Heidi Klum, Naomi Campbell, Bar Rafaeli, Hamish Bowles, Simon Doonan, Alexander Wang and the Rodarte girls to draw the crowds. The mega model-filled runway show, supposedly the biggest one ever staged, was the main event.
In 2011, well, everyone was pretty exhausted. Lea Michele, Joe Jonas and Justin Bieber were trotted out for the youngsters, while the older folk had to content themselves with Daniel Radcliffe, Diddy and Carmelo Anthony (yes, Harry Potter is now an adult). I did catch a glimpse of a very bleached-blonde Lindsay Lohan at Chanel, but she was rushing up the stairs and out of sight -- no autographs tonight.
So what's on tap for weary cocktail-swilling, non-shopping FNO enthusiasts in 2012? Kim Kardashian, Azealia Banks, Jennifer Hudson, Whitney Port, Rachel Zoe and Nicole Richie seem to be the biggest names involved. Get... excited?
But hey, maybe I'm just being a Debbie Downer. Shopping is fun, so getting to shop for longer hours, with better music playing and someone providing you free drinks should be a good time. But the thought of fighting my way to a dressing room through a horde of college-aged girls angling for Alexa Chung's autograph just isn't my idea of a fun Thursday night.
Sorry, Anna Wintour. All good things must come to an end.
See highlights from Fashion's Night Out 2011:
PHOTO GALLERY
Fashion's Night Out