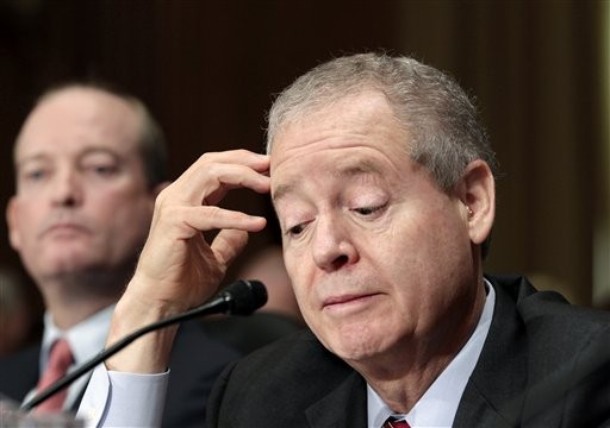 Former ConocoPhillips CEO James Mulva testified on Capitol Hill about the "potential long-term risks associated with climate change," but his company has flip-flopped on the issue for years. (AP)
A few weeks ago I wrote a piece revealing that a number of major U.S. corporations that publicly acknowledge the threat of global warming are members of the American Legislative Exchange Council (ALEC), a stealthy lobby group that ghostwrites legislation to scuttle climate change initiatives.
This corporate disconnect on climate goes way beyond ALEC.
A new report analyzing more than two dozen Standard & Poor 500 companies found that despite their public pronouncements about the reality of global warming, three-quarters of them at least indirectly hindered climate change mitigation efforts through lobbying, campaign contributions, agency comments, or their affiliations with trade associations and advocacy groups.
The report, "A Climate of Corporate Control," focused on 28 companies that made formal comments on the Environmental Protection Agency's finding that carbon emissions endanger public health and contributed to campaigns for or against Proposition 23, a 2010 California ballot initiative that would have undermined the state's landmark law combating climate change. Ten of the companies, including ConocoPhillips, ExxonMobil, General Electric, Marathon Oil and Peabody Energy, are ALEC members.
"What we found most surprising is all of the companies expressed concern about climate change," said Francesca Grifo, director of the Union of Concerned Scientists' (UCS) Scientific Integrity Program, which issued the report on Wednesday. "But when we took a deeper look, we found that a lot of the actions they took outside the public eye were inconsistent with their PR message."
ConocoPhillips is one of the companies that plays both sides of the fence. It has acknowledged on its website that "human activity ... is contributing to increased concentrations of greenhouse gases in the atmosphere that can lead to adverse changes in global climate." But in its comments on the 2009 EPA endangerment finding, it claimed "the support for the effects of climate change on public health and welfare is limited and is typified by a high degree of uncertainty," and a year later it dropped out of the U.S. Climate Action Partnership, a coalition of corporations and environmental groups supporting a federal cap-and-trade system.
The oil giant's campaign contribution track record, however, is a lot less ambiguous. Of the $742,951 it spent between 2002 and 2010, it contributed $697,551 to candidates who were against taking action on climate change and only $45,400 to candidates who promised to address it.
General Electric, which touts climate change as one of its three pillars of corporate citizenship, also works the issue both ways, likely because it makes equipment for wind and solar power as well as the oil and gas industry. The company is a member of at least eight organizations and trade groups that support climate change initiatives, including the American Wind Energy Association, Global Roundtable on Climate Change, Solar Energy Industries Association and U.S. Climate Action Partnership. But it also supports groups that misrepresent climate science, including ALEC, the American Petroleum Institute, Business Roundtable, National Association of Manufacturers and the U.S. Chamber of Commerce.
Some of the companies did put their money where there mouth is. Among the good actors were Nike and NRG Energy, which have consistently supported climate change policies publicly and behind the scenes. Among the worst actors, labeled "obstructionists" in the report, were coal giant Peabody Energy and Marathon Oil, which offered halfhearted statements on their websites about the "potential" impact of climate change and trashed climate science in other venues.
The report, a product of months of research, was based on an exhaustive review of corporate public relations materials, federal tax filings, campaign contributions, lobbying expenditures, congressional testimony, and funding to outside organizations. Despite the UCS research team's thoroughness, it was hampered by the fact that companies are not required to reveal key information about their activities, especially the purpose of their lobbying expenditures and contributions to political action committees, advocacy groups and think tanks.
"This lack of disclosure about how corporations spend their money allows them to get away with taking these contradictory actions," said Gretchen Goldman, a UCS Scientific Integrity Program analyst and lead author of the report. "We need more transparency to enable investors, policymakers and the general public to make informed decisions and hold corporations accountable."
To that end, the report recommended a number of reforms, including expanded reporting requirements for the Securities and Exchange Commission and passage of the Disclose Act, which would require corporations to share more information about their political spending within 48 hours.
"The actions of many of these companies come right out of the tobacco industry playbook to delay sensible regulations that protect public health and safety," said Grifo. "Historically, complying with new rules is never as burdensome as companies like to claim, but that doesn't prevent them from misrepresenting the science to create confusion and delay."
Elliott Negin is the director of news & commentary at the Union of Concerned Scientists.