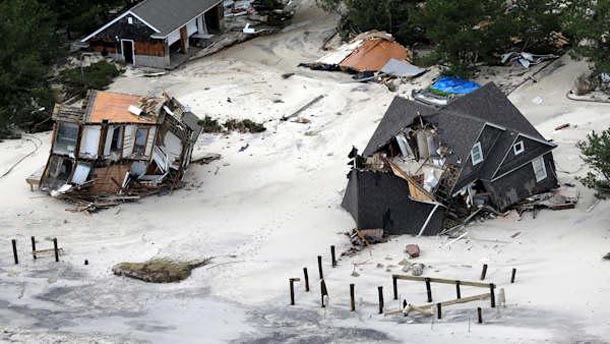 American voters' top concern this year, as it has been for some time, is the economy.
That's no surprise.
Climate change, on the other hand, doesn't even crack the electorate's top 10 most important issues.
That's no surprise, either. Environmental issues don't loom large when Americans enter the voting booth.
And that's a shame.
Why?
The biggest long-term threat to the U.S. economy isn't government over-regulation, high taxes, the deficit or even China--the issues candidates routinely cite.
It's climate change.
Hurricane Sandy, which just caused an estimated $30 billion to $50 billion in economic losses, put an exclamation point on that assessment. Although climate scientists will tell you that you can't attribute one extreme weather event to global warming, you can certainly attribute sea level rise to it, and higher sea levels undoubtedly contributed significantly to the damage.
I work for a nonpartisan, tax-exempt organization that educates the public and promotes government policies based on science. So to illustrate my point, I'd like to tell you how battered the two main presidential candidates' home state economies will be if we don't dramatically reduce carbon emissions, and do it soon.
Illinois: By 2050, President Obama's home city of Chicago would experience a heat wave as hot as the one in July 1995--which killed more than 700 people--every summer, according to "Confronting Climate Change in the U.S. Midwest," a 2009 report by the Union of Concerned Scientists (UCS). Peoria, Rockford, Springfield and other Illinois cities would face similar conditions. Such searing heat, combined with higher smog and soot levels, would aggravate asthma and other respiratory problems and cause more premature deaths across the state.
Scientists project that Illinois likely would experience an increase of at least 20 percent in heavy precipitation over the next 30 years, mainly in the winter, spring and fall, which could mean more flooding. That, coupled with more frequent short-term summer droughts, heat stress, and wider insect ranges, would spell trouble for the state's $11 billion-a-year agricultural sector. Corn yields, for example, could decline as much as 50 percent by the middle of the century. Meanwhile, hog and pig producers already are losing $20.5 million a year due to heat stress, and nearly permanent summer heat stress would threaten dairy cows, hogs, pigs and other livestock toward the end of the century.
Massachusetts: Former Gov. Romney's home state, meanwhile, is already experiencing earlier springs, hotter summers, and milder winters than it did in 1970--all consistent with climate change. If we continue on the same emissions path, it would get worse. According to UCS's 2007 report, "Confronting Climate Change in the U.S. Northeast," over the next 30 years, the state's largest cities, including Boston, Springfield and Worcester, likely would experience nearly 20 summer days with temperatures higher than 90º F. That could worsen the state's smog problem and accelerate pollen production, which could lengthen the allergy season.
Massachusetts is home to one of the country's biggest commercial fishing industries. Based on current emissions trends, scientists project that ocean temperatures will be too warm by the end of this century to support the historically important Atlantic cod. The state also produces a quarter of the nation's cranberries. Heat stress would significantly depress yields for them and other fruit and vegetable crops, which currently generate about $94 million annually, by mid-century.
Rising sea level not only would increase the frequency and severity of storm surges and coastal flooding, it is expected to overwhelm some low-lying coastal areas and dramatically accelerate erosion. Sea level rise also would threaten salt marshes and estuaries, which provide nursery habitat for commercial fish and feeding grounds for migrating birds.
Finally, by mid-century, warmer winters would drive many ski resorts out of business, and by late-century, the trees that provide the state's spectacular fall foliage displays--maple, beech and birch--would disappear.
The future is here: We don't need to hang the argument for addressing climate change on what likely will happen decades from now, however. We're experiencing its ill effects right now.
Just last year, for example, the United States broke the record for the most billion-dollar weather disasters in a year, according to the National Oceanic and Atmospheric Administration. A significant percentage of the 14, which caused a total of $47 billion in damages, can be linked to global warming.
A new report by the giant German reinsurance company Munich Re, meanwhile, found that the number of weather-related disasters in North America nearly quintupled over the last three decades--more than in any other region of the world. From 1980 through 2011, those catastrophes cost North Americans some $1 trillion in damages. Human-induced climate change "is believed to contribute to this trend," the report said, "though it influences various perils in different ways." The report linked global warming to heat waves, droughts, intense precipitation events and "most probably" hurricane intensity.
There are solutions: We need an insurance policy that will protect us from the worst potential consequences of climate change, and fortunately we have the beginnings of one. The federal government has significantly strengthened vehicle fuel efficiency standards, which will go a long way to curb U.S. oil consumption and cut gasoline bills. Likewise, 29 states and the District of Columbia have standards in place requiring utilities to increase their use of renewable energy over time. These standards, which range from 10 percent to 40 percent from renewables, have resulted in a modest increase in electricity rates in some states, no increase in others, and even a small decrease in others.
A national 25 percent renewable electricity standard would be even better. Such a standard, along with energy efficiency measures to cut demand, would cost less than 2 percent more a month for a typical U.S. household--an average of $2.37 to be precise--according to a 2010 report by the Energy Department's National Renewable Energy Laboratory. That would be a small price to pay to avoid more climate-change-related devastation, and a recent poll found that Americans are willing to pay more than five times that amount for clean energy.
So if the economy is your top priority, don't forget: The biggest threat to national prosperity is climate change, and we can--and must--do something about it.
Elliott Negin is the director of news and commentary at the Union of Concerned Scientists.