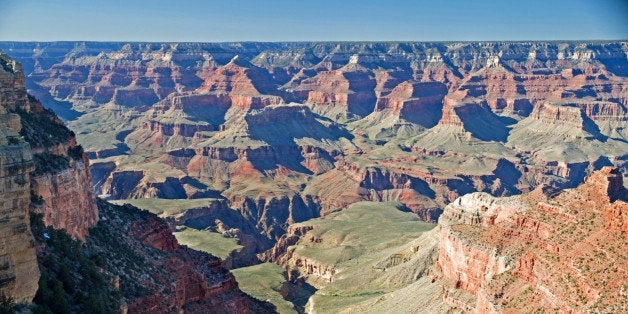 There are many versions of the classic game of Monopoly. There's the original, a variety of other theme-related versions, and a national park version. The park version came out in the 1990s when I was working at the Grand Canyon. I didn't like the idea then (I still don't) of buying and selling national park areas, building houses and hotels on parks in an effort to drive your opponent into bankruptcy, and especially placing a relative value on specific parks. Moving around the board, you come to value some parks over others. Not the kind of idea we embraced when we argued that each area of the National Park System was an important part of the national story of who we are and where we came from.
But there is economic value in our national park system. In fact, national parks are economic powerhouses. The National Park Service has just published a new report on the economic benefits areas of the national park system bring to taxpayers and to their surrounding communities.
The park service has been reporting on visitor spending in national park areas for the past 24 years. This latest report makes some significant changes in the way the analysis was done in the hopes of providing more comprehensive, accurate and transparent results. The new report enlarged the definition of the affected local area, and looked more widely at secondary economic effects as well as the overall effect on the national economy.
The National Park Service found that in 2012 there were 287.8 million recreation visits to all national park areas. These visitors, coming from outside the local park area spent $14.7 billion on their visits to our national park system. That spending supported 139,000 steady jobs, generated $4 billion in income, added $10.8 billion to the local economic output, and contributed an additional $6.5 billion to the nation's gross national product. That's a $10 return on every $1 spent by the federal government supporting the national park system. Don't we all wish our mutual funds and retirement accounts would emulate those numbers? And while our parks may not be the total cure to our nation's fiscal challenges, these numbers show that parks are an economically powerful and positive economic engine actually helping us get our fiscal house back in order.
The reason I'm writing about this economic value attached to our nation's parks is because we are experiencing an oil and gas development boom that could undermine this economic engine and threaten the economic benefits generated by the values we cherish in our national parks. We've already seen oil and gas wells developed in North Dakota, and the impacts to the experience at Theodore Roosevelt National Park. We're also seeing a growing and wide spread interest in exploiting oil and gas reserves throughout the country mostly through the enhanced technologies built around hydraulic fracturing or fracking.
Usually, arguments pit conservation and development against each other as either one choice or another. In particular, we hear that conservation is an economic loser and development is an economic winner. Yet these two broad paths are not mutually exclusive. Through thoughtful, well-designed and smart planning we can explore and develop our energy resources while providing permanent protection to park lands that often lie next to or near valuable federal lands with proven energy reserves.
Throughout the country however, we've seen challenges and conflicts where oil and gas development, done haphazardly and without forethought for the parks, threatens these economic benefits. Culturally significant and even internationally recognized archeological sites such as Mesa Verde National Park, Dinosaur National Monument and Chaco Culture Historical Park had over $70.7 million in economic output with over 829,000 visitors.
In Utah, the recreation economy generates a significant portion of the state's economic activity, $1.6 billion worth in fact. Because of the economic value to local communities the Governor of Utah committed state money to reopen five national parks located in the state, during the 2012 Government Shutdown.
Arches and Canyonlands National Parks alone contributed $613 million in tourism spending with over 9.5 million visitors statewide.
Even in the East, proposals to expand drilling development in the George Washington National Forest would be just upwind of Shenandoah National Park, which generated $94.5 million in economic output with over 1.2 million visitors in 2012.
Effects of poorly planned oil and gas development near national park areas may not be immediate, but it's hard to ignore the likelihood that over time there will be significant changes and not many of them good.
No one would argue, for example, that erecting oil and gas wells next to your backyard fence would not have some negative impacts on your back yard, as well as your neighborhood. The view from your kitchen window of an oil/gas derrick, the smell from the stacks burning off the excess gas, increased ozone pollution, the rumble of heavy trucks through your streets, the dust and the noise would all impact the peace, quiet, health and community that was your neighborhood.
Likewise, a national park area with its iconic views, clear night skies, quiet and peaceful walking trails, and the delicate remnants of our historic and prehistoric past could all be undermined by poorly planned oil and gas development on lands near our national parks.
It doesn't have to be a choice of one or the other. There is always a third choice, and sometimes a fourth or fifth. With careful planning and zoning near our national park areas we can continue to develop oil and gas resources on federal lands. Oil and gas resources on Bureau of Land Management property can be developed to help supply our nation's energy needs. It doesn't need to be developed where drilling would affect the view or harm the air quality at our national parks, places that have become our country's back yards. The BLM can be a good neighbor by using an innovative tool known as a master leasing plan, developed by The Bureau of Land Management itself, to make sure that oil and gas development is produced in a way that does not damage neighboring values found in our national parks. We can have both. In the long run, it will be worth it economically.