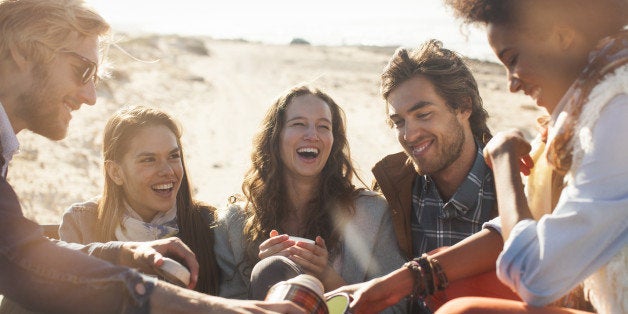 Though completely coincidental, it seems fortuitous that the hubbub about The New York Times Magazine's "The Scientific Quest to Prove Bisexuality Exists" is hitting during Bisexual Health Awareness Month. The article's focus -- yet again -- on whether bisexuality exists is an outdated counterpoint to the reality of bisexual lives that the Bisexual Resource Center's social media campaign is drawing attention to this month.
Thankfully, other writers have pushed the conversation off that rusty well-worn track and onto a more productive path. Zack Ford at ThinkProgress directly connects how questioning bisexual existence threatens the physical and mental health of living and breathing bisexuals. His prescription: "To truly eliminate the physical and mental health disparities bi people experience, the solution is simple: take them at their word."
This piece, and several others, hearten me and make me proud of the work that many bisexual organizations and individuals have been doing for several years to get these messages out to a broader audience. Our community is eager for change and eager that more attention be paid to our serious health issues.
We are fortunate that within the last five to 10 years more research studies have broken down relevant data so that you can see the bisexuals; previously gay and lesbian and bisexual people were usually lumped together. Now we can see the numbers we know bisexuals are experiencing many severe health disparities, some to a higher degree than gays and lesbians. Yet, the programs and services are not reaching our community.
Additionally, too often bisexuals are not even invited to the table to discuss the development of programs and services, nor invited to help with the creation of community messaging on issues that affect the entire LGBT community. Our rallying cry now for bi-inclusion is "Nothing about us without us."

For those of you who have interacted with the Bisexual Health Awareness Month campaign and want to do more, here are a few action steps for you to take back to your own communities:
1. Use the many different resources we've compiled on our website to raise awareness in your own communities and local organizations about these important health issues. The information focuses on four different topic areas: mental health and biphobia, sexual health, nutrition and movement, and sexual and intimate partner violence.
2. Work with local organizations and agencies to allocate more resources to bi-specific programs and services. The high level of physical and mental health disparities in our community indicates that bisexual people are not getting the services that they deserve. Make sure that organizations become more bi competent in their outreach and services, and include bisexuals on their advisory groups and on public forums about LGBT issues.
3. We are people of color, we are trans and genderqueer, we are poor and working class, and these identities often multiply the affects of biphobia in our lives. When conceiving programs and services, always look for ways to address these intersections of identity. And conversely, if you are creating a program for LGBT people of color, are you being bi-inclusive?
4. If you are part of an organization that proudly states you are LGBT, start educating yourself and your organization about bisexuality and how to reach bi people and build bi-inclusive safe community spaces. Not sure how to do this? Ask us.
5. Look for ways that you can help support bi-specific organizations in your area. Bi organizations are under-resourced and can benefit from partnerships and collaborations with other LGBT and health-related organizations.
One of the hardest statistics about our community to discuss is the one that indicates that bi people have the highest risk of suicide of any sexual orientation. We also know bi people are out to a far lesser degree than gays and lesbians, and we know that the experience of coming out and being supported by others corresponds to a healthier and happier sense of oneself. I want bi people to feel the benefits of coming out into safe space. And I want to believe that an LGBT community that can turn the "It Gets Better" campaign into a viral phenomenon cares enough to want to help build that space with us and help save lives.
As someone who has the benefit of a strong, vibrant, and longstanding bi community in Boston, I know that I am very fortunate to have this support system. I know for a fact that our bi groups and sense of community have saved lives and changed countless others for the better. But I also know from meeting bi people all across the country that many do not have a community in which they feel safe enough to come out.
Creating safe and supportive spaces for bi people is life-saving. If nothing else, I hope that March's awareness campaign motivates others to recognize that fact and start creating those spaces in their communities.