I cook and bake by the book. Literally. Which explains rows of spice jars occupying an entire cabinet: if a recipe calls for a particular spice, I buy it and it remains shelved until called for in another recipe.
For my recent birthday I chose to bake a macaroon torte, as photographed in the latest issue of Bon Appetit (page 2). Everything about this recipe appealed to me, especially the almonds and bittersweet chocolate.
Not living where high-end ingredients are readily available, I had to drive a bit to secure the vanilla beans, chocolate of 60% or less cacoa, and sliced almonds. When all was tallied, ingredients alone took this torte close to the $50.00 mark.
With the recipe propped on the window sill and the ingredients spread before me, I realized I had no clue as to gauging how much vanilla bean was "two beans." An internet search educated me not only to measurement (one inch = a teaspoon of vanilla) but the bean's provenance - a product of the vanilla orchid! Glorious minutia.
Glorious is also what I'm praying this torte tastes like, for though it is picture perfect, as per the photo in the magazine, it's not exactly.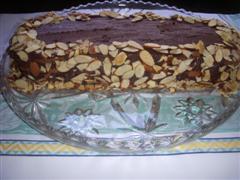 It's also not a plague, which is reason enough make a wish and blow on it.