Kalil rushes into the main room and signs in his name proudly while his mother watches. He grabs a seat down front to that he gets selected first to present. The coaches present a "Teachable Moment" about the elections for all the students and parents. They then are asked to vote on slips of paper. As other students show up they repeat the routine and then we vote: President Obama: 12; Mitt Romney: 5. The students are dismissed to various age groups for practice. Thus, begins the New Jersey Orators weekly oratorical routine.
A young lady by the name of Jazzmine was a member of the Newark Chapter of the New Jersey Orators from when she was age 13 to 18 when she graduated in 2007. When she was 14 years old, she recited a speech by the late Dr. Adam Clayton Powell, Jr. entitled: "What's in Your Hands?" She received Excellence in the competition. 
She has been interviewed on the local NJN News12 program Amazing Teens and has been written about in The Wall Street Journal in an article entitled, "A Standing Oration" by Howard Husock dated April 26, 2006.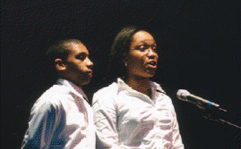 Impressed by her presentation skills we asked her to be one of the representatives of the New Jersey Orators to recite that Powell speech for an organization known as M.A.N., Inc. (Minority Athletes Networking, Inc.), a former minority professional football and baseball players' philanthropic organization. They were holding their annual fundraising reception. Two members of M.A.N., Inc who heard her speak were so impressed with Jazzmine that after her presentation they informed her that they wanted to contribute to her college education.  One gentleman gave her a scholarship for $20,000 and the other for $10,000.  The money was paid directly to the college of her choice, which was Drew University. In college, Jazzmine studied in Egypt and graduated from Drew University. Today, she teaches at Princeton University's Blairstown Center.
"Newark single parent women with low financial income are in need of support for their children's academic studies. There are few, if any unique after school academic support programs like the New Jersey Orators. Statistically, children who are raised in single parent households are more prone to suffer from self-esteem issues. Prolonged social and cultural discrimination towards single parent families not only affects the self-image of these children, but it also has a negative impact in their future. Luckily, Newark single parent women in need of extra academic support that will ensure their children attain leadership skills and study skills that allow these children to attain a broader educational and career opportunities. Thanks to the New Jersey Orators. Newark single parent women should not hesitate to call or visit their local Newark Chapter. Remember, the future of your children lies in your hands." -- "New Jersey orators help minority children develop positive academic skills," Examiner.com, Amber Pina, June 2010.
Below is an excerpt from a piece that a parent wrote who was highly impressed by a presentation given by an Orator at an event that ultimately inspired her to bring her daughter to join Orators. Her daughter is now one of our "elite" Orators. 
"A couple of years ago, I was invited to a women's empowerment luncheon at the Renaissance Hotel at the Newark Airport. It was there that I heard a presentation by a young lady, Mikayla from the Hillside Chapter. Mikayla was entering the 4th grade and was 9 years old at the time.  Her speech about Haiti was given just a few months after an earthquake devastated the country beyond recognition.  I was so impressed with her interpretation of this epic disaster and her ability to captivate the audience, I immediately began to imagine my daughter, Dominique, in Kayla's shoes."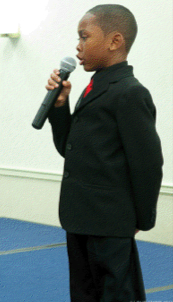 Michael, an 8-year-old male, joined the Newark I Chapter in 2011 at the age of seven.  He is a child prodigy.  He has competed twice as an Orator.  In May 2011 his first presentation was 'Don't Be a Dropout" written by James Brown.  He received an award of Excellence for his presentation.  On Dec. 3, 2011 he competed in his second competition with the NJ Orators.  Because of his poise and excellent presentation skills, Michael was selected to present "Listen Lord: A Prayer" by James Weldon Johnson at a luncheon on Dec. 10, 2011 honoring Congressmen Donald Payne and John Lewis in Newark, N.J.  At the end of his presentation, Michael made history.  He is the youngest person in the United States to receive Congressional Recognition for his work as an Orator. Congressman Donald Payne Sr., a native of Newark who has since passed away, bestowed this honor upon him.  He continues to grow his oratorical skills one step at a time.
The New Jersey Orators, Inc. is a 501(c)(3) non-profit organization incorporated under Orators, Inc., the national organization with state chapters and a national Advisory Board. The organization was founded in 1985 by a small group of African-American corporate executives who were concerned by the lack of formal language skills of young people who visited and interviewed for jobs at their respective companies. Aware that communications skills play a major role in achieving academic and career success, these passionate executives established the first Orators chapter in New Jersey.
The New Jersey Orator, a successful volunteer-run academic program that has been teaching the art of public speaking, literacy and life skills to children from 7 to 18 years of age for 28 years. It operates 16 chapters throughout the state of New Jersey in seven different counties (Burlington, Essex, Monmouth, Middlesex, Ocean, Somerset and Union) and two chapters in Pennsylvania with plans for the establishment of two chapters in New York City by the middle of 2013.
According to the Orators Executive Board of Directors: "This successful program integrates the humanities with school work and the community. With support from libraries, local bookstores, corporate and community presentations, and last but not least, teacher partnerships and referrals, our students excel and their school attendance is high."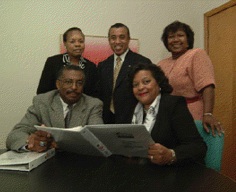 Rear: Lanetta Lyons (Ortho Pharmaceuticals retired); James Hunter (Essex County Prosecutor's Office Manager); Eloise Samuels (Telcordia Technologies retired -- Consultant); Front: Leon Vinson (AT&T retired -- Consultant); Wanda Brooks (AT&T Human Resources, GE Capital retired -- Consultant)
The New Jersey Orators, Inc. is a recipient of the Manhattan Institute's Cornuelle Award in 2002. Named one of the "Best Run Volunteer Organization in the Nation" by The Wall Street Journal, the New Jersey Orators received the President's Point of Light Citation for being ranked 51 out of 3,000 national volunteer organizations.
"Young people get into the prison track for a number of reasons ... they are not engaged in positive activities. Among the approaches that can be applied that can divert children and teens from the Prison Pipeline, there are two activities, sports and oratorical contests, that I'd like to draw your attention to. When I was young we had oratorical contests in school, where you learned to speak with clear enunciation and good diction. The present day model is the New Jersey Orators, which seeks to improve public speaking skills among children..." -- "Oratory and baseball are strong diversions from the prison pipeline." Marian Wright Edelman, Chicago Defender; Oct 26-Oct 28, 2007; 102, 98; Black Newspapers pg. 12