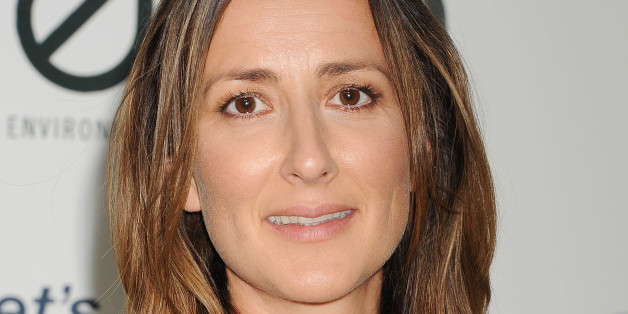 Anna Getty, of the Getty family fame, has devoted much of her life to eating organically,
employing eco-friendly practices, and utilizing sustainable, natural products. She is also very much a spokesperson for incorporating holistic and green practices into pregnancy and parenting, with an emphasis on organic foods, yoga and chemical free children's products.
In fact, she is the recipient of the Environmental Media Award's "Green Parent Award,"
presented this coming October 19th. Last year's recipient was Jessica Alba for her work with The Honest Company, a supplier of natural products suited for families.
Anna is not only a mother, but quite the Chef and has a cookbook on the shelves, Anna
Getty's Easy Green Organic.
We spoke to Anna and she offered us some fun facts about her current "likes" as well as a great recipe for Scallop Ceviche.
Travel Destination: "I love being in Ojai. It's kind of a travel destination because I drive to it from Los Angeles. I also love Italy."
One health trend to skip: "Kale. I just think the whole kale thing has gone a little overboard. It's everywhere you go and it can actually inhibit thyroid function. Again, anything that goes overboard has a repercussion. Eat kale sometimes, but skip it as a trend."
Beauty Product: Sea buck thorn oil. It's just really good for your skin and you can also take it in capsule form. It just really hydrates your skin and it's also really good for you digestive track, keeping it well-moisturized and supple."
Current Book: Ali Larter's Kitchen Revelry cookbook.
My food philosophy in one sentence: "Really connect to food and know what you're eating."
SCALLOP CEVICHE
Makes 6-8 servings
When I developed this recipe, there were many arguments among the tasters, otherwise known as my friends, about whether or not it was too spicy. Some people liked the kick and others did not. I like it spicy, but if you want less heat, lay off the chiles: use one chile instead of two.
Serve the ceviche with tortilla chips for a play on texture. I recommend using aquacultured bay scallops for this dish as they are grown and harvested sustainably. Bay scallops are in season from October to January. It's also perfectly acceptable to buy frozen scallops and defrost them; the dish will be just as successful.
Ingredients
1 pound bay scallops, quartered
1 cup (about 12 whole) cherry tomatoes, roughly chopped
2 green or red serrano chiles, seeded and minced (about 1/2 teaspoon)
3/4 cup chopped fresh cilantro, plus additional for garnish
1 cup finely diced red onion (1/2 medium red onion)
1 cup fresh orange juice
1/3 cup fresh lemon juice
1/3 cup fresh lime juice
Salt to taste
3 tablespoons finely shredded unsweetened coconut flakes
Preparation
1. Combine all the ingredients in a nonreactive bowl and stir to mix well. Cover and refrigerate for at least 2 hours, and up to 16.
2. Spoon the ceviche into small (4-ounce) glasses and garnish with cilantro.
Cook's note:
Just what is a nonreactive bowl anyway? A nonreactive bowl is made from a
nonreactive material, such as glaze-free ceramics, glass, stainless steel, or plastic (but we are trying to retire our plastics, right, unless made from recycled plastic). Reactive materials are aluminum and unlined copper, which react to foods with high acid content, like tomatoes. Have you ever wrapped a tomato in aluminum foil and looked it at the next day? The acid burns right through the aluminum, which gives the tomato a metallic taste. (It's best not to try leaving tomatoes in one of your good copper bowls.)