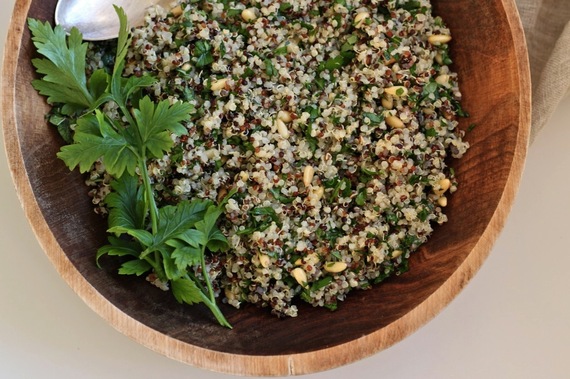 It is not unheard of these days that our beauty products are laden with what is more conventionally considered food. Some ingredients are nourishing to both our insides and outer appearance. Margo Marrone knows this better than most of us. A foodie, but also a herbal pharmacist specializing in nutrition, she has started a line of homeopathic skin care and vitamins. Her brand, Organic Pharmacy, was developed in London in 2002, in partnership with her husband. Although her wellness clinics are predominantly located in London, she does have an outpost in Beverly Hills. Considering the location, fans like Madonna and Gwyneth Paltrow, you might assume that her products are well cultivated, refined and most importantly... they work!
Margo, as you might expect knows quite a bit about cuisine having such a focus on nutrition and natural ingredients. I spoke with her about some of her favorites and she offered us up a great recipe for the powerfood quinoa, infused with herbs, a bit of spice, and some fresh spinach. Try it out, it's absolutely delicious and is brought to you by a woman who knows the ins and outs of food for health!
Quinoa Chilli and Herb Salad
Serves 2 people
1 1/2 cups Quinoa
Two bunches of parsley finely chopped
Two bunches of Cilantro Finely chopped
One bunch of chives finely chopped
200g of fresh spinach
One red chilli finely chopped
(Dressing - one table spoon of flax oil, one garlic crushed, juice of one lemon, salt and pepper to taste)
In a large pan combine the quinoa with 2 cups of water and bring to the boil. Cover and cook on a slow heat until tender (around 15 minutes). Turn off the heat and add the spinach. Keep covered for another 2 minutes until all the spinach has wilted.
Add the chopped herbs, chilli and dressing and mix thoroughly.
This can be served warm in the winter or cold in the summer.
Season with extra salt or pepper as needed.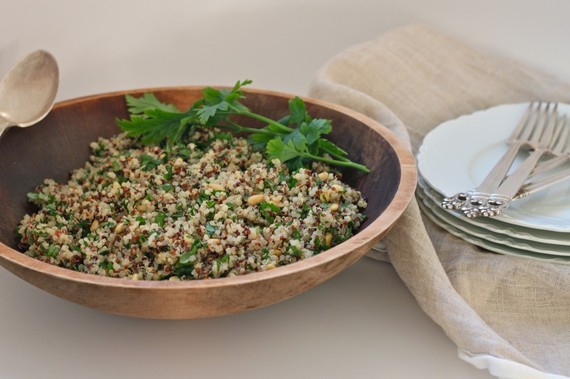 Travel Destination: Amalfi Coast -- Italy. My husband is from Naples so I am lucky to go there every year. Its the most beautiful coast line that I have every seen with the best food, warm kind people and unbelievable effortless style.
One health trend to skip: Juicing -- I'm not saying juicing is unhealthy if done properly and using the right combination but a single glass of orange juice has the same amount of sugar as two donuts. The problem is not the juice, which of course does still have nutrients, but the problem is the lack of fiber. Fiber slows the absorption of sugar and keeps the gut healthy but if the fiber has been removed then it's a massive sugar rush that overloads our liver.
Favorite workout: Cycling -- I'm not a gym or organized classes person. I like the freedom of being able to walk or cycle whenever I want and cycling is definitely my favorite workout.
Beauty Product: My must have at the moment is our Enzyme Peel Mask which as I'm reaching a certain age I find I need on a daily basis to brighten and smooth my skin.
Current Book: Joan Collins' Passion for Life-- I'm not usually a fan of autobiographies -- in fact the only one I have ever read is Shirley McClain's Out on a Limb , but I just couldn't resist the fabulous Joan Collins.
My food philosophy in one sentence: Avoid sugar, eat fresh, seasonal, local and organic and listen to your body.
What are the key components to living a balanced lifestyle?
Gentle exercise
Organic food with plenty of fresh vegetables and nutrients
Regular detoxification
A positive outlook to life
Sharing the love and kindness