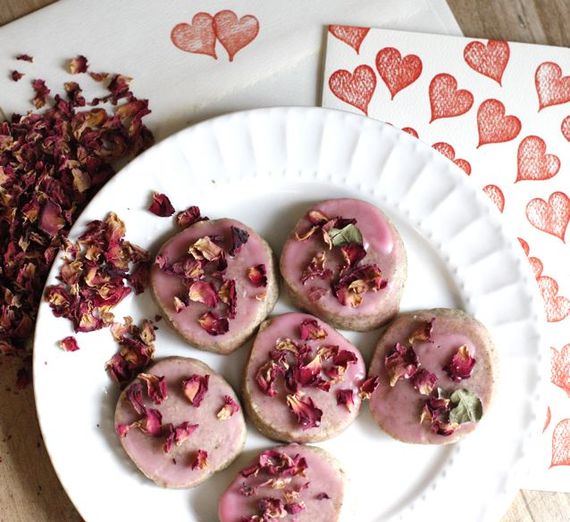 This recipe has been developed exclusively for Tay Tea by pastry chef Lizabelle Burke. Master tea blender Nini Ordoubadi's loose-leaf teas are a mild obsession for those familiar with them. Alone, the teas are notable; as ingredients in recipes, unbelievable! This recipe for light, rose-based cookies uses exotic Damask roses -- superior in aroma and beauty to all other roses. Damask roses are fragrant, bright and normally used as perfume, so just imagine the effect these flowers have in these tea party-ready cookies! We hope you take this beautiful recipe beyond imagination and whip up a batch for a few best friends. If you've been looking for an excuse for a formal tea party -- this is it!
This luxurious loose-leaf tea by Tay Tea makes the most magical rose cookies!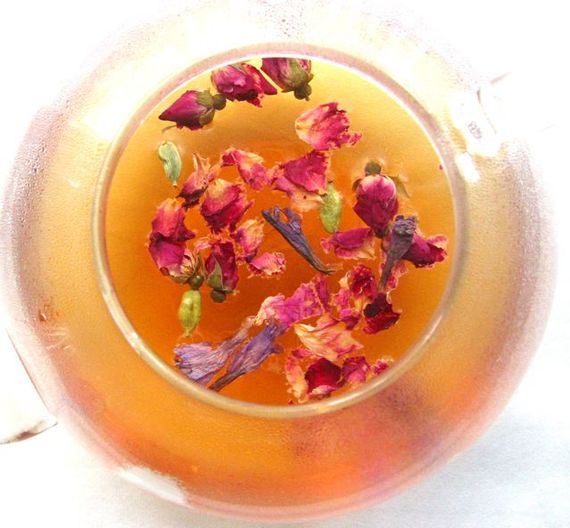 Tay Tea's Persian Rose "Love Spell" Cookies
Makes approximately 6 dozen cookies
Cookies:
6 T Persian Rose loose leaf tea , finely ground. (Be sure to crush the cardamom pods, take out the seeds and discard shells)
1 C. light brown sugar
1 1/2 C. unsalted butter
3 t. vanilla
1/2 t. salt
3 C. flour
Icing:
rosewater
confectioner's sugar
tiny drop of organic natural red food coloring
rose petals
Beat together ground tea, sugar, and butter until fluffy and lighter in color.
Mix in vanilla and salt.
Fold in the flour gradually and continue to mix until uniform dough is formed.
Roll dough into a log using wax paper (or plastic 1 1/2″ diameter).
Chill
After chilling, slice into 3/8″ thick cookies on bake sheet.
Bake at 350 F for 8 minutes in a convection oven or a little longer in a regular oven. (Until the edges are golden.)
Mix the icing. It is a simple glaze, just be sure not to make it too thick.
Ice cooled cookies with brush.
Top with rose petals while glaze is still wet!