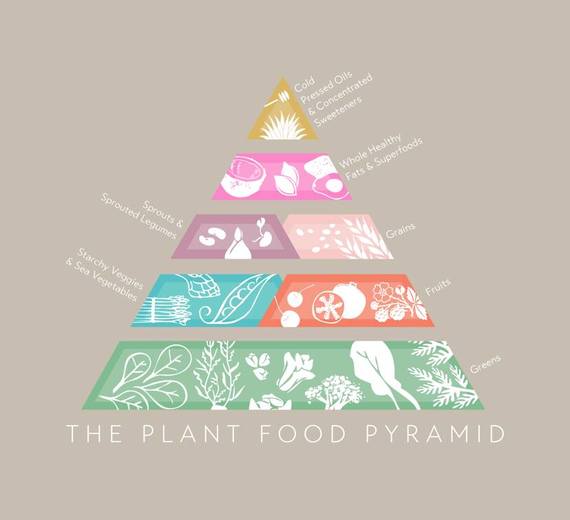 Everyone thought the raw diet was a fad soon to pass, but it's alive and well. The concept is that cooking obliterates nutrients in food. Award-winning chef, educator and author Matthew Kenney is an expert when it comes to raw cuisine. He has three restaurants in prime locales in California, Florida and Maine. At the Santa Monica, Miami and Maine locations he operates schools that educate students in the advantages and preparation of raw cuisine. He also offers the course online, is an in demand lecturer, and has an app for recipes. He doesn't stop there in his quest to share knowledge about raw cuisine, having authored 10 books on the subject. His latest book entitled Plant Food was published this winter. Basically, as previously mentioned, he is a virtuoso when it comes to raw and living cuisine. Despite his busy schedule he took some time to answer some questions and offer a great recipe for Pistachio Nougatine with Fresh Apricot Marmalade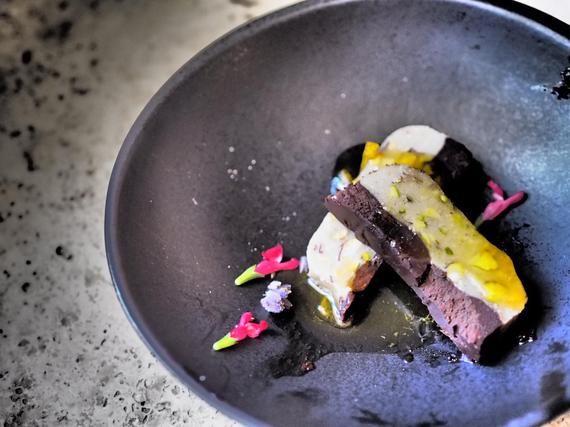 Pistachio Nougat
1 1/2 C Coconut Flour
1/2 C Cashews
1/2 C Macadamia
3/4 C Agave
1/4 C Honey
3 Tbsp Almond extract
1 Tbsp Vanilla Extract
Pinch Sea Salt
3/4 C Coconut Oil. melted
1 C Pistachio, chopped
Chocolate Glaze
1 C Cacao Powder
1 C Coconut Oil, melted
1/2 C Agave
1 Tbsp Vanilla
Pinch Sea Salt
Apricot Marmalade
C OJ
1/2 C Agave
1/2 C Apricots, chopped
1 Tbsp Orange Rind, julienned
Pistachio Nougat
Blend all ingredients except coconut flour, coconut oil and pistachios until smooth. Add coconut oil and blend. In a food processor combine the coconut flour and the blended mixture, mix well until smooth. Place mixture in the refrigerator until it begins to harden, but is still malleable. Once the mixture is slightly firm -- fold in pistachios.
Press in terrine mold and refrigerate to set.

Chocolate Glaze
Combine all ingredients and pour chocolate glaze over nougat once the nougat is fully set.

Apricot Marmalade
Mix all ingredients and reduce in dehydrator until thick. Approximately 5-6 hours.

Assembly
Cut the nougat into 1/2 " slices. Serve with marmalade.
Q&A with Chef Matthew Kenney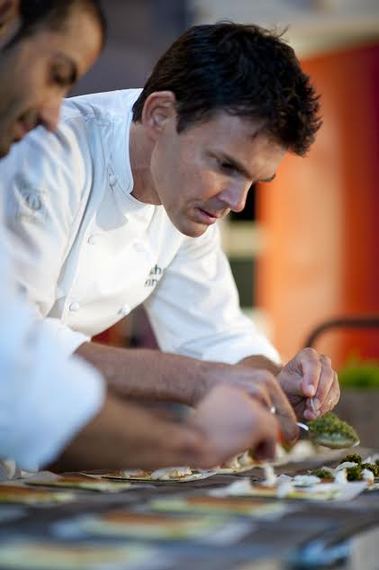 What are the advantages of a raw diet?
There are numerous advantages to a raw food diet, including increased energy, mental clarity, healthy digestion, recovery speed between workouts, improved endurance, and overall health (I no longer get sick).
Health fad to skip?
I have never been into the low fat and low calorie rhetoric as I really believe in incorporating a high amount of healthy fats into your diet and eating nutrient dense calories to sustain your level of activity.

How do you stay fit (exercise)?
I love distance running, recreational biking, free weights and yoga.
Favorite (most used) ingredient?
Avocado.
Favorite Travel Destination?
Sicily and Sardinia.
What is on your "bucket" list?
I've actually always wanted to live and work at least part of the year in Paris, I may do it this year.
Any tips for maintaining a raw diet when traveling?
Do research on local markets and health food stores before visiting, travel with any dehydrated snacks you love (crackers, kale chips, sprouted nuts), and carry any items you love and aren't sure you can find (seaweeds, uncommon spices, quality salts), it's also nice to take superfood powders for additional nutrients if you're not sure how much quality produce you will find.
Book you are reading:
I read a lot of biographies, currently A Secret Life about Andrew Wyeth.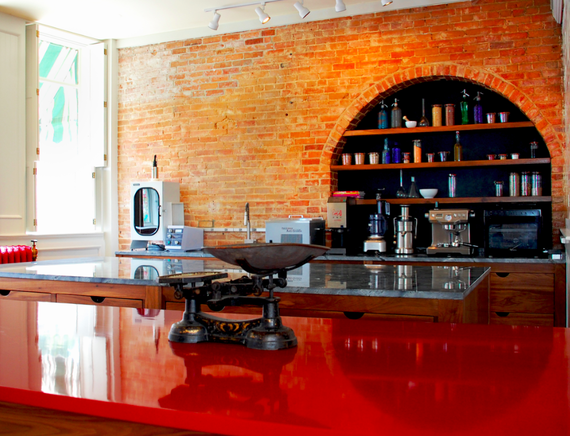 Photo Credits: Matthew Kenney Santa Monica