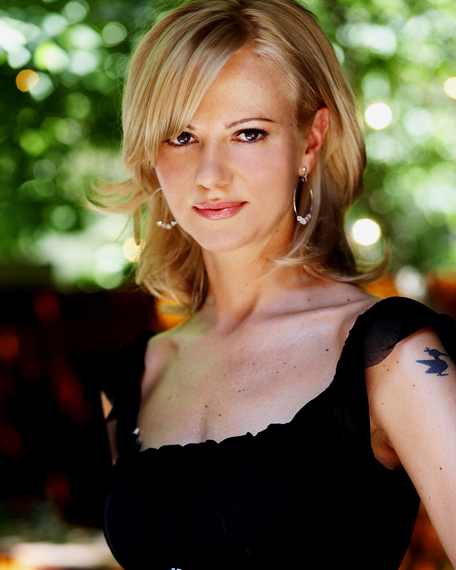 It was in 2003 when Sarma Melngailis first tried a raw and vegan diet. It was supposed to be a two week trial. That two weeks turned into more than ten years. Today, she is at the helms of one of the best raw restaurants in New York called "Pure Food and Wine." She is also the woman behind "One Lucky Duck," a small chain of pressed juice and healthy snack shops. Sarma has lots to tell us about her conversion to a raw and vegan diet and offers up tantalizing recipes for Morning Sun Juice, Heirloom Tomato, Fennel, and Avocado Pressed Salad, and Chocolate Macaroons, treats found at some of her shops.
"I think after the first week I knew it was going to be permanent," she says. "I felt amazing, like I'd woken up and a fog had lifted, which sounds corny but that's the only way I can describe it. I felt happier and more alive. I was sleeping better, I was rarely hungry, I had more energy, and my skin and eyes felt clear. I was also reading whatever I could get my hands on or find on the web about eating this way, and it all seemed to make perfect sense."
One thing she learned in researching and initiating the diet was that at certain temperatures food loses nutrients. This decimation of nutrients is said to occur at 118 degrees. "I've never gotten hung up on the exact temperature and as far as I know it varies for different ingredients, but it's said that the enzymes along with nutrients begin to be destroyed at that temperature," she says. Without overly going into the science of the diet, Sarma will testify that this type of diet has truly enhanced her health and that of her patrons. "For me, I know from experience how much better I feel eating raw food, so I'm happy to rely on my experience and intuition, as well as the experiences of others. I've heard countless stories of people healing from all kinds of ailments when they switch to an all plant-based and raw diet."
Feeling good wasn't the only benefit she gained from a raw and vegan diet. For an animal lover like Sarma, it is also a responsible and kind way to live. "I've always loved animals and have been vocally opposed to factory farming and any sort of animal cruelty or exploitation." Her stance strengthened with the adoption of her beloved pit bull mix "Leon," whose friendship has brought her to have immense love for all sentient creatures.
Her pup Leon, along with a pet cat, are given a diet that is optimized for health. Both of her pets eat raw organic chicken and vegetables, produced by Nature's Variety. Cats, by nature are a bit more finicky in their dietary needs. Leon, on the other hand, gets a regular dose of produce. "Leon gets a lot of fresh food added to his bowl, including parsley, blueberries when they're in season, baked sweet potato, sometimes raw egg from the greenmarket, etc. He also loves coconut butter, which I think is good for his coat. And when we're out walking, he gets Bocce's Bakery treats that we sell at 'One Lucky Duck' -- sometimes I eat them too! They're vegan and organic."
Ironically, animals are a big inspiration for One Lucky Duck, a place where no meat is served. In sourcing artwork for her restaurant Pure Food and Wine, she was encountering what you would call typified imagery; fruit and vegetables. Being archetypal wasn't in the works for Sarma's brand, so she waited for a fresh idea to surface. One day, while reading Gourmet magazine, Sharma was stricken by a photograph of a duck. "I became a bit fixated on it. Finally I managed to track down the photographer and purchased that print as well as two others from the series for the walls. When I needed to come up with a brand name for my online store and snack brand, I wanted something fun and unique that people would remember. The photos of that duck always stood out at the restaurant, so 'One Lucky Duck' it was."
Although Sarma is quite vocal about her animal views on social media forums, she does not want to isolate anyone interested in even just trying a raw and/or vegan diet. Sarma wants to entice and educate as many as possible, including those who eat meat. "I'd rather not cater to a vegan crowd, I'd rather cater to a non-vegan crowd, and draw them into a plant-based lifestyle. I feel like this is how, as a business, we can make the largest contribution."
Pure Food and Wine, complete with a gorgeous outdoor dining area, is located near Union Square in New York City. The restaurant, which is about to celebrate its tenth-year anniversary, serves a diverse menu made from organic, plant-based ingredients. While plenty of the staff do follow vegan or raw diets, not everyone working at the restaurant or juice shops adheres to the diet. That's totally okay with Sarma who never wants to single out anyone for their culinary choices. "I want our guests, who are predominantly not raw vegan, to feel welcome. Everything about what we do should be inclusive vs. exclusive," she says. "The restaurant often attracts people who may not be that health conscious but want to try what we do, or they're dragged in by someone else. Those are my favorite customers as we generally blow away their expectations."
One Lucky Duck, her small chain of juice and snacks shops has a menu that is mostly gluten-free; and features light meals and fresh pressed juices. They offer two types of cleanses, "Glow" or "Shine" that are designed to feel a little less stringent than some you might encounter elsewhere. "I think it's way less scary for people to do a cleanse knowing there'll be some food to chew," she says. Although some might employ the juice as a regular mainstay in their raw and vegan diet, for others it truly poses as a cleanse. "The cleanses are meant to be a break from what most people view as regular food. An all plant-based, organic, raw diet including lots of juice is definitely a cleanse for your average New Yorker."
As with the food served at her restaurant, her juice shops also feature ingredients from organic providers, local whenever available. One of Sarma's favorite menu items at One Lucky Duck is the "Portabella and Hempseed Burger." The burger features Lapsang tea smoked cashew cheese, house-made mustard, pickled pink onions, caraway kraut, all on sprouted manna bread. As for the juices, a personal favorite of Sarma's is the bottled pressed "Swan Greens" juice. "It's made from cucumber, spinach, dandelion, grapefruit, pear, spearmint, tarragon, and yuzu. It's not too sweet and not too green, and it's all organic, of course. Of all things to make sure you're consuming organic, juice is probably number one. I also love how this juice has different herbal notes," she says.
Pure Food and Wine has one location in New York City, while One Lucky Duck has three locations. Two of these locations are in New York City. The third location is in San Antonio, Texas, which seems rather random. Turns out, it was all about making her business a "family business." Her brother lives in San Antonio and oversees the location and will be much apart of any other expansion plans. Certainly more expansion is coming as they continue to add to her shops, which feature not just food. You can also find a variety of other goods for the home, body and your pets.
Ten years ago when she got started, a raw and vegan diet was not as well-known and accepted. "People were much more surprised back then to hear about an all raw and vegan restaurant, and were confused about what it meant. Now people are much more familiar with it," she says. Evidently, more and more people are reaping the benefits of such a dietary plan, which continues to propel the popularity of her restaurant and juice shops.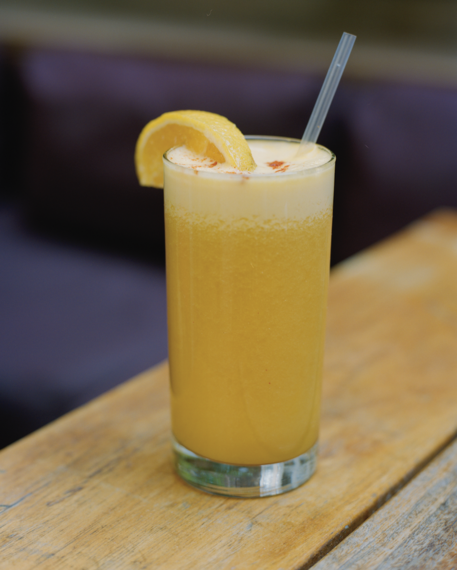 Morning Sun
Serves 2
Equipment: Juicer
4 medium oranges, peeled
1 apple
1 pear
4 cups chopped pineapple
One 1-inch knob of ginger
2 tablespoons raw honey
2 orange slices, for garnish
Run the oranges, apple, pear, pineapple, and ginger through the juicer.
Pour a few tablespoons of the juice into a small bowl and whisk in the honey until completely smooth.
Pour this mixture back into the juice, shake to combine, and pour over ice to serve. Garnish with the orange slices.
This recipe was taken from Living Raw Food by Sarma Melngailis.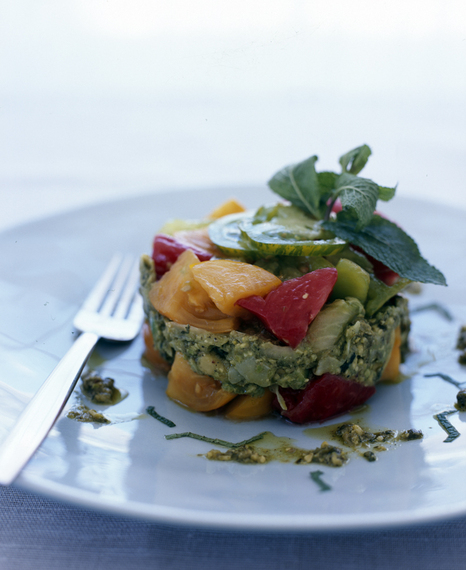 Heirloom Tomato, Fennel, and Avocado Pressed Salad
Caper Dressing, Pistachio, and Mint
Serves 6
Caper Dressing
½ cup capers, smashed
Zest of 1 lemon
2 tablespoons finely minced chives
5 turns of coarse black pepper
1 cup extra-virgin olive oil
Place all the ingredients except the olive oil in a bowl, then add the olive oil slowly while mixing with a spoon.
Salad
2 fennel bulbs, cored and thinly sliced
6 large heirloom tomatoes, roughly chopped into 1-inch pieces
2 shallots, minced
¼ cup pistachio nuts, roughly chopped
1 large handful mint, finely chopped
1 large handful basil leaves, finely chopped
Freshly squeezed juice of 1 lemon
3 tablespoons pistachio nut oil (or substitute extra-virgin olive oil or macadamia nut oil)
2 ripe avocados, peeled and pitted, chopped into 1-inch pieces
Sea salt
Freshly ground black pepper
1 small bunch chives or additional mint or basil leaves, for garnish
In a large mixing bowl, very gently toss all the ingredients except the garnish, adding salt and pepper to taste. Keep in mind the caper emulsion will round out the flavors, so only a small amount of seasoning is needed.
Place a wide ring mold in the center of each plate and fill with the salad. Gently press down to compact. Remove the ring and drizzle the caper emulsion over and around the salad. Garnish with the chives (at the restaurant, we serve it with two long chives crossed over each other, leaning on the salad), mint, or basil.
This recipe was taken from Living Raw Food by Sarma Melngailis.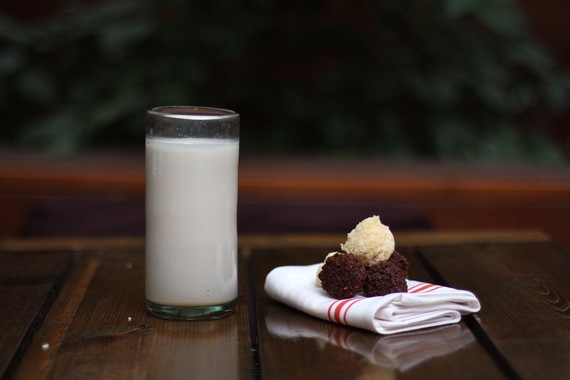 Chocolate Macaroons
Makes 24 to 36 macaroons
3 cups dried, unsweetened coconut flakes
1 ½ cups cocoa powder
1 cup maple syrup
⅓ cup coconut butter
1 tablespoon vanilla extract
½ teaspoon sea salt
In large bow, combine all the ingredients and stir well to combine. You can also use a standing mixer with the paddle attachment.
Using a small ice cream scoop, your hands, or a big tablespoon, spoon rounds of the dough onto dehydrator screens. If you are using your hands, it helps to refrigerate the mix a bit prior to forming the macaroons. Dehydrate at 115°F for 12 to 24 hours, or until crisp on the outside and nice and chewy on the inside.
For blonde macaroons: replace the cocoa powder in the recipe above with an equal amount of fine almond flour (see page 230).
This recipe was taken from Raw Food Real World by Sarma Melngailis.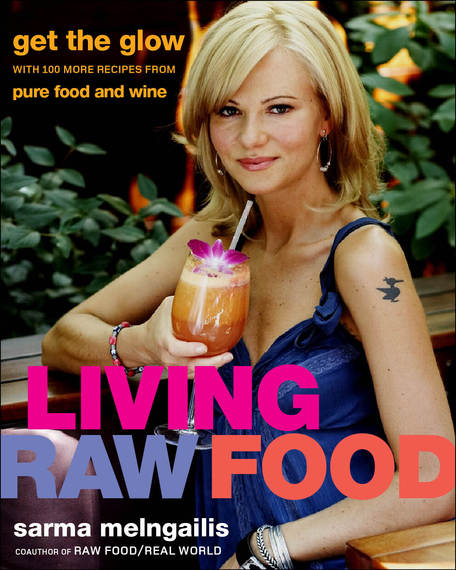 Photo Credits: Sarma Melngailis
Sarma's Favorites:
Favorite cooking ingredients?
Cilantro. I love cilantro and would put it on everything if I could.
Fitness? What do you do for exercise?
I see a trainer, I run on a treadmill, I go for long walks with my dog, and at home I jump around on my rebounder.
Book you are reading?
There's a huge stack of partially read books next to my bed. Currently at the top of the rotation are Crucifying America, by CJ Werleman, and A Supposedly Fun Thing I'll Never Do Again by David Foster Wallace.
Favorite travel destination?
Right now, anywhere warm.
Besides your outposts where else do you like to eat?
I love restaurants so I like to try new places as much as I can, even if there's not much on the menu I want to actually eat. For me it's about the whole experience. On the day to day, there's a place in the city called Taim and they have a truck that parks near my office a couple days of the week. They have amazing hummus and tabouli and I can walk over there with my dog.