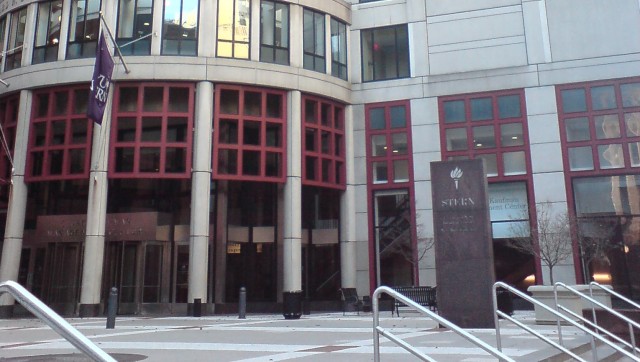 Fall is here, and with it the flurry of activity that accompanies students who are completing and submitting their applications to college -- after which they will wait impatiently to receive the responses that will determine their future. It has been a traditional rite of passage for high school students for many years.
However, the excitement that typically surrounds college acceptance letters coming into households around the country is now being tempered by more than a little trepidation: With the economy just barely receiving a passing grade, parents and students are re-calculating just how much they can spend on college.
The cost of college combined with a troubled economy means tough choices for prospective students. Anxiety over rising college costs and student debt is at an all-time high. The average tuition at a four-year public university climbed 28 percent in the past five years. In the 2012-13 academic year, the net price (the cost after scholarships, grants and federal tax benefits) that a typical in-state student at a public college will pay is $16,510. At four-year private schools, tuition and fees climbed 4.2 percent just this past year, with the average private college student paying a net price of about $27,600 annually.
For Americans of all socio-economic backgrounds, borrowing has become a primary way to pay for higher education; last year, outstanding student loans topped $1 trillion. A college degree has traditionally been the key that opens to door to a better life, which is why Americans generally consider student loans worth the cost. In fact, two-thirds of college seniors who graduated in 2011 had student loan debt, with an average of $26,600 per borrower. But it is harder than ever to pay back those loans -- and the question becomes: Is college getting out of reach for middle- and low-income students?
In September, Dr. Muriel Howard, president of the American Association of State Colleges and Universities, provided testimony to the Senate Health, Education, Labor and Pensions Committee about improving college affordability. She made the case that college affordability is the responsibility of "four primary stakeholders" -- the federal government, state governments, institutions of higher education and families.
Howard pointed out that the federal government has been doing its part by increasing funding for the Pell Grant. Meanwhile, an analysis of institutional spending data by the Delta Cost Project at the American Institutes for Research shows that public colleges and universities have kept overall increases in the cost of educating students to roughly the rate of inflation -- indicating that these institutions have been responsible partners in working to slow down the rising costs associated with college attendance. And as shown in the previous paragraph, it's painfully obvious that students and families are shouldering their share of the financial burden with ever-increasing loan debt.
So which leg of the quadrangle is bringing down the whole? According to Howard, it is the states -- i.e., decreasing state appropriations to fund higher education. In the past year alone, more than 40 states have taken steps to reduce support for their public institutions of higher education. This directly contributes to rapid increases in tuition and fees, as colleges and universities are forced to find other ways to offset the funds they no longer receive from their state's legislature.
Revenues for public colleges and universities, which enroll approximately 70 percent of all degree-seekers, come primarily from a combination of state appropriations and the tuition and fees that students pay. However, state appropriations are not keeping pace with the increasing enrollment at colleges and universities. As Howard cited in her testimony, per-student state investment in higher education has deteriorated over the past 25 years. Figures cited in a "College Completion Agenda" report published last year by the College Board's Advocacy and Policy Center show that state appropriations declined by 23 percent in inflation-adjusted dollars from 2000-2011. In fact, the 18 percent decline in state appropriations per student from 2007-2011 was the largest three-year decline in the 30 years of data collected and reported by the center. States have cut the amount of money they are giving to colleges by a total of $15.2 billion since 2007, or 17.4 percent. At the same time, the number of students enrolled in college has risen 12 percent. What that means is that the average public college gets a tax subsidy of only $6,600 per student, down from $9,300 just five years ago, according to the report. Increases in public college tuition over the years have made up only about two-thirds of those subsidy losses, according to the College Board.
While it is true that states are facing challenging budgetary circumstances, state governments must continue to seek ways to meet their obligations for funding higher education. In her testimony to the Senate committee, Howard laid out several strategies that can be utilized by state legislatures to improve college affordability and student success. Such strategies include state investments in student financial need-based aid programs instead of the more politically popular merit-based aid programs; the granting of greater flexibility and autonomy to public colleges and universities on a range of institutional policies that will maximize efficiency and utilization of resources; the implementation of Common Core State Standards that will drive timely degree completion; and the development of performance-based funding (PBF) systems that tie a portion of an institution's state funding to performance on a series of metrics. Her full testimony to the committee can be read here.
College costs keep rising -- but so does the need for more college graduates. In 1978, only 28 percent of jobs required postsecondary education. By 2020, that figure will be 65 percent. The United States is facing an alarming education deficit that threatens our global competitiveness and economic future. In less than two decades, the U.S. education system has dropped the country's international standing from first to 21st out of 27 advanced nations in high school completion. Only a strong commitment to affordable, high-quality, public higher education can keep the United States on a path that will reestablish our country as a global leader in education. This is a race that we cannot afford to lose.