I love that I live in a city where anything is possible, where one person can make a difference, where there is room enough to create and live out loud with the general support of community and government.
I live in Chicago and I write the above sentence in honor of French-American pianist and fellow Chicagoan, George LePauw. George, a young man in his early thirties with doe like eyes and a full head of brown wavy hair that flows backwards from a large tuft in the front, his image just begging to be drawn up in caricature in The New Yorker, is a seasoned international musician. He began studying the piano at the age of three in Paris with Aida Barenboim, the mother of renowned international conductor, Daniel Barenboim. He first performed at the age of ten and continued studying in Paris until he came to the States for college at Georgetown and then his masters at Northwestern in Masters of Music in Piano Performance.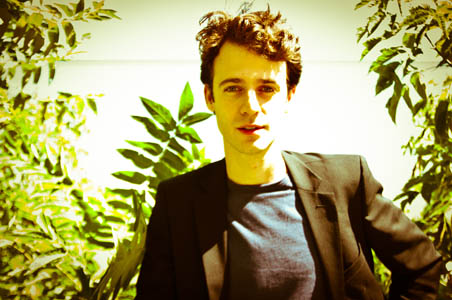 photo credit: Albert J. Kim
In addition to being an accomplished pianist, George is also passionate about how people experience music and art. It is with this in mind that he began the International Beethoven Festival in Chicago, in its second year beginning this September 8th and running for nine days through the 16th. The theme of this year's festival is Revolution and explores themes of Promethean revolution through art, music, dance, literature, and film. Named in recognition of Beethoven's groundbreaking compositions and admiration for the ideals of the French Revolution, Beethoven Festival: Revolution 2012 is also a reflection of the impact that today's game-changing political and social events have on music and art. Artistic Director Lepauw states: "We seek to instigate a revolution where art can bring people together and inspire more thoughtful and creatively-engaged citizens of the world. 2012 is a critical year as we continue to define the 21st century. We believe that culture has a primary role to play in promoting peace. This Beethoven Festival is purposely built to be an intensely concentrated, nearly non-stop event blurring the lines between life and performance in ways that encourage positive human relations between audience members and artists, and as an idea to live on beyond the confines of the festival. Beethoven, a believer in human rights and in the power of art to change the world, serves as our greatest inspiration."
It is one thing to say that you are going to create a revolution. It is another thing to actually create a revolution, which is what George is doing. Filling a gap in the large and important Chicago art community, George has created a medium sized, powerful festival bringing in huge names from around the world in music and art, some of whom are appearing for the first time in Chicago. (See below.) In this jam-packed, nine-day festival, constant art, music and dance, plus a lecture series, are served up as a way to help audience members re-consider their involvement in community and politics through art. All of this is accomplished from George's steadfast vision, determination and dedication to music, and the arts in general. Beethoven Festival: Revolution 2012 will leave a ripple effect in the Chicago art community not only due to the exceptional quality of performances from artists and musicians, but for its bravery of scale and scope and reach.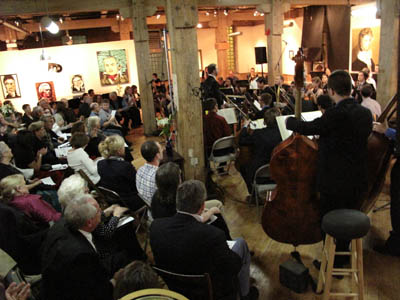 photo credit: Michael Sullivan
Don't miss parts or all of the Beethoven Festival 2012 which kicks off on September 8th with Grammy-winning violin superstar James Ehnes playing with the Beethoven Festival Orchestra under the baton of Maestro Daniel Boico. Most performances of The Beethoven Festival will take place at the National Pastime Theater and, with the exception of the free lecture series at the Chicago Cultural Center September 10 - 14, require tickets.
The closing concert on September 16th will be conducted by prodigious composer-conductor Matthias Pintscher (newly appointed Music Director of the Ensemble InterContemporain of Paris). The closing concert will also feature Chicago Maestra Josephine Lee and the Chicago Children's Choir. Other top highlighted performers throughout the festival include Chicago favorite Rachel Barton Pine, legendary pianist-scholar Charles Rosen, cellist Amit Peled, the Fine Arts Quartet, and clarinet prodigy Julian Bliss. Jazz pianist Dan Tepfer, composer-pianist Anthony Molinaro, DJ curator Dom Johnson, and over twelve rock, pop, folk and blues groups will be featured in the Festival's exploratory non-classical programs. All-inclusive of the arts, The Beethoven Festival: Revolution 2012 will also showcase a radical art exhibit by in-the-know New York City curator Catinca Tabacaru and a live, multi-media, politically-infused show directed by artist-activist Bob Ostertag. Finally, a free dialogue series every week day, September 10 - 14 from noon to 1:30 pm, will be at the Chicago Cultural Center in the Washington room on the 5th floor and feature various performers from the festival and local creatives. The speaker series serves to foster communication about the arts and bridge the gap between the arts and the public. For more information, times and tickets, click here.