When I sat down with singer-songwriter Macy Gray in the private Barrel Room of City Winery just before her performance there, I was reminded of what it means to be a one-of-a-kind.
From the moment she walked in the room, even before she spoke with her unique voice and rhythm, it was clear that Macy Gray moves to her own muse. Six feet tall and wearing sun glasses, she entered the doorway with a commanding presence, but it was as if she were unaffected by space and time. Almost 30 minutes late, she drifted to the table and made herself comfortable opposite me and the mic without much fuss.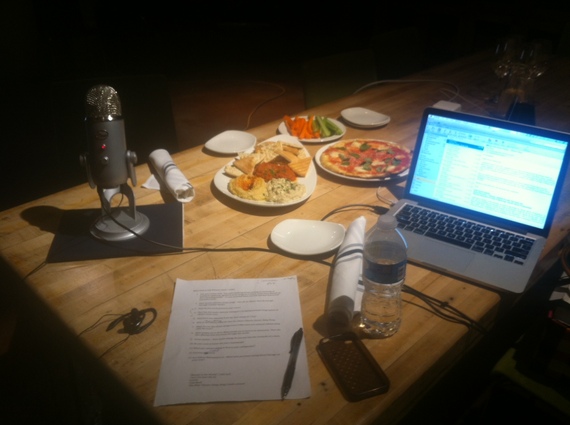 Our interview table in the private Barrel Room set with Dip Flight of Hummus, Babaganouj, Muhamarra with Warm Pita and Buffalo Mozzarella Flat Bread with Fresh Basil and San Marzano Tomato Sauce made from a crust of yeast from the City Winery wine.
Macy answered questions naturally and at ease, as if talking to me were the only thing she had to do that day. We chatted fluidly and got on well, talking about how she came into her own as a woman and artist in her 40s. Incredibly, she started as a songwriter, uncomfortable with her own voice. When she wrote songs for a friend who didn't show for a recording session, she decided hesitantly to record them herself.
In the podcast below, we talked about her creative process, her new album, "The Way", the changing music business, how she keeps her voice in shape, being teased about her voice in during her early school years and her distinct - sacrilegious even! - take on spaghetti.
Enjoy listening below and hearing directly from her about the importance of focusing on what you are good at, and not sweating the rest.