The stars continue to align it seems for Chicago as a national dance hub and cultural destination. Just on the heels of the Paris Opera Ballet and the Hamburg Ballet opening their U.S tours in Chicago after long hiatuses, two major Chicago dance companies are celebrating big anniversaries.
Hubbard Street Dance Chicago, under the artistic leadership of Glenn Edgerton, celebrates its 35th anniversary with its 2012/2013 season. Among the world's top contemporary dance companies and a global cultural ambassador, Hubbard Street demonstrates fluency in a wide range of techniques and forms, and deep comprehension of abstract artistry and emotional nuance. The company is critically acclaimed for its exuberant and innovative repertoire, featuring works by master American and international choreographers. Hubbard Street's artists hail from four countries and 12 U.S. states, and comprise a superlative ensemble of virtuosity and versatility.

"Since its founding by Lou Conte in 1977, Hubbard Street has been a contemporary dance company, in that we reflect and respond to the present moment. A lot has changed in 35 years, and I also think that, with so many performances behind us, we've earned a degree of trust from our audience, and can be more provocative in terms of the work we put forth," explained Artistic Director Glenn Edgerton.
A first in its 35-year history, from March 14-17, Hubbard Street welcomes another company to share the stage at the Harris Theater in its hometown Spring Series engagement. Alonzo King LINES Ballet and Hubbard Street's dancers form a super-group in Azimuth, new from celebrated San Francisco choreographer Alonzo King. To complete this grand program, Hubbard Street also presents Little mortal jump, the critically acclaimed and darkly humorous work by Resident Choreographer Alejandro Cerrudo, and LINES Ballet performs King's Rasa to a captivating score by tabla virtuoso Zakir Hussain.
Azimuth, Photo credit: Margo Moritz
Shortly after the Hubbard Street run, Giordano Dance Chicago is also celebrating a major milestone at the Harris Theater, March 21 - 23. GDC, celebrating its 50th anniversary, is one of the longest running professional dance companies in Chicago and one of the very few dance companies in the U.S. to have achieved this milestone. This achievement was recognized on the cover of the March 2013 edition of Dance Magazine.

GDC, currently under the leadership of Artistic Director Nan Giordano and Executive Director Michael McStraw, is a world-class dance company and a driving force in Chicago's thriving performing arts community. The company's new works continually expand the boundaries of jazz and contemporary dance.
During its March anniversary dates, GDC will premiere La Belleza de Cuba, a new work by choreographer to the stars, Liz Imperio, as well as showcase some known classics, like Giordano Moves by Gus Giordano with choreography construction by Nan Giordano and John Lehrer (2005). This work incorporates movement from decades of Gus Giordano's classic style of jazz dance into a piece featuring 10 dancers performing to an original jazz score by George McRae.
"Few dance companies have the incredible opportunity to celebrate their golden anniversary. So, in putting together the lineup for this engagement, we selected works that honor our history, reflect where we are today, anticipate our exciting future ahead and celebrate the enduring support of friends, dancers, staff, patrons and the audience members who have made it all possible" says GDC Artistic Director Nan Giordano, who marks her 20th anniversary as GDC artistic director this year.
Furthermore, in speaking on her legendary father and just how important the 50th anniversary is to the company and dance in Chicago, she said the following. "My father was always the trend maker and not the trend follower. He was always pushing jazz as a legitimate dance art form. So many of the leaders in the Chicago dance world trained with my father. He had an impact on many, many of the powerful dance forces here in this city. That's how they began." Giordano Dance Chicago's anniversary marks an historical moment in dance indeed.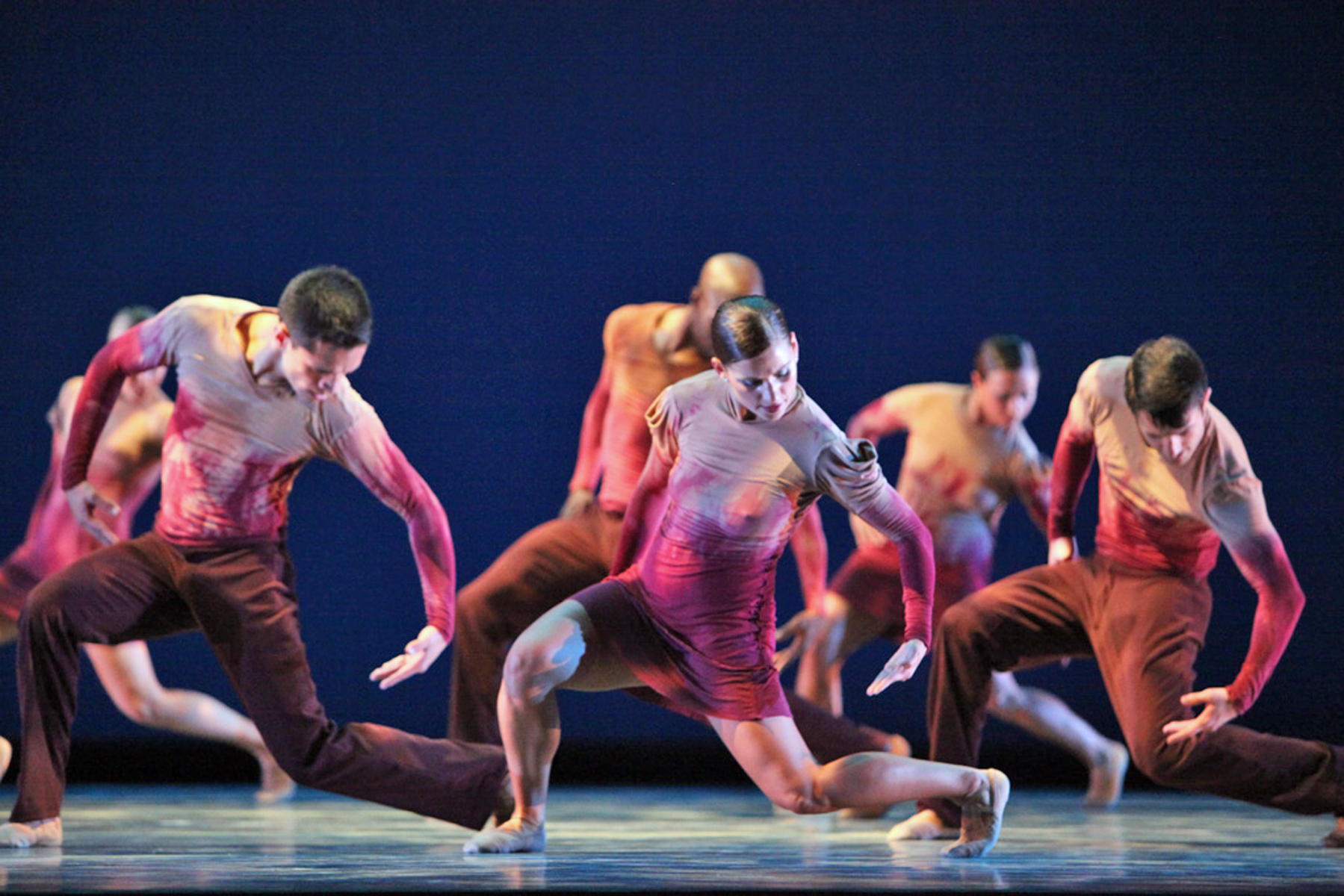 GDC in Alegria, Photo Credit: Gorman Cook Photography
Both major celebrations, combined with Mayor Rahm Emanuel's major push to make Chicago an international dance hub, have revved up the energy around dance in Chicago, as noted by Mr. Edgerton. "Chicago has evolved with Hubbard Street and all the great dance companies that thrive here and come through this city. The more theaters bring in international and domestic companies, the more it enriches the whole dance community, and pushes us to be the most we can be, advancing all of us and raising the bar for dance. Because of this, dance audiences have become more conscious, more aware of the nuances of dance and what they can bring.

The mayor's speaking out publicly for dance also makes a big difference. This is not just because his focus brings more prominence to dance, but because his support helps culture across the board for the arts: dance, theater, music, architecture, culinary arts -- all of the creative work that happens here. His attention helps to elevate Chicago as a national and international cultural destination."
To make a long history come full circle, Nan Giordano reminded me in a phone interview that Mayor Emanuel, a trained dancer himself, "took class and trained at the original Giordano school at 614 Davis Street in Evanston, before the company moved to downtown Chicago, when he was a boy."
Come out and celebrate dance, Hubbard Street, and Giordano Dance Chicago, along with some major birthdays, this March in Chicago at the Harris Theater. In particular, GDC is having a gala after the Saturday, March 23 performance including open bar, hors d'oeuvres, elegant desserts, and a VIP option that will get you into the dancer's inner circle.