Whenever I tell people about the Mayne Stage, I can't believe that they haven't been there yet. For me, it is the undiscovered gem of the city. For all the fanfare that abounds for the new City Winery and all the hoopla that happened for the Up Comedy Club, I find that the Mayne Stage is as sweet as it comes for a music/food venue in the city.
Located on the North side of Chicago, the Mayne Stage used to be known as the Morse Theater. In 2008 it went under a multi-million dollar renovation, which allowed for state of the art sound in a medium size space that is cabaret seating with intimate appeal. The theater can hold 220 in comfortable booths and tables without a bad seat in the house, and up to 400 for standing concerts. Even the décor of a deep maroon sets the tone for a setting that is warm, with a tucked-away cool vibe.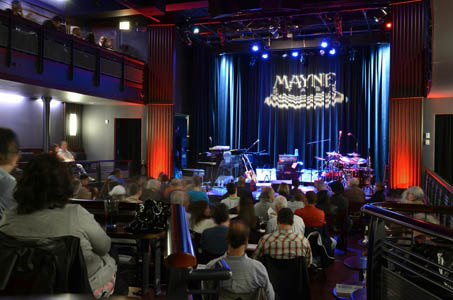 The mezzanine level of the Mayne Stage leads to some choice balcony seats and houses the Mezz Gallery, showcasing local artists and offering a space for private parties. The Mayne Stage also has the cheapest valet in the city at $5, incredibly NO service fee for buying tickets on-line and is a half block off the red line. Yes, there's lots here that makes one want to break out into song.
Yet, perhaps the venue should be best known for its talent line-up, which has been pretty stellar of late. This should come as no surprise since the Mayne Stage is run by music veteran Joe Prino. Leon Russell played there in the Spring and will return for October 31st and November 1st. Tickets go on sale September 8th. JC Brooks and the Uptown Sound will headline for New Year's Eve. ( I'm in for both!) Marc Maron played there for five sold out shows in August and said, "It's a great venue, the Mayne Stage. And it's really one of the best venues I've ever played. I wish I could move the Mayne Stage theater from Chicago around on a trailer and travel with it." The theater has this sort of affect on people and creates this sort of strong emotional pull. It's that exceptional.
In front of the house is the Act One Pub, which, in addition to being its own beautiful space with an elegant bar, serves a full gastro-pub type menu in its restaurant with the best sweet potato fries on the planet. The Act One Pub also serves a limited menu to the stage audience, allowing for the royal treatment while watching a show. It, too, has its own small stage with entertainment. A great beer (Goose Island's Matilda!) and wine selection help round things out. Like I said, there's not much that one can't sing about here.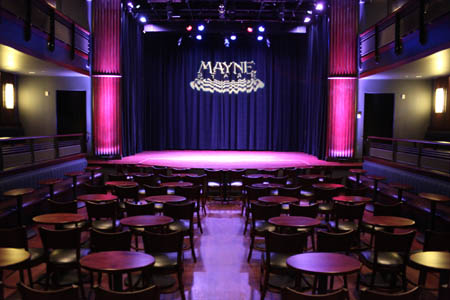 In full disclosure, I liked all these things about the Mayne Stage so much that I approached them with the idea of having The Dinner Party there on the last Monday of every month and we have been moving forward with sold out shows since January. The response is always the same for guests. "What an undiscovered jewel!" or, " I never knew this was here!" or, "I am coming back with friends to show them what I have found!" Thus, I am not alone when I say that the Mayne Stage is really something unique and special to the city, specifically if you are looking for an intimate space, with relaxing seating, food and drinks table service and top-end music.
So, the secret is out, people! Check out the Mayne Stage's line-up of upcoming shows and make a plan to visit this North side hideaway at 1328 W. Morse before it becomes too popular to get in. If you do, I am sure you that will agree with me and Howard Reich, of The Chicago Tribune, who said, "The Mayne Stage stands as one of Chicago's most acoustically and visually inviting small spaces in Chicago, even though the city at large has yet to discover it."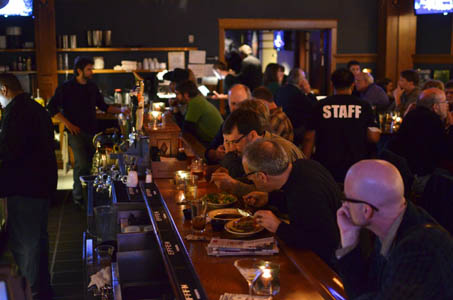 All photos are courtesy of Mayne Stage.