In many ways, the world has become an emotionless place. War and violent images abound and we've become desensitized to incredible instances of pain and grief. The opposite is also true. Joy is now mostly shared with the ubiquitous emoticon smiley face that somehow passes for communicative substance. Sadly, or :( for most people, true heart to heart dialogue has all but evaporated. Like a heavy, old perfume that our mothers once wore, we can remember vaguely what a real emotional exchange was like; but, we can no longer bring it into our midst.

Ahhh, but wait! There is still Fado!
I have just returned from two weeks in Portugal where I swooned my way through the country on the deep, visceral, longing songs of Fado. What is Fado you ask? Fado is a uniquely Portuguese folk music sung to often slow, melancholic string music created from the Portuguese 12 string guitar, a regular guitar and sometimes a base or third string insturment. Singers croon and lament, often women with a low, vibrating tone, about lost loves, olden times, the cards that life has dealt and the ravages of the sea. They sing with deep intent and stoic seriousness. Emotions are not shunned or hidden or curtailed here. And this traditional music, which some say is the oldest form of folk music, remains wildly popular and highly regarded by the old and text-crazed alike. Fado, which vaguely translates as fate and is sung by a fadista, remains an important part of contemporary culture and is thoroughly embraced.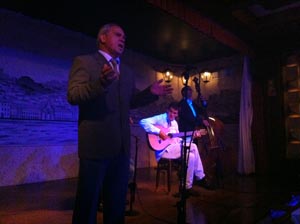 When hearing a great singer, the Portuguese exclaim, "Fadista!" and the most famous of these by far was Amalia Rodrigues who sang Fado all over the world, and eventually in New York City. Even though she passed away in 1999, she remains to this day a very popular figure. So much is this art form adored, that there is an entire museum dedicated to it in the Alfama quarter of wonderful, passionate Lisbon, where this mournful music, so rich and thick it is almost tactile, connects people.
I first listened to Fado at the Cafe Luso in Lisbon. A week later, coincidentally on one of Portugal's many national holidays, I tried to go to Adega Machado, but it was closed. Clube de Fado was fully booked; so, I ended up at a little outdoor restaurant where the owners, waiters, friends of waiters and passers by all took their turn belting out their favorite Fado song with a makeshift microphone and two old Portugese men as classic as their guitar playing. While many of the songs were sung as sad, lonely, love songs, some were upbeat folk tunes, and all served up big heapings of festive community. Grilled sardines, bread and cheese, green and red wine and lots and lots of Fado: now that was true-felt joy! No emoticon could be worthy.